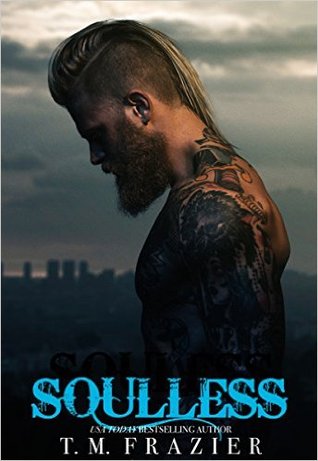 The finale to Bear and Thia's epic love story.
*Spoiler Free for this Book!*
3.5 "Crazy Bastard" Stars
Well, the Goodreads summary blows. :p You can read my 4.5 star review of the first book in this couples' story,
Lawless
, by clicking
here
, but to recap the gist of the first book's storyline:
The third book in the King series focuses on Bear, the late 20s, roguishly sexy member of the MC Beach Bastards. When we first met Bear, he was hiding out from the head of the MC, who just so happens to be his father. After some unspeakably terribly events in book two, Bear is not the same man he used to be. He's laid down his cut and left the MC, drowning himself in booze, drugs, and women.
Thia first met Bear at the age of ten, in a rather unusual way. Now eighteen and wrongly accused of a sickening crime, Thia explodes back into Bear's life with the force of a hurricane.
With the law closing in on Thia and the MC gunning for Bear, these two are riding the most intense, adrenaline-fueled roller coaster imaginable.
In
Soulless,
we pick right back up and are thrown into chaos. With Bear's old MC splintering apart and
loyalties
going every which way, it's nearly impossible to know who to trust.
Their
wrath has now extended to Thia, and Bear will stop at nothing to stop it, even though it means going toe to toe with his own father.
This is the fourth book in the King series, and while you can start Lawless first, I would highly suggest reading in order.
It was far from a romance. But it was still a love story.
I was so anxious for the next installment of Bear and Thia's story after the epic cliffhanger in
Lawless.
I immediately dived into this book, and devoured it in less than a day. It was fast paced, action packed, sexy and addictive.
T.M. Frazier has a way of making me like things I normally can't stand to read about, like:
Beards (I don't get this current beard craze! Stubble and scruff is great, but not a beard)
Despite my dislike of them, I always enjoy it when Fraizer writes it!
Bear was as beautiful as he was hard. He was as complex as he was simple.
He was both the storm and the calm. T
he fear and the solace.
The rage and the peace.
The sex was hot, the pacing fast, the writing engaging and captivating. I couldn't wait to get back to reading it whenever I was forced to put it down. I love the rich Florida setting, the appearances of beloved characters, and the distinctive voice of both protagonists.
Soulless
had one of the most interesting side characters, a real mass of contradictions, and I can't wait to get her story.
The series is a bit like an overly dramatic show or movie - a guilty pleasure you can't help but love, even though it can get a bit extreme sometimes.
This one fell a little flat for me in a few ways. The series has always been a tad over the top (in a good way!), but
Soulless
bordered on ridiculous on more than one occasion. I belong to the author's Facebook fan group, and I felt like there was
a lot
of fan pleasing in this book; almost like the author would've taken a slightly different road if not for the fans' murmurings. One rather big reveal
really shouldn't have been possible with a subplot in a prior book, and it just so happened to be something the fans were most loud about.
Love isn't about wanting a hero. It's about wanting to be one for the other person.
Overall though, I did enjoy the book! I laughed, cringed, bawled like a baby and panted like a dog in heat. It was a smoking hot, addictive, wild ride, and set the scene for future books. I suggest trying this series!
*ARC provided in exchange for an honest review. Thank you to TRSoR Promotions and T.M. Frazier.