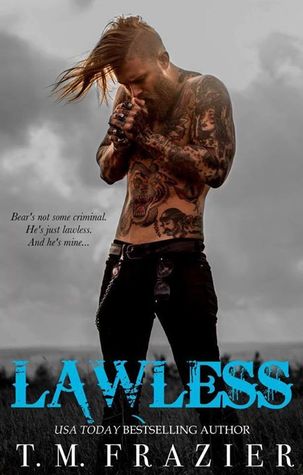 From Goodreads
Thia is prim and proper.
Bear is leather and lawless.
It will never work between them.
It's a lie they almost believe...
Lawless is book three in the King Series
and is Bear and Thia's raw, and gritty tale!
My Review
(this summary is short, because you really should just dive in!)
The third book in the King series focuses on Bear, the late 20s, roguishly sexy member of the MC Beach Bastards. When we first met Bear, he was hiding out from the head of the MC, who just so happens to be his father. After some unspeakably terribly events in book two, Bear is not the same man he used to be. He's laid down his cut and left the MC, drowning himself in booze, drugs, and women.
Enter Thia Andrews.
Thia first met Bear at the age of ten, in a rather unusual way. Now eighteen and wrongly accused of a sickening crime, Thia explodes back into Bear's life with the force of a hurricane.
With the law closing in on Thia and the MC gunning for Bear, these two are riding the most intense, adrenaline-fueled roller coaster imaginable.
4.5 "Wild and Crazy" Stars
This is the third book in the King series (click to read my 4.5 and 4 star reviews for
King
and
Tyrant
), and it is best to read them in order to get the full effect. However, I think you could dive in with this book without being too terribly lost.
I discovered T.M. Frazier's novels earlier this year, and have become obsessed. They are wild, sexy, incredibly fast paced, and more addictive than crack. I can't get enough of them, and it's never taken me longer than a day to finish one. Lawless was no exception.
Frazier's stories shouldn't be as enjoyable to me as they are. Everything I think I don't like is crammed into these novels, such as:
Age gaps
Motorcycle clubs
Truly Neanderthal heroes
Drug and alcohol use
Insta-love
Did I mention motorcycle clubs?
It doesn't matter, though! I may not like those things in general, but what Frazier writes it? Damn, do I love it.
I absolutely loved Lawless! It was a wild, sexy ride that I could not put down. The dual points of view really highlighted the differences between the protagonists, as well as the startling similarities. The Florida setting was rich and three dimensional, and as a Floridian myself, spot-on accurate. You feel every emotion that runs through the characters, and I found myself nauseated, turned on, anxious, and wild throughout the novel.
Bear was a very interesting hero. He wasn't your typical bad-boy-that-is-actually-a-good-guy, and he never claims to be anything than what he is. He's loyal to a fault, surprisingly intelligent, and incredibly resilient. I would suggest reading the first two books to fully experience and appreciate what he went through, but even if not, you're slammed with the impact. I grew to really respect him as a person, even though he isn't your typical idea of a good guy.
Thia was a character I had a harder time wrapping my head around and understanding at first, but by the ending of the novel I was completely sucked in. She was mature and astute, especially for her age, and had a way of cutting though the bullshit. She was a heroine unlike what I've read before, and I loved having that breath of fresh air.
Love. It was the only kind of torture I wasn't familiar with. I was quickly learning it was the most painful kind of them all.
These two seemed so different, in everything from upbringing to age to outlook, but they were incredibly well matched with fantastic chemistry. The age difference factor that normally squicks me out didn't bother me in the slightest here. They're both old in some ways, and very young in others. They balanced each other out, and despite the very short time the novel spans, they formed quite the connection.
"I wanted you because of who you are, not regardless of who you are."
The story was incredibly intense, wild, violent, sexy, and with non-stop, heart pounding action. I couldn't put it down, and it has one bitch of a cliffhanger. I highly recommend!
The second book comes out in February, and I can't wait! One of my most anticipated for the new year.
- The Bibliophile Babe
*ARC courtesy of the author and The Rock Stars of Romance.