Hey, ladies!
It's time for
The Broke and The Bookish's
Top Ten Tuesday
! This week's theme is Top Ten Books I Wouldn't Mind Santa Leaving Under My Tree This Year.
This was a really fun one for me! I've been reading a lot of Kindle books lately, so my physical bookshelves are a bit stagnant. These are books I've loved, but don't have a real book copy of. I'll get around to them soon!
In no order....
10. Magic Shifts by Ilona Andrews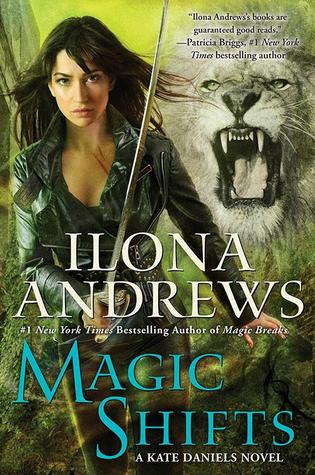 It's Kate Daniels. Duh. This is the only book in the series I don't have a physical copy of!

In the latest Kate Daniels novel from #1 New York Timesbestselling author Ilona Andrews, magic is coming and going in waves in post-Shift Atlanta—and each crest leaves danger in its wake…

After breaking from life with the Pack, mercenary Kate Daniels and her mate—former Beast Lord Curran Lennart—are adjusting to a very different pace. While they're thrilled to escape all the infighting, Curran misses the constant challenges of leading the shapeshifters.

So when the Pack offers him its stake in the Mercenary Guild, Curran seizes the opportunity—too bad the Guild wants nothing to do with him and Kate. Luckily, as a veteran merc, Kate can take over any of the Guild's unfinished jobs in order to bring in money and build their reputation. But what Kate and Curran don't realize is that the odd jobs they've been working are all connected.

An ancient enemy has arisen, and Kate and Curran are the only ones who can stop it—before it takes their city apart piece by piece…
9. King of Hearts by L.H. Cosway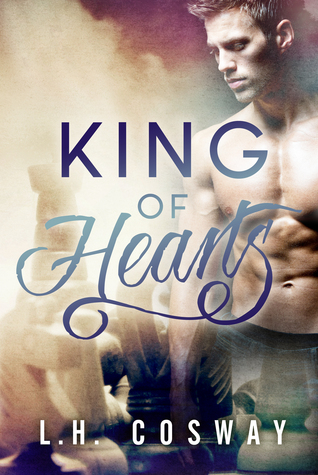 I loved this book, and the entire series. This one is my second favorite.

Welcome to the City, London's most prestigious square mile, where finance reigns and Oliver King is a rising prince.

I used to rule the world.

There might be wolves on Wall Street, but there were crocodiles in Canary Wharf. Some of us craved money. Some of us craved power.

I liked money, and power had its advantages, but what I really wanted was to excel, to surpass the men who came before me. I never cared much for love and romance until I met Alexis.

I could feel it the very moment she walked into the interview, with her outspoken charm and vivacious personality. She cast all the others in shadow, made me laugh when life held no humour. Our friendship should have remained professional, but it wasn't long before the lines started to blur.

You know what they say about the best laid plans of mice and men? Well, I never foresaw where my plans would lead, and only in my darkest hour did I finally see the light…

You can have all the money and prestige in the world and still be the poorest man alive. And love, well, I hate to use a tired old cliché, but love can be the thing that truly sets you free.
8. November 9 by Colleen Hoover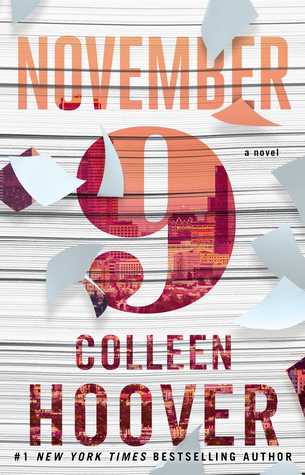 My only non-physical CoHo book!

Beloved #1 New York Times bestselling author Colleen Hoover returns with an unforgettable love story between a writer and his unexpected muse.

Fallon meets Ben, an aspiring novelist, the day before her scheduled cross-country move. Their untimely attraction leads them to spend Fallon's last day in L.A. together, and her eventful life becomes the creative inspiration Ben has always sought for his novel. Over time and amidst the various relationships and tribulations of their own separate lives, they continue to meet on the same date every year. Until one day Fallon becomes unsure if Ben has been telling her the truth or fabricating a perfect reality for the sake of the ultimate plot twist.
7. Tyrant by T.M. Frazier
I love this series. Plus, those covers...



I. Remember. Everything.





Only now I wish I didn't.





When the fog is sucked away from my mind like smoke through a vacuum, the truth that has been beyond my reach for months finally reveals itself.





But the relief I thought I would feel never comes, and I'm more afraid now than I was the morning I woke up handcuffed in King's bed.





Because with the truth comes dark secrets I was never meant to know.





I will put the lives of those I love most at risk if I let on that my memory has returned, or if I seek help from the heavily tattooed felon who owns me body and soul.





I don't know if I'm strong enough to resist the magnetic pull toward King that grows stronger every day.





He's already saved me in more ways than one. Now it's my turn to do whatever it takes to save him.





Even if that means marrying someone else...
6. Lawless
by T.M. Frazier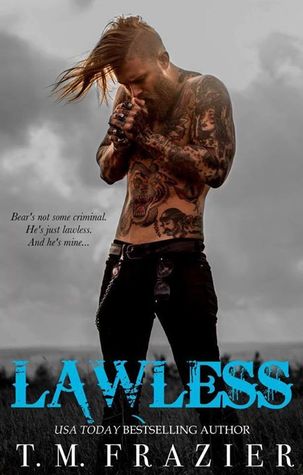 So good!



Thia is prim and proper.




Bear is leather and lawless.




It will never work between them.




It's a lie they almost believe...





It is necessary to first read King and Tyrant to fully enjoy Lawless.
5. The Fall Up by Aly Martinez
I freaking love this cover, and it had one of my favorite book boyfriends of all time!

I wanted to jump.
He made me fall.

As a celebrity, I lived in the public eye, but somewhere along the way, I'd lost myself in the spotlight.

Until he found me.

Sam Rivers was a gorgeous, tattooed stranger who saved my life with nothing more than a simple conversation.

But we were both standing on that bridge for a reason the night we met. The secrets of our pasts brought us together—and then tore us apart.

Could we find a reason to hold on as life constantly pulled us down?

Or maybe there's only one direction to go when two people fall in love at rock bottom—up.
4. The Play by Karina Halle
So, so pretty!

A troubled Scottish rugby player who doesn't play by the rules.
A vivacious man-eater who's given up on love.
When it comes to Lachlan and Kayla, opposites don't just attract - they explode.



Kayla Moore has always been comfortable with her feisty, maneating reputation. At least it was fine until she hit her thirties and saw her best friends Stephanie and Nicola settle down with Linden and Bram McGregor, leaving Kayla to be the odd one out. Tired of being the third wheel with nothing but one-night stands and dead-end dates in San Francisco, Kayla decides to take a vow of celibacy and put men on the backburner.





That is until she lays her eyes on Linden and Bram's cousin, hot Scot Lachlan McGregor. Lachlan is her sexual fantasy come to life – tall, tatted, and built like a Mack truck. With a steely gaze and successful rugby career back in Edinburgh, he's the kind of man that makes her want to throw her vow right out the window. But Lachlan's quiet and intense demeanor makes him a hard man to get to know, let alone get close to.





It isn't until the two of them are thrown together one long, unforgettable night that Kayla realizes there is so much more to this brooding macho man than what meets the eye. But even with sparks flying between the two, Lachlan can't stay in America forever. Now, Kayla has to decide whether to uproot her whole life and chance it all on someone she barely knows or risk getting burned once again.





Sometimes love is a game that just needs to be played.
3. Nuts by Alice Clayton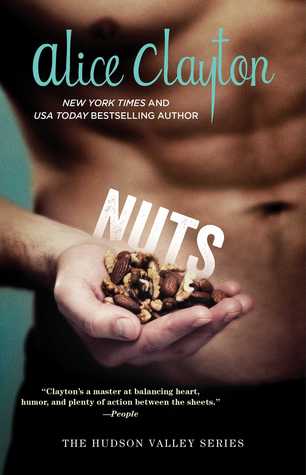 Need this one to complete my AClayton shelf!

From New York Times bestselling author Alice Clayton, the first in a brand-new romance series telling the humorously sexy tale of Roxie, a private chef who gets a taste of love—but is it to stay, or to go?

After losing almost all of her clients in one fell swoop following an accident involving whipped cream, private chef to Hollywood's elite Roxie Callahan gets a call from her flighty mother, saying she's needed home in upstate New York to run the family diner. Once she's back in the Hudson Valley, local organic farmer Leo delivers Roxie a lovely bunch of walnuts, and soon sparks—and clothing—begin to fly. Leo believes that everything worth doing is worth doing slowly…and how! But will Roxie stay upstate, or will the lure of West Coast redemption tempt her back to Tinseltown?
2. Menagerie by Rachel Vincent
Despite its rushed ending, this was one of my favorite books of the year. The cover is stunning, too!

From New York Times bestselling author Rachel Vincent comes a richly imagined, provocative new series set in the dark mythology of the Menagerie…





When Delilah Marlow visits a famous traveling carnival, Metzger's Menagerie, she is an ordinary woman in a not-quite-ordinary world. But under the macabre circus black-top, she discovers a fierce, sharp-clawed creature lurking just beneath her human veneer. Captured and put on exhibition, Delilah in her black swan burlesque costume is stripped of her worldly possessions, including her own name, as she's forced to "perform" in town after town.





But there is breathtaking beauty behind the seamy and grotesque reality of the carnival. Gallagher, her handler, is as kind as he is cryptic and strong. The other "attractions"—mermaids, minotaurs, gryphons and kelpies—are strange, yes, but they share a bond forged by the brutal realities of captivity. And as Delilah struggles for her freedom, and for her fellow menagerie, she'll discover a strength and a purpose she never knew existed.





Renowned author Rachel Vincent weaves an intoxicating blend of carnival magic and startling humanity in this intricately woven and powerful tale.
1. Lick by Kylie Scott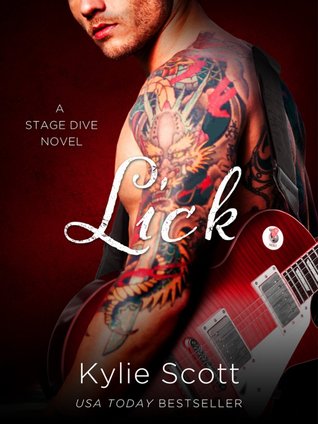 My guiltiest of guilty pleasures.

Waking up in Vegas was never meant to be like this.



Evelyn Thomas's plans for celebrating her twenty-first birthday in Las Vegas were big. Huge. But she sure never meant to wake up on the bathroom floor with a hangover to rival the black plague, a very attractive half-naked tattooed man in her room, and a diamond on her finger large enough to scare King Kong. Now if she could just remember how it all happened.





One thing is certain, being married to one of the hottest rock stars on the planet is sure to be a wild ride.
- The Bibliophile Babe