Hey, ladies!
2016 will be a fantastic year for new releases; I am absolutely salivating to get my hands on these books! This isn't in too much of an order. Can't wait to see what everyone is waiting on!
My Most Anticipated Releases for the First Half of 2016:
10. Tone Deaf by Olivia Rivers - May 3rd
This is a little out of my normal realm, but it sounds so interesting!


His world is music…
…Her world is silent.



Ali Collins was a prodigy destined to become one of the greatest musicians of the 21st century.





Until the brain tumor struck.





Now seventeen, Ali lives in a soundless world where she gets by with ASL and lip-reading. So when she meets Jace Beckett, she thinks he's her worst nightmare come true. Jace is the lead singer for the wildly-popular band Tone Deaf, and he's exactly the kind of success-story Ali hates and resents.





Nineteen-year-old Jace has it all: fame, money, and legions of fans. Every night on tour brings a new performance and a new girl, which is just what he needs to avoid the pain of relationships.





But when Jace learns Ali is being abused, he reluctantly proposes a solution: Run away with him and his band as they tour the country. With freedom in sight, Ali takes the offer. Immediately, she's swept into a world filled with wild punk music, wilder musicians, and maybe—just maybe—love.
9. Wicked Sexy Liar by Christina Lauren - February 2nd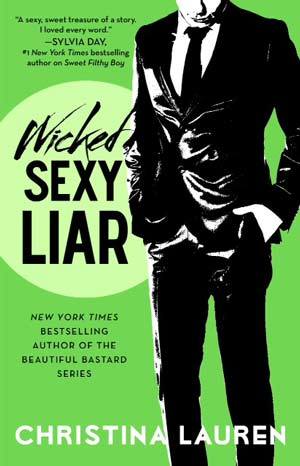 I'm such a sucker for this series! I believe this one is about Lola's friend, London, and Mia's ex, Luke.



Dating a friend's ex is supposed to be off the table. But sometimes what's really, really wrong is actually really, really right.
8. Never Never: Part 3 by Colleen Hoover and Tarryn Fisher - January 26th
I neeeeeeed this, now.
No summary for it, oddly enough.
7. The Lie by Karina Halle - February 15th
The cover is releasing sometime this week or next, but check out that summary!
Their love led to a lie
Their truth led to the end
Brigs McGregor is crawling out from the ashes. After he losing his wife and son in a car accident and his job from his subsequent downward spiral, he's finally moving forward, getting a prestigious teaching position at the University of London and a new life in the city. Slowly, but surely, he's pushing past the guilt and putting his tragic past behind him.
Until he sees her.
Natasha Trudeau once loved a man so much she thought she'd die without him. But their love was wrong, doomed from the start, and when their world crashed around them, Natasha was nearly buried in the rubble. It took years of moving on to forget him, and now that she's in London, she's ready to start again.
Until she sees him.
Because some loves are too dangerous to ever indulge.
And some loves are far too powerful to ignore.
Their love just might be the life and the death of them.
6.
He
Will
Be My Ruin by K.A. Tucker - February 2nd
I love K.A. Tucker, and I'm excited to see something a bit different from her!

The USA TODAY bestselling author of the Ten Tiny Breaths and Burying Water series makes her suspense debut with this sexy, heartpounding story of a young woman determined to find justice after her best friend's death, a story pulsing with the "intense, hot, emotional" (Colleen Hoover) writing that exhilarates her legions of fans.

A woman who almost had it all . . .

On the surface, Celine Gonzalez had everything a twenty-eight-year-old woman could want: a one-bedroom apartment on Manhattan's Lower East Side, a job that (mostly) paid the bills, and an acceptance letter to the prestigious Hollingsworth Institute of Art, where she would finally live out her dream of becoming an antiques appraiser for a major auction house. All she had worked so hard to achieve was finally within her reach. So why would she kill herself?

A man who was supposed to be her salvation . . .

Maggie Sparkes arrives in New York City to pack up what's left of her best friend's belongings after a suicide that has left everyone stunned. The police have deemed the evidence conclusive: Celine got into bed, downed a lethal cocktail of pills and vodka, and never woke up. But when Maggie discovers a scandalous photograph in a lock box hidden in Celine's apartment, she begins asking questions. Questions about the man Celine fell in love with. The man she never told anyone about, not even Maggie. The man Celine believed would change her life.

Until he became her ruin.

On the hunt for evidence that will force the police to reopen the case, Maggie uncovers more than she bargained for about Celine's private life—and inadvertently puts herself on the radar of a killer. A killer who will stop at nothing to keep his crimes undiscovered.
5. The Score by Elle Kennedy - January 11th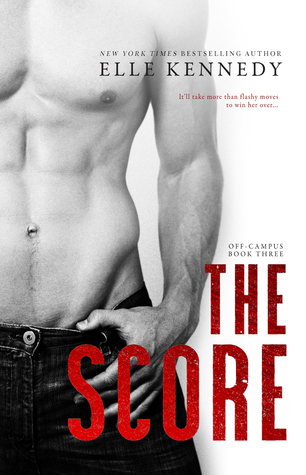 This series is a complete guilty pleasure for me. No judging!

He knows how to score, on and off the ice





Allie Hayes is in crisis mode. With graduation looming, she still doesn't have the first clue about what she's going to do after college. To make matters worse, she's nursing a broken heart thanks to the end of her longtime relationship. Wild rebound sex is definitely not the solution to her problems, but gorgeous hockey star Dean Di-Laurentis is impossible to resist. Just once, though, because even if her future is uncertain, it sure as heck won't include the king of one-night stands.



It'll take more than flashy moves to win her over





Dean always gets what he wants. Girls, grades, girls, recognition,

girls

…he's a ladies man, all right, and he's yet to meet a woman who's immune to his charms. Until Allie. For one night, the feisty blonde rocked his entire world—and now she wants to be

friends

? Nope. It's not over until he says it's over. Dean is in full-on pursuit, but when life-rocking changes strike, he starts to wonder if maybe it's time to stop focusing on scoring…and shoot for love.







4. Soulless by T.M. Frazier - February 23rd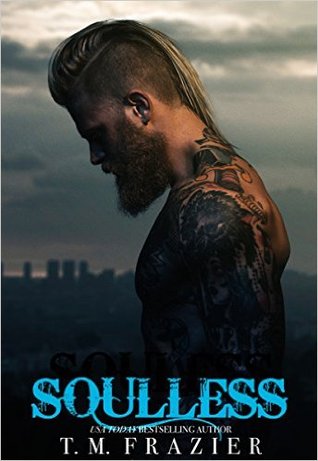 I freaking loved Lawless (click for review), and it ended on one hell of a cliffy. Can't wait for this!



The finale to Bear and Thia's epic love story.
3. Fighting Solitude by Aly Martinez - February 2nd
I love the On The Ropes series, and I've been waiting months for Quarry's story!

I was born a fighter. Abandoned by my parents, I spent my life forging my own path—one guided by my fists and paved with pain.

Untouchable in the ring, I destroyed everyone who faced me, but that's where my victories ended. Outside the ropes, I repeatedly failed the few people who loved me. Including my best friend, Liv James—the one person I'd die to protect.

Even though I didn't deserve her, Liv never stopped believing in me. Never gave up. Never let go. After all, she understood what I'd lost, because she'd lost it too.

Liv was everything to me, but she was never truly mine.

That was going to change.

I lost my first love, but I refused to lose my soulmate.

Now, I'm on the ropes during the toughest battles of my life.

Fighting to be the man she deserves.

Fighting the solitude of our pasts.

Fighting for her.
2. One With You by Sylvia Day - April 5th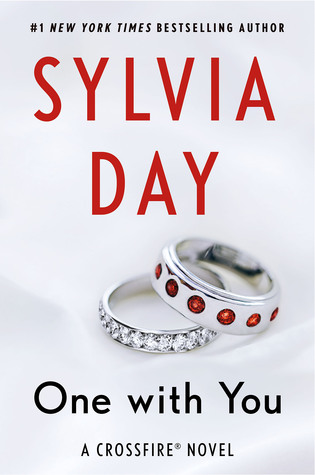 My guiltiest of guilty pleasures. There's so much wrong with this series (Angst! Drama! Co-dependency!), but I can't help but go at them like a fat kid at a candy bar.
It bothers me that this cover doesn't flow with the others, though!


Gideon Cross.

Falling in love with him was the easiest thing I've ever done. It happened instantly. Completely. Irrevocably.





Marrying him was a dream come true. Staying married to him is the fight of my life. Love transforms. Ours is both a refuge from the storm and the most violent of tempests. Two damaged souls entwined as one.





We have bared our deepest, ugliest secrets to one another. Gideon is the mirror that reflects all my flaws ... and all the beauty I couldn't see. He has given me everything. Now, I must prove I can be the rock, the shelter for him that he is for me. Together, we could stand against those who work so viciously to come between us.





But our greatest battle may lie within the very vows that give us strength. Committing to love was only the beginning. Fighting for it will either set us free ... or break us apart.





Heartbreakingly and seductively poignant,

One with You

is the breathlessly awaited finale to the Crossfire® saga, the searing love story that has captivated millions of readers worldwide.
1. Outtakes From The Grave by Jeaniene Frost (audio version) - February 1st
I absolutely love the Nigh Huntress audiobooks ! This is a series where I would suggest listening rather than reading.
This audiobook releases Feb. 1st, and I really hope Tavia Gilbert is on board for this one. It's still with Blackstone Audio, so I don't see why she wouldn't be on. Fingers crossed!

Cat and Bones fans, sink your teeth into this new outtakes compilation from New York Times bestselling author Jeaniene Frost!



Indulge your love of paranormal super couple Cat and Bones with this ultimate "director's cut" collection of deleted scenes and alternate versions from the first four novels in the Night Huntress series, complete with author commentary on each selection. Includes: the

original

beginnings of

Halfway to the Grave

,

One Foot in the Grave

,

At Grave's End

, and

Destined for an Early Grave

: a chapter written in Bones's point of view; alternate versions of sections of

Halfway to the Grave

,

One Foot in the Grave

, and

Destined for an Early Grave

; the "white wedding" scene between Cat and Bones that never made it into the final books…and much more!
- The Bibliophile Babe