W… W… W… Wednesday, hosted by
Taking on a World of Worlds,
is a weekly meme showcasing what you just finished reading, what you are currently reading, and what you plan to start reading next.
What Did You Recently Finish?
Finally! This took forever for me to finished, but I wound up enjoying it. I'm eager to continue! Urban fantasy/PNR almost always takes me a long time to get into; I almost didn't grab the second books in the Fever and Kate Daniels books, and those wound up being two all time favorite series.
What Are You Currently Reading?
My name is Evie Claremont and this was to be the making of me–my freshman year of college. I'd been hoping that once I'd arrived on Crestwood's campus, the nightmare that I've been having would go away. It hasn't.
I may be an inexperienced seventeen-year-old, but I'm grounded…sane. I look for rational explanations to even the strangest circumstances. Since meeting sophomore Reed Wellington, however, nothing makes any sense. Whenever he's near, I feel an attraction to him–a magnetic kind of force pulling me towards him. I know what you're thinking…that sounds fairly awesome. Yeah, it would be…if he liked me, but Reed acts as if I'm the worst thing that has ever happened to Crestwood…or him. But get this, for some reason every time I turn around he's there, barging into my life.
What is the secret that he's keeping from me? I'm hoping that it's anything but what I suspect: that he's not exactly normal…and neither am I. So, maybe Crestwood won't be the making of me, but it could be the breaking of me. I've been left to wonder if the dark future my dream is foretelling is…inescapable.
Audiobook I'm not too far into, but I'm not very impressed so far. It's seriously Twilight-esque so far.
Millie Cross knows what it's like to burn for someone. She was young and wild and he was fierce and even wilder-a Chaos biker who made her heart pound. They fell in love at first sight and life was good, until she learned she couldn't be the woman he needed and made it so he had no choice but to walk away. Twenty years later, Millie's chance run-in with her old flame sparks a desire she just can't ignore. And this time, she won't let him ride off . . .

Bad boy Logan "High" Judd has seen his share of troubles with the law. Yet it was a beautiful woman who broke him. After ending a loveless marriage, High is shocked when his true love walks back into his life. Millie is still gorgeous, but she's just a ghost of her former self. High's intrigued at the change, but her betrayal cut him deep-and he doesn't want to get burned again. As High sinks into meting out vengeance for Millie's betrayal, he'll break all over again when he realizes just how Millie walked through fire for her man . . .
Really struggling to finish this. Maybe it's just because they're double my age, but I'm having trouble connecting with any character! I'm also a huge fan of complete sentences and proper enunciation, something that the hero thinks is optional....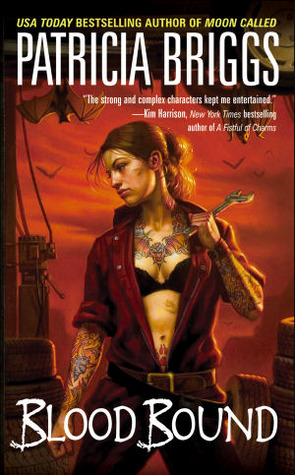 These covers are truly awful!

Under the rule of science, there are no witch burnings allowed, no water trials or public lynchings. In return, the average law-abiding, solid citizen has little to worry about from the things that go bump in the night. Sometimes I wish I was an average citizen...



Mechanic Mercy Thompson has friends in low places-and in dark ones. And now she owes one of them a favor. Since she can shapeshift at will, she agrees to act as some extra muscle when her vampire friend Stefan goes to deliver a message to another of his kind.





But this new vampire is hardly ordinary-and neither is the demon inside of him.