Kimberly @
Kimberlyfaye Reads
started a new weekly feature that I'm excited to join in! This feature is to
showcase what's on your to be read shelf (or eReader, or Audible library) and see what others think of it.
Have you read it? Should I read it or put it back on the shelf? It's a way to dust off the books on your self and decide if they're worth reading!
Overruled (The Legal Briefs, #1) by Emma Chase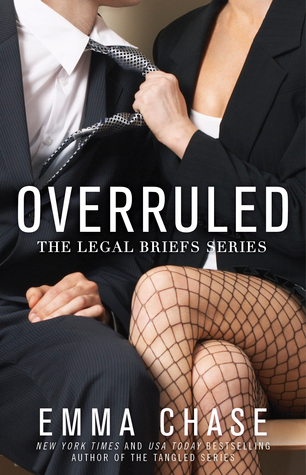 Emma Chase, New York Times bestselling author of the Tangled Series, returns with the first installment of the Legal Briefs Series.
As a DC defense attorney, Stanton Shaw keeps his head cool, his questions sharp, and his arguments irrefutable. They don't call him the Jury Charmer for nothing – with his southern drawl, disarming smile and captivating green eyes – he's a hard man to say no to. Men want to be him and women want to be thoroughly cross examined by him.
Stanton's a man with a plan. And for a while, life was going according to that plan.
Until the day he receives an invitation to the wedding of his high school sweetheart and mother of his beloved ten-year old daughter. Jenny is getting married — to someone who isn't him.
That's definitely not part of the plan.
***
Sofia Santos is a city raised, no-nonsense litigator who plans to become the most revered criminal defense attorney in the country. She doesn't have time for relationships or distractions.
But when Stanton, her "friend with mind-blowing benefits" begs for help, she finds herself out of her element, out of her depth, and obviously out of her mind. Because she agrees to go with him – to The-Middle-Of-Nowhere, Mississippi – to do all she can to help Stanton win back the woman he loves.
Her head tells her she's crazy...and her heart says something else entirely.
***
What happens when you mix a one stop-light town, two professional arguers, a homecoming queen, four big brothers, some Jimmy Dean sausage and a gun-toting Nana?
The Bourbon flows, passions rise and even the best laid plans get overruled by the desires of the heart.
I finished the second book in this series (amazing!) and the third book (so good!), and am considering this one. I've enjoyed Stanton and Sofia in the other two novels, but I've heard that this isn't the best in the series and it got better the further it went.
What do you think? Have you read it?