Hey guys!
It's
Top Ten Tuesday
by
The Broke and The Bookish
! This week's topic is 10 books from X genre you've recently added to your TBR. Since pretty much all I read is romance, that's what I'm going with. ;)
Anthony Bear and Christy Chapman are from two completely different worlds.

Anthony's the leader of a motorcycle gang that terrorizes Florida's West Coast. As a child, he ran away from his family and the Cherokee Indian Reservation to enter a life of crime. As an adult, he leads a multifaceted life managing his two businesses—his legitimate landscaping venture, and his loan shark and underworld dealings. Driven by anger and betrayal, Anthony begins the hunt for Christy's father, Van Chapman, after he runs out on a loan.

Christy's privileged life is not as it seems. She has kept painful family secrets and hidden some of her own. She's determined to find out the truth and expose Van, but her search delivers her right into Anthony Bear's hands, adding kidnapping to his list of crimes.

Their worlds are as contrasting as the color of their skin. The only thing they seem to have in common is their mutual disdain for Van Chapman…and each other.

They couldn't be more wrong.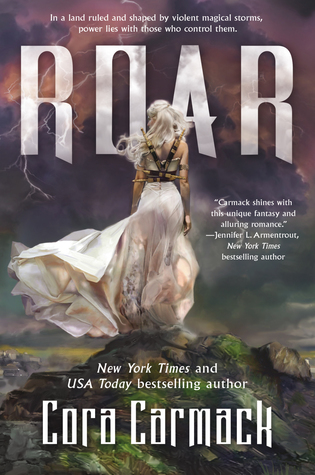 In a land ruled and shaped by violent magical storms, power lies with those who control them.
Aurora Pavan comes from one of the oldest Stormling families in existence. Long ago, the ungifted pledged fealty and service to her family in exchange for safe haven, and a kingdom was carved out from the wildlands and sustained by magic capable of repelling the world's deadliest foes. As the sole heir of Pavan, Aurora's been groomed to be the perfect queen. She's intelligent and brave and honorable. But she's yet to show any trace of the magic she'll need to protect her people.
To keep her secret and save her crown, Aurora's mother arranges for her to marry a dark and brooding Stormling prince from another kingdom. At first, the prince seems like the perfect solution to all her problems. He'll guarantee her spot as the next queen and be the champion her people need to remain safe. But the more secrets Aurora uncovers about him, the more a future with him frightens her. When she dons a disguise and sneaks out of the palace one night to spy on him, she stumbles upon a black market dealing in the very thing she lacks—storm magic. And the people selling it? They're not Stormlings. They're storm hunters.
Legend says that her ancestors first gained their magic by facing a storm and stealing part of its essence. And when a handsome young storm hunter reveals he was born without magic, but possesses it now, Aurora realizes there's a third option for her future besides ruin or marriage.
She might not have magic now, but she can steal it if she's brave enough.
Challenge a tempest. Survive it. And you become its master.
From
USA Today
bestselling author Tara Sivec comes an emotional, breathtakingly romantic new book about the power of first love and the promise of second chances.
How much can a man take before he breaks?
1,843 days. That's how long I survived in that hellhole. They tried to break me, but I resisted. And I owe it all to the memory of warm summer nights, the scent of peaches, and the one woman who loved me more than I ever deserved to be loved. Now, I'll do anything to get back to her.
Only Shelby Eubanks isn't the girl I left behind all those years ago. She's someone else, a stranger. My Shelby-my little green-eyed firecracker-would never give up her dreams, would never disappear into her mother's ambitions. But I won't give up on her. On us. I may be broken, and scarred, and not the man I used to be, but I will do whatever it takes to remind her of the story of us.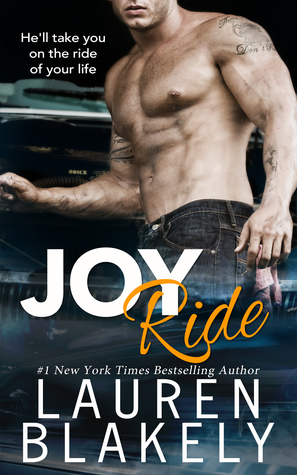 From the #1 New York Times Bestselling author of FULL PACKAGE and BIG ROCK, comes a hot & hilarious new standalone romantic comedy…
Let's be honest, ladies. A good man is a lot like the perfect car. You want a hot body, an engine that purrs, and superior performance under the hood...for the best
joy ride
of your life.
I'm at your service. Ready to go all night long.
But then a wildly sexy brunette appears in my life and throws a wrench in all my plans. She's fiery, she's talented, she's gorgeous, and I'd really like to know what makes her engine hum.
Henley also happens to be my biggest rival, and now we're forced to work together every day on the most important custom car build of my career. The trouble is I can't quite figure out if she wants to kick me in the lug nuts or beg me to give her a good, hard fuel injection. Until one night that question is answered on the hood of a sports car when she calls out my name three times. And we can't seem to put on the brakes.
If sleeping with the enemy is a bad idea, how much more dangerous would it be to fall in love with her?
6.
Even salvation can be delivered through the love of the damned…
Beauty can be a curse.
Faith can be a cage.
Only love can set you free.
A few long weeks after being reluctantly ripped from the comforting embrace of her sacred prophet's religious commune—the only life she has ever known—a terrified Delilah is thrust into a world enveloped by evil and swimming in sin.
Steadfastly devout in her faith, and retaining the deep belief that her soul is innately tarnished as a branded 'Cursed woman of Eve', Delilah is determined to find her way home to her people in The Order and away from the corrupt and damned outlaw motorcycle club—The Hades Hangmen—who hold her at their secluded compound for her protection—a 'protection' she strongly resents.
Delilah yearns to return home, convinced that only amongst her own people, and under the holy guidance of the Lord's revealed prophet, can her Satan-spawned soul be truly saved. Conditioned her entire life to believe she is a witch... a life-long temptress… the devil's whore... Delilah increasingly resents her beautiful face, her shapely body and her sensuous effect on men. But when a man of the motorcycle club—a deeply sinful yet stunningly beautiful man—is charged with her care, Delilah begins to see that this dangerous and moralless sinner from the 'outside' may offer her something she did not know could truly exist: unconditional love.
Kyler 'Ky' Willis loves his life: a daily abundance of brotherhood, liquor, the freedom of the open-road and—best of all—his pick of hot women. Raised a biker brat and now VP of the most notorious MC in the States, Ky has no shortage of club sluts warming his bed; a situation he takes full advantage of… until a certain blonde enters his life… a gorgeous pilgrim-blonde he can't get out of his head… a pilgrim-blonde he and his club recently-rescued from some backward religious cult… and a pilgrim-blonde he's been ordered to keep the hell away from and his whorish hands off.
When yet another in a lengthy line of drunken blunders forces Ky to reluctantly take charge of the pilgrim-blonde's care, he realizes that there could be more to this woman than just supermodel looks and a stacked set of tits. He begins to see that she could be the woman who could do the impossible—tame his wild ways and capture his reluctant heart.
But the unyielding bonds of Lilah's past are strong, her 'people' determined and, with a new Prophet in charge and hell bent on revenge, they are mightily reluctant to let her go...
5.
Sparrow Fisher is transforming. No longer dressed up in antiquated clothes and ideals, she is finally trying on her freedom.

Before she moves to New York City, she meets Ian Sterling, a musician Sparrow has dreamed about since she first saw him. The attraction is instant, but their relationship isn't so simple.

Over a five year span, Sparrow and Ian run into each other in unusual places. Each time, Sparrow has to decide if she can trust him, if he feels the same for her, and finally, if love is really enough.
4.
Sparks fly between a misunderstood New York socialite and a cynical divorce lawyer in this lively standalone rom-com from the USA Today bestselling author of Blurred Lines and Love Story.
Pampered heiress Georgianna Watkins has a party-girl image to maintain, but all the shopping and clubbing is starting to feel a little bit hollow—and a whole lot lonely. Though Georgie would never admit it, the highlights of her week are the mornings when she comes home at the same time as her uptight, workaholic neighbor is leaving to hit the gym and put in a long day at the office. Teasing him is the most fun Georgie's had in years—and the fuel for all her naughtiest daydreams.
Celebrity divorce attorney Andrew Mulroney doesn't have much time for women, especially spoiled tabloid princesses who spend more time on Page Six than at an actual job. Although Georgie's drop-dead gorgeous, she's also everything Andrew resents: the type of girl who inherited her penthouse instead of earning it. But after Andrew caps one of their predawn sparring sessions with a surprise kiss—a kiss that's caught on camera—all of Manhattan is gossiping about whether they're a real couple. And nobody's more surprised than Andrew to find that the answer just might be yes.
3.
Her heart races, her muscles coil, and every impulse in Alessa's body screams at her to run... but yet she's powerless to move.

Still struggling to find her footing after the sudden death of her parents, the last thing college freshman Alessa has the strength to deal with is the inexplicable visceral pull drawing her to a handsome ghostly presence. In between grappling with exams and sorority soirees - and disturbing recurring dreams of being captive in a futuristic prison hell - Alessa is determined to unravel the mystery of the apparition who leaves her breathless. But the terrifying secret she uncovers will find her groping desperately through her nightmares for answers.

Because what Alessa hasn't figured out yet is that she's not really a student, the object of her obsession is no ghost, and her sneaking suspicions that something sinister is lurking behind the walls of her university's idyllic campus are only just scratching the surface...

The opening installment in a twist-laden trilogy, Stitch spans the genres of paranormal romance and dystopian sci-fi to explore the challenges of a society in transition, where morality, vision, and pragmatism collide leaving the average citizen to suffer the results.
2.
When he left for a twelve-month deployment, she knew it would feel like forever before they saw each other again. She didn't realize how right she was.

When Lance Corporal Brecken Connolly gets taken as a POW, Camryn hopes for the best but steels herself for the worst. In the end, steel was what she needed to survive when he didn't. She moves on the only way she knows how—gilding herself in more steel.

Years go by.
She builds a new life.
She leaves the old one behind.

Until one day, she sees the face of a ghost on the news. Brecken seems to have risen from the dead, but she knows she can't perform the same miracle for herself. While Brecken was held in a torture camp for the past five years, she's been trapped in her own kind of prison. One she can't be saved from.

The man she mourned comes back to join the living, but the girl he wanted to spend his life with isn't the same woman he comes back for. Brecken isn't the same person either. The past five years have changed them both. While he's determined to put the pieces back together, she's resolved to let hers rot where they shattered.

Broken or not, Brecken wants her back. He'll do anything to achieve that. Even if it means going against the warden of Camryn's personal prison—her husband.
1.
How do you know when a fake relationship turns into a real one? #AskingForAFriend
Claire is not:
- A natural athlete
- Very good with mornings
- Greyson Vaughn's real girlfriend
But she pretends to be his girlfriend on television. And Twitter. And the gossip websites that question Every. Single. Thing. about his movie star existence. Including the question on everyone's lips — #WhosThatGirl?
Enlisted by her grandmother to act as Greyson's "mysterious English girlfriend" during a weekend at Castle Calder, Claire agrees to help the Hollywood hottie combat rumors of stalking his pop-star ex. She needs a distraction — from grad school, bills and her dull-as-dishwater love life — and, well, it's only for a weekend.
Until Greyson asks her to continue the ruse through his upcoming London premiere. And another trip to Castle Calder for a sexy weekend escape. Where there are no cameras and no reporters. Nothing but the two of them and a "fake" relationship that's starting to feel very,
very
real.
Save
Save
Save
Save
Save
Save