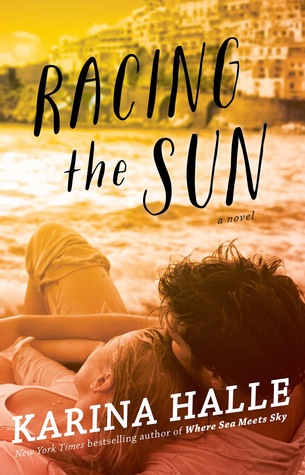 From Goodreads:
From the New York Times bestselling author of Where Sea Meets Sky comes a new adult novel about a young woman who becomes a nanny in Capri and falls for her charges' bad-boy brother.
It's time for twenty-four-year-old Amber MacLean to face the music. After a frivolous six months of backpacking through New Zealand, Australia, and Southeast Asia, she finds herself broke on the Mediterranean without enough money for a plane ticket home to California. There are worse places to be stuck than the gorgeous coastline of southern Italy, but the only job she manages to secure involves teaching English to two of the brattiest children she's ever met.
It doesn't help that the children are under the care of their brooding older brother, Italian ex-motorcycle racer Desiderio Larosa. Darkly handsome and oh-so-mysterious, Derio tests Amber's patience and will at every turn—not to mention her hormones.
But when her position as teacher turns into one as full-time nanny at the crumbling old villa, Amber finds herself growing closer to the enigmatic recluse and soon has to choose between the safety of her life back in the States and the uncertainty of Derio's closely guarded heart.
My review:
5 "Now That's How You Do New Adult" Stars!
We briefly met Amber in Where Sea Meets Sky, and now it's her time to shine. I would never have guessed that the shy, quiet girl trekking around the world in WSMS would be such a strong, brave and admirable character! You do not need to read Where Sea Meets Sky to read this book.
A moth has passed already. Suddenly, the last thing I want to do is leave.
With two months left on her visa and no money for a plane ticket home, 24 year old American Amber McLean takes up a job as an English teacher for a difficult set of twins on the island of Capri, Italy. After the tragic death of their parents, the twins are left in the care of their 29 year old brother, Derio. Derio is agonizingly handsome man, but his brooding and reclusive nature picks at Amber's already-stretched patience.
When unexpected circumstances throw Amber into the role of full-time nanny, she's swept off into a slow building romance with the damaged ex-motercyle racer. With deportation threatening as the weeks go by, Amber and Derio must find a way to make it work, or give it all up.
I'm falling in love with him. Every second, every minute, every day. It's terrifying but it's real. It's the worst of my fears with the best of my dreams. And beneath it all is the inevitable crash. Because at the end of the day, whether I love him or he loves me, only one fact remains.
I can't stay here.
It's no secret I'm a huge fan of Karina Halle, but I was really disappointed with the book that sparked this spin-off, Where Sea Meets Sky. Where Sea Meets Sky was a weak, rather flat novel with an overused ending and apathetic characters. Needless to say, I was so hesitant to see where Racing The Sun would take me. I shouldn't have worried. This book was a beautiful, smart romance with a fantastic heroine, beautifully descriptive writing, and enough Italian flair to make me want to hop on the next plane to Italy and just stay there forever.
"I'm pretty sure I'm just a person composed of nothing more than good intentions and bad habits."
Amber was an incredible heroine. She was smart, surprisingly level-headed, mature, honest, and so relatable. The depth of the care she develops for the twins was fascinating to see in such a young woman, especially with children she has no relation to.
She felt like she could just come right off the page, she was so realistic. The bravery she takes on her completely new tasks with, and her honesty with how well she feels she's managing, was astounding. I want her for a friend! I don't often connect with the female protagonists, especially in new adult, but Amber was a blindingly bright exception.
I love him more and more each day, even though he's not here, but I can't let him be my everything.
By the end of the book she has the healthiest outlook on love and her relationship with Derio that I've ever read from a NA book, and I applaud Karina Halle for creating such a fantastic role model.
"I need to kiss you,"
He says, and it's the smartest thing he's said all day.
"Please."
Derio was harder for me to connect with, and I was iffy about him for the first 1/4 or so of the book, but after all was said and done I really enjoyed his character. He's a young guy with siblings young enough to be his children, and he wasn't at all prepared to take on guardianship. The way he steps up to the plate in some aspects but struggled with others felt potently real, and by the end of the story he had earned my respect. Stepping back from being so much on Amber's side, he became much easier to understand, and forgive, as the story concluded. The poor guy has been through a lot.
That's not to say he isn't a jackass, because goddamn, I wanted to smack him upside the head in nearly every chapter. He's standoffish, self-centered, stubborn as hell, can't learn a lesson on the first go, and had instances of insane selfishness. Good thing he's so dreamy, eh? And oh man, can that man charm a woman. Sometimes the way he spoke had me sighing like a besotted schoolgirl.
"You are good for me, Amber. You bring things to the surface but you do not run away. I have not had someone care for me the way you do in a very long time."
Amber and Derio were perfect for each other, and perfect together. Their chemistry was off the charts, their sex life scorching, and Amber had such a way with Derio's temperament. They perfectly complimented and balanced each other out.
"All of you is perfect."
"I'm not, I'm -"
"Amber. Your body, every part of you, is perfect to me. What does it matter what anyone else thinks?"
The side characters were all well developed, and I loved being with Derio's family!
More than all that though was the absolutely gorgeous way that everything was described. I've never been to Capri (yet...;)), and until I read this I don't even remember seeing pictures of the place. Reading Halle's words painted a picture so vivid it felt like I was right there with the characters. It isn't often I read a story where I can practically see, hear, touch and smell everything the characters are going though. It was stunning, and I now have the worst case of wanderlust imaginable.
"You know, sometimes I feel so trapped. So lost and alone. And then I look at you and I feel found. Does that make sense?"
There comes a point in the last quarter of the book where I started to get really fearful of this book ending up with the same ending as the first book in this standalone series, or similar to the way Halle's first contemporary (Love, In English - fantastic 6 star read!) ended, but I was so thankful that wasn't the case.
"Your imagination both frightens and intrigues me."
The story is just predictable enough to give you a sense of security for the couple, with enough twists and turns to keep you completely sucked into the world and waiting with bated breath for what happens next. I devoured it in less than a day.
"You erase my fears. You give me life from all the death."
Overall, Racing The Sun is a stunning book of love, travel, and taking risks. I highly recommend it, and it proudly resides on my favorites shelf.
STATS:
Rating: 5 stars
Genre: New adult, contemporary romance
POV: 1st person, single perspective
Steam/sexual content: Deliciously steamy, fairly descriptive sex
Warnings: None, aside from: be prepared to swoon!
Series: Where Sea Meets Sky #2, standalone series
Cliffhanger: No
HEA: Yes
My own copy
- The Bibliophile Babe