A typical day in the life of Charley Davidson involves cheating husbands, missing people, errant wives, philandering business owners, and oh yeah...demons, hell hounds, evil gods, and dead people. Lots and lots of dead people. As a part time Private Investigator and full-time Grim Reaper, Charley has to balance the good, the bad, the undead, and those who want her dead. In this eleventh installment, Charley is learning to make peace with the fact that she is a goddess with all kinds of power and that her own daughter has been born to save the world from total destruction. But the forces of hell are determined to see Charley banished forever to the darkest corners of another dimension. With the son of Satan himself as her husband and world-rocking lover, maybe Charley can find a way to have her happily ever after after all.
4.5 stars!
I just adore this series, and Lorelei King adds a whole new layer to the awesomeness with her impeccable narration. It's one of those series that's a genuine joy to read, and I'm always eager to get back to it when I'm forced to put it down.
While this book didn't add too much to the overall storyline or do much to push the points of the previous books into the spotlight, it was still incredibly enjoyable, and I flew through it. I was endlessly entertained and amused by Charley and her merry band of misfits, swooned over Reyes, and even teared up a time or two over Charley's cases.
It leaves with a bit of a cliffhanger, though! Book 12 releases on Halloween of this year!
Vanessa Mazur knows she's doing the right thing. She shouldn't feel bad for quitting. Being an assistant/housekeeper/fairy godmother to the top defensive end in the National Football Organization was always supposed to be temporary. She has plans and none of them include washing extra-large underwear longer than necessary.
But when Aiden Graves shows up at her door wanting her to come back, she's beyond shocked.
For two years, the man known as The Wall of Winnipeg couldn't find it in him to tell her good morning or congratulate her on her birthday. Now? He's asking for the unthinkable.
What do you say to the man who is used to getting everything he wants?
5 stars!
This was quite possibly the slowest burn romance I've ever read. Ever.
That said, I really loved it! The characters were well developed and quite likable, the plot had good pacing, there was a good bit of humor and steam when the heat finally hit. It was a pleasure to watch the friendship and romance between Vanessa and Aiden unfold, and once the intensity between them finally picked up, they felt very solid and well deserved.
It's not a short book by any means, at around 670 pages, but I was surprisingly not bothered by that. Most contemporaries just can't handle that many pages, but Mariana Zapata has quietly proved to me that she can pull these lengths off.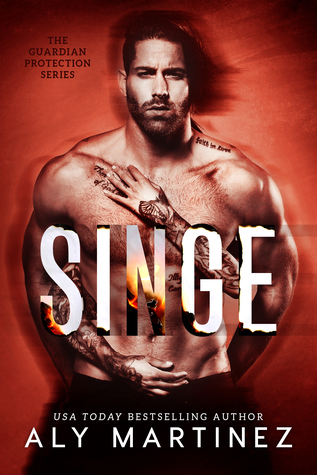 She was my nightmare. Every time I closed my eyes, I watched her fall into that inferno. Over and over, I failed to save her.

I hadn't been able to reach her, and the guilt only burned hotter over time. Four years later, I was the unreachable one.

Heroes aren't always saints. Sometimes, we're nothing more than jaded sinners driven by sleepless nights and hearts full of darkness.

And then I met her. She was a dreamer who managed to soothe my scars and heal my wounds.

But, as the flames closed in around us, I feared I wasn't the right man to save her. That is until I realized she was the one woman I'd burn the world down to protect.
3 stars!
Aly Martinez is one of my auto-buy authors, and she's written three of my all time favorite books (Fighting Silence, The Fall Up and Retrieval). She's an insanely talented writer and her stories are riveting and intensely emotional.
Unfortunately, this one just didn't jibe with me, and it's entirely a case of "it's not you, it's me" here.
While the writing was great and the plot pretty solid, I just wasn't invested in either hero or heroine, and couldn't connect to either one.
I love a good alpha, but more often than not Jude was too alpha, giving me the unfortunate feel of reading a Kristen Ashely novel...if KA's heroes could speak in complete sentences and use proper grammar. And if the books had a viable plot.... And the heroine at least had some personality.... And the side characters were enjoyable... But I digress.
That said, I couldn't put it down and finished in just over a day. I definitely wouldn't take my word on this one, since nearly everyone else is loving it!
#1 New York Times bestselling author Karen Marie Moning returns with the epic conclusion to her pulse-pounding Fever series, where a world thrown into chaos grows more treacherous at every turn. As Mac, Barrons, Ryodan, and Jada struggle to restore control, enemies become allies, right and wrong cease to exist, and the lines between life and death, lust and love, disappear completely.
Black holes loom menacingly over Dublin, threatening to destroy the Earth. Yet the greatest danger is the one MacKayla Lane has unleashed from within: the Sinsar Dubh—a sentient book of unthinkable evil—has possessed her body and will stop at nothing in its insatiable quest for power.
The fate of Man and Fae rests on destroying the book and recovering the long-lost Song of Making, the sole magic that can repair the fragile fabric of the Earth. But to achieve these aims, sidhe-seers, the Nine, Seelie, and Unseelie must form unlikely alliances and make heart-wrenching choices. For Barrons and Jada, this means finding the Seelie Queen who alone can wield the mysterious song, negotiating with a lethal Unseelie prince hell-bent on ruling the Fae courts, and figuring out how to destroy the Sinsar Dubh while keeping Mac alive.
This time, there's no gain without sacrifice, no pursuit without risk, no victory without irrevocable loss. In the battle for Mac's soul, every decision exacts a tremendous price.
4 stars...I think?
I don't think I've ever been more conflicted on how to rate a book. Parts of Feversong were amazing, stunning, freaking spellbinding 5 stars. Annnnnd other parts were purple prose, sketchy plot issues (not sure if I can call them plot holes, per say, but it's something along those lines!),unnecessary POVs and outlandish developments 2 stars. As you can imagine, I'm quite conflicted!
Not gonna lie, I skimmed a good portion of the POVs that weren't Mac's. I've never been a Dani fan - but I will give props to Moning for taking me from despising her to finding her okay over the course of this story -, and the other view points I found a bit irrelevant, especially once I hit the end.
But back to Mac, and more importantly, Barrons!
Ahh...Barrons. That man is fine, and will forever rein as one of the kings in my book boyfriends society. There was quite a bit of relationship development between Barrons and Mac in this story, and I freaking reveled in it. A lot of the issues I had with how they were handling themselves and each other post-Shadowfever, and I'm happy to report that they were all resolved. The development that happens in this story left me teary eyed and swooning something fierce. Seriously, I can't put into words how much I adored where they went in this book.
I do wish there were some more sex scenes, though. ;) Especially considering there were paragraphs of moderately graphic sex in the other books!
Despite the sometimes ridiculous turns this book took, I was completely addicted and wrapped up in what was happening. I barely put the book down, and finished the near-600 page novel in about 6 hours. This series is definitely one that grabs your attention and refuses to let go.
I feel a bit sad that it's over, even though I'm happy overall with how things wrapped up. This is one of my all time favorite series, and it's a bittersweet feeling to have it finished. Huge thank you to KMM for brining this series to such vivid, glorious life!
Well, that review definitely wasn't mini, haha. Let me know your thoughts on that one if you've read it!