Hey, guys!
It's
Top Ten Tuesday
by
The Broke and The Bookish
! This week's topic is 10 books you wish had more/less of X theme. Your choice!
I'm doing both, and will tell you what I wished each had more or less of. No order, and let's jump right in!
6 Books I Wish Had Less...
Four beautiful days. Three steamy nights. One breathtaking love.
Levi Michaelson. He wanted four dates. Four opportunities to prove I could trust him. Four chances to change my mind about him.
I agreed.
Probably not my smartest decision. He was everything I knew to avoid—gorgeous, charming, sexy as hell—but I couldn't help myself. When he touched me the whole world disappeared. I should've known I could lose myself to him, that he could be the one man to destroy me.
I guess it's true what they say—some things are too good to be true. And Levi Michaelson might just be one of them.
Unzip this sexy, southern contemporary romance that's guaranteed to make you sweat and make you swoon!
Less sugary sweetness! No one is that obnoxiously sweet. No one.
Four consecutive weeks on the New York Times and #1 in Romance.
It started out like any other morning on the train.
Until I became mesmerized by the guy sitting across the aisle.
He was barking at someone on his phone like he ruled the world.
Who did the stuck-up suit think he was...God?
Actually, he looked like a God. That was about it.
When his stop came, he got up suddenly and left. So suddenly, he dropped his phone on the way out.
I might have picked it up.
I might have gone through all of his photos and called some of the numbers.
I might have held onto the mystery man's phone for days―until I finally conjured up the courage to return it.
When I traipsed my ass across town to his fancy company, he refused to see me.
So, I left the phone on the empty desk outside the arrogant jerk's office.
I might have also left behind a dirty picture on it first though.
I didn't expect him to text back.
I didn't expect our exchanges to be hot as hell.
I didn't expect to fall for him―all before we even met.
The two of us couldn't have been any more different.
Yet, you know what they say about opposites.
When we finally came face to face, we found out opposites sometimes do more than attract―we consumed each other.
Nothing could have prepared me for the ride he took me on. And I certainly wasn't prepared for where I'd wind up when the ride was over.
All good things must come to an end, right?
Except our ending was one I didn't see coming.
Less drama! Especially this specific type of drama. You'll know what I mean if you've read it.
Jason Thorn… My brother's childhood friend.
Oh, how stupidly in love with that boy I was. He was the first boy that made me blush, my first official crush. Sounds beautiful so far, right? That excitement that bubbles up inside you, those famous butterflies you feel for the very first time—he was the reason for them all. But, you only get to live in that fairytale world until they crush your hopes and dreams and then stomp on your heart for good measure. And boy did he crush my little heart into pieces.
After the stomping part he became the boy I did my best to stay away from—and let me tell you, it was pretty hard to do when he slept in the room right across from mine.
When tragedy struck his family and they moved away, I was ready to forget he ever existed.
Now he is a movie star, the one who makes women of all ages go into a screaming frenzy, the one who makes everyone swoon with that dimpled smile of his. Do you think that's dreamy? I certainly don't think so. How about me coming face to face with him? Nope still not dreamy. Not when I can't even manage to look him in the eye.
Me? I'm Olive, a new writer. Actually, I'm THE writer of the book that inspired the movie he is about to star in on the big screen. As of late, I am also referred to as the oh-so-very-lucky girl who is about to become the wife of Jason Thorn.
Maybe you're thinking yet again that this is all so dreamy? Nope, nothing dreamy going on here. Not even close.
I can't believe I'm saying this, but I wish this had less sex.
Seven years ago, the Veil that separates humanity from what lies beyond was torn apart, and New Orleans was engulfed in a supernatural war. Now, those with paranormal powers have been confined in a walled community that humans call the District. Those who live there call it Devil's Isle.

Claire Connolly is a good girl with a dangerous secret: she's a Sensitive, a human endowed with magic that seeped through the Veil. Claire knows that revealing her skills would mean being confined to Devil's Isle. Unfortunately, hiding her power has left her untrained and unfocused.

Liam Quinn knows from experience that magic makes monsters of the weak, and he has no time for a Sensitive with no control of her own strength. But when he sees Claire using her powers to save a human under attack—in full view of the French Quarter—Liam decides to bring her to Devil's Isle and the teacher she needs, even though getting her out of his way isn't the same as keeping her out of his head.

But when the Veil threatens to shatter completely, Claire and Liam must work together to stop it, or else New Orleans will burn…
More world building! This book had such a fresh idea and while the world was intriguing, I wish there was a bit more depth.
A typical day in the life of Charley Davidson involves cheating husbands, missing people, errant wives, philandering business owners, and oh yeah...demons, hell hounds, evil gods, and dead people. Lots and lots of dead people.
As a part time Private Investigator and full-time Grim Reaper, Charley has to balance the good, the bad, the undead, and those who want her dead. In this eleventh installment, Charley is learning to make peace with the fact that she is a goddess with all kinds of power and that her own daughter has been born to save the world from total destruction.
But the forces of hell are determined to see Charley banished forever to the darkest corners of another dimension. With the son of Satan himself as her husband and world-rocking lover, maybe Charley can find a way to have her happily ever after after all.
I loved this one, but I wish it had a bit more
story and was less of a filler.
The year is 1945. Claire Randall, a former combat nurse, is just back from the war and reunited with her husband on a second honeymoon when she walks through a standing stone in one of the ancient circles that dot the British Isles. Suddenly she is a Sassenach—an "outlander"—in a Scotland torn by war and raiding border clans in the year of Our Lord...1743.
Hurled back in time by forces she cannot understand, Claire is catapulted into the intrigues of lairds and spies that may threaten her life, and shatter her heart. For here James Fraser, a gallant young Scots warrior, shows her a love so absolute that Claire becomes a woman torn between fidelity and desire—and between two vastly different men in two irreconcilable lives.
Less pages! I loved this book so much, but only after the first...200 pages or so. Those first pages could've easily been 75 pages.
4 Books I Wish I Had More....
Vanessa Mazur knows she's doing the right thing. She shouldn't feel bad for quitting. Being an assistant/housekeeper/fairy godmother to the top defensive end in the National Football Organization was always supposed to be temporary. She has plans and none of them include washing extra-large underwear longer than necessary.
But when Aiden Graves shows up at her door wanting her to come back, she's beyond shocked.
For two years, the man known as The Wall of Winnipeg couldn't find it in him to tell her good morning or congratulate her on her birthday. Now? He's asking for the unthinkable.
What do you say to the man who is used to getting everything he wants?
More romance! It was a fantastic slow burn, but the actual romance only occurred in the last 85-90%. I wish there was more, because I loved this couple so
much.
Once the flames are ignited . . .

Miranda Ellis is a woman tormented. Plagued since birth by a strange and powerful gift, she has spent her entire life struggling to control her exceptional abilities. Yet one innocent but irreversible mistake has left her family's fortune decimated and forced her to wed London's most nefarious nobleman.

They will burn for eternity . . .

Lord Benjamin Archer is no ordinary man. Doomed to hide his disfigured face behind masks, Archer knows it's selfish to take Miranda as his bride. Yet he can't help being drawn to the flame-haired beauty whose touch sparks a passion he hasn't felt in a lifetime. When Archer is accused of a series of gruesome murders, he gives in to the beastly nature he has fought so hard to hide from the world. But the curse that haunts him cannot be denied. Now, to save his soul, Miranda will enter a world of dark magic and darker intrigue. For only she can see the man hiding behind the mask.
More paranormal elements!
An unexpected phone call heralds a new challenge for Mercy. Her mate Adam's ex-wife is in trouble, on the run from her new boyfriend. Adam isn't the kind of man to turn away a person in need—and Mercy knows it. But with Christy holed up in Adam's house, Mercy can't shake the feeling that something about the situation isn't right.
Soon, her suspicions are confirmed when she learns that Christy has the farthest thing from good intentions. She wants Adam back and she's willing to do whatever it takes to make it happen, including turning Adam's pack against Mercy.
Mercy isn't about to step down without a fight, but there's a more dangerous threat circling. Christy's ex is more than a bad man—in fact, he may not be human at all. As the bodies start piling up, Mercy must put her personal troubles aside to face a creature with the power to tear her whole world apart.
More sex in this series! I'm really not a fan of fade to black, especially in an adult novel, especially one that has fairly graphic violence.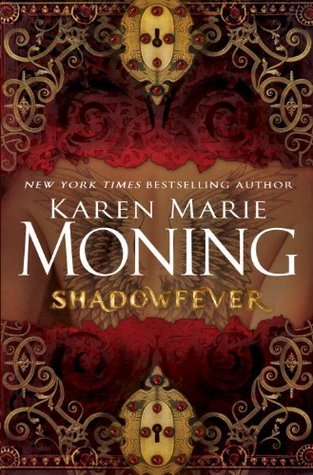 "Evil is a completely different creature, Mac. Evil is bad that believes it's good." — MacKayla Lane was just a child when she and her sister, Alina, were given up for adoption and banished from Ireland forever. — Twenty years later, Alina is dead and Mac has returned to the country that expelled them to hunt her sister's murderer. But after discovering that she descends from a bloodline both gifted and cursed, Mac is plunged into a secret history: an ancient conflict between humans and immortals who have lived concealed among us for thousands of years.
What follows is a shocking chain of events with devastating consequences, and now Mac struggles to cope with grief while continuing her mission to acquire and control the Sinsar Dubh -- a book of dark, forbidden magic scribed by the mythical Unseelie King, containing the power to create and destroy worlds.
In an epic battle between humans and Fae, the hunter becomes the hunted when the Sinsar Dubh turns on Mac and begins mowing a deadly path through those she loves.
Who can she turn to? Who can she trust? Who is the woman haunting her dreams? More important, who is Mac herself and what is the destiny she glimpses in the black and crimson designs of an ancient tarot card?
From the luxury of the Lord Master's penthouse to the sordid depths of an Unseelie nightclub, from the erotic bed of her lover to the terrifying bed of the Unseelie King, Mac's journey will force her to face the truth of her exile, and to make a choice that will either save the world . . . or destroy it.
More backstory on Barrons and The 9. I consider this series finished after this book, so I have no clue if the other books expand on it.