Hey, everyone!
Happy Monday. :D Can you believe we're on the last week of October? It's crazy to me! This year's flown by.
October has had some fabulous new releases, and one of my most anticipated releases of the year comes out on the 28th. That book is the conclusion of the Nocte trilogy by Courtney Cole, so I figured the first book would be a good one to review today! That way if you decide to read it, and get completely hooked like I did, you won't have to suffer through months of a killer cliffhanger.
Nocte was one of my favorite books of the year, so let's dive right into it!
I won't be doing any form of recap on this one, because I went into it blind and I truly think that's the best way to go into this story.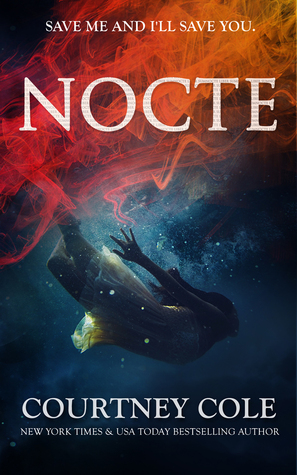 From Goodreads
My name is Calla Price. I'm eighteen years old, and I'm one half of a whole. My other half—my twin brother, my Finn—is crazy.
I love him. More than life, more than anything. And even though I'm terrified he'll suck me down with him, no one can save him but me.
I'm doing all I can to stay afloat in a sea of insanity, but I'm drowning more and more each day. So I reach out for a lifeline. Dare DuBray.
He's my savior and my anti-Christ. His arms are where I feel safe, where I'm afraid, where I belong, where I'm lost. He will heal me, break me, love me and hate me.
He has the power to destroy me. Maybe that's ok. Because I can't seem to save Finn and love Dare without everyone getting hurt.
Why? Because of a secret.
A secret I'm so busy trying to figure out, that I never see it coming.
My Review
5 "Dark, Twisted, Sexy and Head Spinning" Stars!
Wow! Just. Freaking. Wow. This was my first Courtney Cole book, and it's been a while since I've read such a genuinely gifted author.
This book was beautifully crafted; full of twists and turns that kept me on the edge of my seat with racing thoughts and a pounding heart, the story was spectacular. It's the perfect blend of suspense, mystery, grief, family, romance, loss and insanity. It was creepy and weird, passionate and haunting, confusing and fascinating.
There is nothing quite so terrifying as the descension of the human mind into insanity.
The style of writing was a bit unusual for me, and I don't think I've read anything quite like it before. It's almost simplistic, without much detail given to allow the reader to flesh out the story within the confines of the author's image. Usually that would bother me, but it worked so well for this story, and I wound up loving it. Without the layer of details you're accustomed to, you can really bend the story to your own will, letting your mind run totally wild in an attempt to build this world to your specifications.
Save me, and I'll save you.
The story is told in alternating perspectives between Calla and her twin brother, Finn.
Calla was an interesting heroine, one I wasn't sure I liked at first, but grew to love and be absolutely fascinated by. She was quietly brave, fiercely protective of her brother, intelligent and relatable. She seemed so much older than her 18 years.
The bond she had with her twin was both amazing and a bit creepy at times, and added such an intense layer to the story.
I want her to be happy, I do.
I do.
But...not yet. I just can't be without her yet.
Calla quiets the voices.
Finn is actually crazy. He's had mental issues his entire life. A brilliant boy, but definitely unhinged. His love for his twin sister is so fierce that it frequently felt a bit obsessive. It never quite reached the line of incest/romance, but it got a little close on more than one occasion, at least in my perspective.
I would plunge to the bottom of the ocean for you. I'd comb it for shells and make you a necklace, and then hang myself with it. Because if you aren't here, I don't want to be, either.
The short chapters from Finn's point of view were fascinating to see, the snippets from his journal only adding to his madness and slowly unraveling loss of control. His mind was a dark and twisted place, and while I was glad to be back with Calla when his chapters were over, I was anxious to get back to him all the same.
He's kisses me with abandon, like he's not afraid of the consequences, like it's only him and me, and there's nothing else around us.
Dare...well, I honestly don't know how I feel about him, aside from swooning at his British accent (how can you not love those?!). I was suspicious about him from the get-go, and so was Calla. That wound up making slight sense by the end of the book, but I still couldn't get a good read on him even after the second book. He's definitely an interesting character, that's for damn sure!
He and Calla had great chemistry, and their scenes together were scorching. Romance wasn't the primary focus of the book, but it was integral to the plot and very well done.
I've got to do what is right.
What is right.
What is right.
ProtectYourSecret.
The other voices come back, hissing, reminding.
My secret.
That's what is comes back to now.
Always.
No matter what.
It did take around 100 pages for me to really get into this, and to see it as something more than an average contemporary. That's something wound I liked about it, though: you're lulled into a false sense of security, and are then mercilessly thrust into a world of absolute darkness.
That ending....! Holy shitballs, I did not see that coming. At all. I had a million theories, and none came even close to what happened. The cliffhanger was wicked, and the second book just as good (also with a cliffhanger)!
I honestly don't know what the hell is going on. I'm not sure if it's a paranormal factor or mental illness, and I can't wait to get my hands on the next book!
Overall, I highly recommend this dark and twisted tale. I was on the edge of my seat while reading this, cried more than once, and immediately bought the second one upon finishing Nocte. It's a mindfuck of epic proportions! One of my favorites for 2015! The first and second book are $0.99 on Amazon for a limited time right now.
Stats:
Rating: 5 stars
Genre: New adult, contemporary, romance, suspense, dark, mystery
Series: Nocte Trilogy, book 1
POV: 1st person, dual perspective
Steam/sexual content: Very steamy, one fairly clean sex scene
Warnings: Mental illness, sex, some violence, some language
Cliffhanger: YES!
HEA: Not a freaking clue
On My Goodreads Shelves: 2015, 5 Stars, Cliffhanger, WTF is Going On, Freaky and Scary, Heartbreaking, Great Characters, Kept Me On The Edge of My Seat, Holy Mind Fuck
Length: 319 pages (paperback)
My own copy
- The Bibliophile Babe