Hey, ladies!
October is a fantastic month for new releases, so I thought I'd share my most anticipated with you all. What are you most looking forward to this month!
Dirty English by Ilsa Madden Mills

A scarred fighter.
A girl with rules.
One night of unbridled passion.
There are three things you need to know about Elizabeth Bennett: she's smart as a whip, always in control, and lives by a set of carefully crafted rules. She's learned the hard way that people you love the most always hurt you in the end.
But then she meets Declan Blay, the new neighbor at her apartment complex.
A tattooed British street fighter, he's the campus bad boy she's
supposed
to avoid, but when he saves her from a frat party gone bad, all her rules about sex and love fly out the window.
She gives him one night of unbridled passion, but he longs for more.
With only a cardboard-thin wall separating their bedrooms, he dreams of possessing the vulnerable girl next door forever.
One night. Two damaged hearts. The passion of a lifetime.
*a modern love story inspired by Pride and Prejudice*
Sounds intriguing, and people are enjoying it! Definitely 1-clicking this baby.
Humans of New York: Stories by Brandon Stanton
In the summer of 2010, photographer Brandon Stanton began an ambitious project -to single-handedly create a photographic census of New York City. The photos he took and the accompanying interviews became the blog Humans of New York. His audience steadily grew from a few hundred followers to, at present count, over twelve million. In 2013, his book Humans of New York, based on that blog, was published and immediately catapulted to the top of the NY Times Bestseller List where it has appeared for over forty-five weeks. Now, Brandon is back with the Humans of New York book that his loyal followers have been waiting for: Humans of New York: Stories. Ever since Brandon began interviewing people on the streets of New York, the dialogue he's had with them has increasingly become as in-depth, intriguing and moving as the photos themselves. Humans of New York: Stories presents a whole new group of people in stunning photographs, with a rich design and, most importantly, longer stories that delve deeper and surprise with greater candor. Let Brandon Stanton and the Humans of New York he's photographed astonish you all over again next fall.
Humans of New York is my very favorite Facebook page, and I can't put into words how much I admire Brandon. The first book was fantastic, and I can't wait to get my hands on this!

From New York Times bestselling author Alice Clayton, the first in a brand-new romance series telling the humorously sexy tale of Roxie, a private chef who gets a taste of love—but is it to stay, or to go?
After losing almost all of her clients in one fell swoop following an accident involving whipped cream, private chef to Hollywood's elite Roxie Callahan gets a call from her flighty mother, saying she's needed home in upstate New York to run the family diner. Once she's back in the Hudson Valley, local organic farmer Leo delivers Roxie a lovely bunch of walnuts, and soon sparks—and clothing—begin to fly. Leo believes that everything worth doing is worth doing slowly…and how! But will Roxie stay upstate, or will the lure of West Coast redemption tempt her back to Tinseltown?
It's Alice Clayton, and the book is titled "nuts". I'm sold!
I wanted to jump.
He made me fall.

As a celebrity, I lived in the public eye, but somewhere along the way, I'd lost myself in the spotlight.

Until he found me.

Sam Rivers was a gorgeous, tattooed stranger who saved my life with nothing more than a simple conversation.

But we were both standing on that bridge for a reason the night we met. The secrets of our pasts brought us together—and then tore us apart.

Could we find a reason to hold on as life constantly pulled us down?

Or maybe there's only one direction to go when two people fall in love at rock bottom—up.
I'm a huge fan of Aly Martinez, and that cover's gorgeous!
Surviving Ice by K.A. Tucker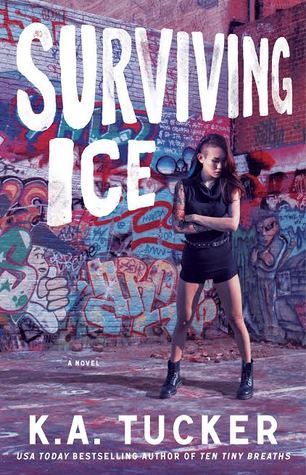 The USA TODAY bestselling author of the Ten Tiny Breaths series and Burying Water—which Kirkus Reviews called "a sexy, romantic, gangster-tinged page-turner"—returns with a new novel packed with romance, plot twists, and psychological suspense.
Ivy, a talented tattoo artist who spent the early part of her twenties on the move, is finally looking for a place to call home. She thinks she might have found it in San Francisco, but all that changes when she witnesses a terrible crime. She's ready to pack up her things yet again, when a random encounter with a stranger keeps her in the city, giving her reason to stay after all.
That is, until Ivy discovers that their encounter wasn't random. Not at all…
This one sounds really good!
Lux (Nocte, #3) by Courtney Cole
LET THERE BE LIGHT.
My name is Calla Price and I'm broken.
My pieces are all around me, floating on the wind, even as I desperately try to grasp them.
Who is dead? Alive? Insane?
What is the truth?
I don't know.
I do know this: The darkness is strangling me. With every breath, I choke on another lie.
My mind has protected me, but that shield will soon be lowered.
All will be revealed.
Every answer to every question.
It's all been leading to this.
Don't be afraid.
Be terrified.
I've been waiting months for this dark and twisted finale!