W… W… W… Wednesday, hosted by
Taking on a World of Worlds,
is a weekly meme showcasing what you just finished reading, what you are currently reading, and what you plan to start reading next.
What Did You Recently Finish?
Add caption
Super quick audiobook that gives us a glimpse into Ansel's mind. Too short, but still a great read (listen?)! I would love to see all of Sweet Filthy Boy from his POV, and I usually hate that type of retelling. But it's Ansel! <3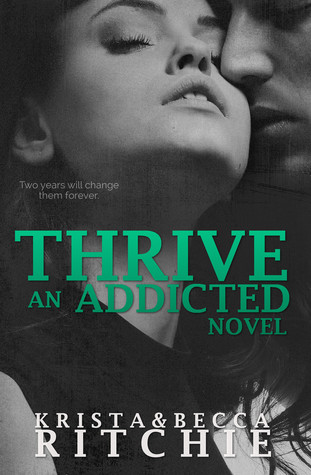 Two years will change them forever.

When rumors spread like wildfire—like having three-ways with her boyfriend's rock climbing brother—Lily Calloway spirals into a dark place. Her bedroom. Loren Hale is more confident and determined to keep their sex life private, even from their friends, and he helps Lily in the only way he knows how. But how much love is too much?

Their lives are filmed, watched, and criticized. And through it all, Lily and Loren have to face enemies they never thought they'd see, demons they don't know if they should bury, and setbacks they didn't think they'd meet. Not this soon.

And one rumor could be too much for them to handle. It will test their greatest limitations, and if they don't hold onto each other, someone is going to drown.

A full-length New Adult Romance that bridges the gap between the second and third books. Thrive must be read before Addicted After All if you have not read the Calloway Sisters spin-off series.
Another audiobook, and it was exhausting. There's so much grief and angst and just heartbreak in this series that I have to take long breaks between the books. Fantastically written books with incredible characters, but they sure do take it out of you!
What Are You Currently Reading?
I'm bouncing around like crazy with what I'm currently reading, as you can see!

In the latest Kate Daniels novel from #1 New York Times bestselling author Ilona Andrews, magic is coming and going in waves in post-Shift Atlanta—and each crest leaves danger in its wake…

After breaking from life with the Pack, mercenary Kate Daniels and her mate—former Beast Lord Curran Lennart—are adjusting to a very different pace. While they're thrilled to escape all the infighting, Curran misses the constant challenges of leading the shapeshifters.

So when the Pack offers him its stake in the Mercenary Guild, Curran seizes the opportunity—too bad the Guild wants nothing to do with him and Kate. Luckily, as a veteran merc, Kate can take over any of the Guild's unfinished jobs in order to bring in money and build their reputation. But what Kate and Curran don't realize is that the odd jobs they've been working are all connected.

An ancient enemy has arisen, and Kate and Curran are the only ones who can stop it—before it takes their city apart piece by piece…
I love this series! Each gets better and better. <3

Indy Savage, cop's daughter, rock chick and used bookstore owner, has been in love with Lee Nightingale, once bad boy, now the man behind Nightingale Investigations, since she was five years old. No matter what ingenious schemes Indy used to capture his attention, Lee never showed an interest and Indy finally gave up. Now Indy's employee, Rosie, has lost a bag of diamonds and bad guys are shooting at him. When Indy gets involved, Lee is forced to help. Complicating matters, Lee has decided he's interested, Indy's decided she's not. But she can't seem to keep Lee out of her life when she's repeatedly stun gunned, kidnapped and there are car bombs exploding (not to mention she's finding dead bodies).
Indy's best bet is to solve the mystery of the diamonds before Lee. Lee's challenge is to keep Indy alive and, at the same time, win back her heart.
Just started this audiobook, but it's funny so far! The narrator does a great job with the heroine, and reminds me vaguely of Emma Stone in Easy A (great movie!).

From New York Times bestselling author Rachel Vincent comes a richly imagined, provocative new series set in the dark mythology of the Menagerie…

When Delilah Marlow visits a famous traveling carnival, Metzger's Menagerie, she is an ordinary woman in a not-quite-ordinary world. But under the macabre circus black-top, she discovers a fierce, sharp-clawed creature lurking just beneath her human veneer. Captured and put on exhibition, Delilah in her black swan burlesque costume is stripped of her worldly possessions, including her own name, as she's forced to "perform" in town after town.

But there is breathtaking beauty behind the seamy and grotesque reality of the carnival. Gallagher, her handler, is as kind as he is cryptic and strong. The other "attractions"—mermaids, minotaurs, gryphons and kelpies—are strange, yes, but they share a bond forged by the brutal realities of captivity. And as Delilah struggles for her freedom, and for her fellow menagerie, she'll discover a strength and a purpose she never knew existed.

Renowned author Rachel Vincent weaves an intoxicating blend of carnival magic and startling humanity in this intricately woven and powerful tale.
Just started this, but is it ever intense! Definitely not a young adult book, and with the character being 24-25, I'm not sure why it's shelved as YA.

It's the summer of 1974 and 21-year old Dawn Emerson has only three things she wants to do: compete one last time in the Ellensburg Rodeo, win back her ex-boyfriend Ryan, and become the best damn music journalist at Central Washington University. But all her plans are left in the dust when she's contacted by Creem magazine to go on the road with one of her favorite groups, the up-and-coming metal band, Hybrid.
At first the assignment reads like a dream come true. Not only will Dawn land some much-needed credibility as a female music journalist, but she'll finally get to experience life from the other side of the stage, and maybe crack the drunken, enigmatic code that is guitarist Sage Knightly. Instead, Dawn finds herself on an aging tour bus filled with ego-maniacs, band politics and a whole lot of sex, drugs and rock n' roll. When monsters start showing up in dressing rooms and some of Sage's groupies become increasingly strange and dangerous, Dawn discovers the band is not only going places – they're going straight to Hell.
And Dawn has a backstage pass.
I was warned about Tristan Cole.

"Stay away from him," people said.
"He's cruel."
"He's cold."
"He's damaged."

It's easy to judge a man because of his past. To look at Tristan and see a monster.

But I couldn't do that. I had to accept the wreckage that lived inside of him because it also lived inside of me.

We were both empty.
We were both looking for something else. Something more.
We both wanted to put together the shattered pieces of our yesterdays.

Then perhaps we could finally remember how to breathe.
- The Bibliophile Babe