I just can't seem to stop myself, especially with so many sales lately. Also, enjoy my man candy collection. ;)
A new standalone from New York Times bestselling authors Vi Keeland and Penelope Ward.

I met Bianca in an elevator.
She was on her way to interview me when we got stuck.
The beautiful, raven-haired reporter assumed I was a delivery guy because of the way I was dressed.
She had no clue I was really Dex Truitt, the wealthy, successful businessman she'd dubbed "Mister Moneybags"—her afternoon appointment.
Bianca told me how much she hated Dex's type—snobby, over educated, silver- spooned men who didn't appreciate the simple things in life.
So, after the elevator finally started moving again, I cancelled the interview and let her believe I was someone I wasn't—a bike messenger named Jay. I loved the way she looked at the fake me and didn't want it to end.
I began dating her as "Jay"—all the while letting her interview the real me over email.
I didn't expect that our chemistry online would be just as hot.
I didn't expect the mess I'd gotten myself into.
I didn't expect that Jay and Dex would fall in love with her.
And she was falling for two men.
Only, both men were me.
And when she found out, we were both going to lose her.
Nothing could have prepared me for that day. And I certainly wasn't prepared for what came after.
All good things must come to an end, right?
Except our ending was one I didn't see coming.
When he left for a twelve-month deployment, she knew it would feel like forever before they saw each other again. She didn't realize how right she was.

When Lance Corporal Brecken Connolly gets taken as a POW, Camryn hopes for the best but steels herself for the worst. In the end, steel was what she needed to survive when he didn't. She moves on the only way she knows how—gilding herself in more steel.

Years go by.
She builds a new life.
She leaves the old one behind.

Until one day, she sees the face of a ghost on the news. Brecken seems to have risen from the dead, but she knows she can't perform the same miracle for herself. While Brecken was held in a torture camp for the past five years, she's been trapped in her own kind of prison. One she can't be saved from.

The man she mourned comes back to join the living, but the girl he wanted to spend his life with isn't the same woman he comes back for. Brecken isn't the same person either. The past five years have changed them both. While he's determined to put the pieces back together, she's resolved to let hers rot where they shattered.

Broken or not, Brecken wants her back. He'll do anything to achieve that. Even if it means going against the warden of Camryn's personal prison—her husband.
Lauren
Going back to work was supposed to be a painless transition, but when my new boss turns out to be an arrogant, cocky jerk, he quickly turns my professional life into a world of torture. Okay, fine, calling him an asshat before knowing he was my boss wasn't my finest moment. Hating him should be easy. I just never counted on him being so gorgeous or charming when he's not annoying me.
Austin
I expected my new assistant to be professional and punctual, but all I'm getting are dirty looks and rude comments. I should fire the little hellion, but instead all I can think about is bending her over my desk and breaking every rule I've ever made for myself.
One look. One touch. One night. If we break the rules, our lives will never be the same again.
Good thing rules were made to be broken. And besides, it feels so good to Tempt the Boss.
Brooklyn James should know better.
Born into Hollywood royalty, the brooding prince has a reputation as being a player. A manwhore. A womanizer.
Adoring fans are his thing.
His best friend's little sister is not.
Even thinking about her the way he is isn't cool.
Not cool at all.
And yet every time she pouts those sexy lips at him, she turns him inside out. Makes him harder than he's ever been. Drives him to the brink of insanity.
Amelia Waters has always idolized her big brother, and the last thing she wants to do is disappoint him.
Falling for her brother's ex-roommate is off-limits.
She knows this, but she can't help herself.
The way Brooklyn looks at her with those smoldering blue eyes makes her wet in an instant. Turns her into a shivering, shaking mess of sexual frustration. And soon the idea of spreading her legs for him is the only thing she can think about.
She wants him.
He wants her.
When they finally decide to give in to their insane attraction, they agree it will remain between them. That their illicit affair will be short-term. No strings. No baggage. No messy ending.
But when the first night of mind-blowing sex leads to another, and another still, how long can the endless hookups go on before Amelia's brother finds out? Or worse yet, before feelings develop?
Brooklyn and Amelia know they need to walk away from each other before either of those things happens.
The problem is doing it.
Talk about a mess.
Hollywood Prince is a sexy, standalone, contemporary romance about a bad boy and the off-limits girl who steals his heart.
No-nonsense Liis Lindy is an agent of the FBI. Deciding she is married only to her job, she breaks off her engagement and transfers from Chicago to the field office in San Diego. She loves her desk. She is committed to her laptop. She dreams of promotions and shaking hands with the director after cracking an impossible case.
Special Agent in Charge Thomas Maddox is arrogant, unforgiving, and ruthless. He is tasked with putting away some of the world's toughest criminals, and he is one of the best the Bureau has to offer. Though, as many lives as he's saved, there is one that is beyond his reach. Younger brother Travis is faced with prison time for his involvement in a basement fire that killed dozens of college students, and the media want a conviction. Travis's only savior is his unusual tie to the mob. In a deal that will spare his brother, Thomas has agreed to recruit Travis into the FBI.
Liis is stubborn, defiant, and yet somehow softens Thomas's rough edges, making her the perfect agent to accompany him to the ceremony. Posing as a couple, they must travel to Travis & Abby's beach vow renewal and give him the news, but when the pretending ends, she finds herself wondering if they were pretending at all.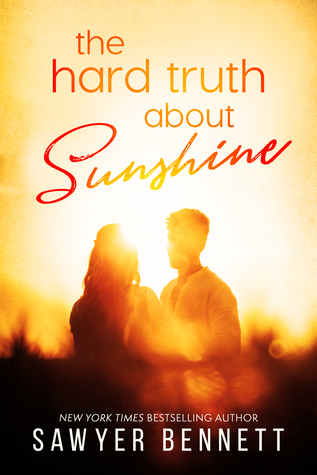 New York Times bestselling author Sawyer Bennett has written her most gripping and poignant tale yet. Provocatively heart-breaking, audaciously irreverent and romantically fulfilling, The Hard Truth About Sunshine exposes just how very thin the line is between a full life and an empty existence.
Despite having narrowly escaped death's clutches, Christopher Barlow is grateful for nothing. His capacity to love has been crushed. He hates everyone and everything, completely unable to see past the gray stain of misery that coats his perception of the world. It's only after he involuntarily joins a band of depressed misfits who are struggling to overcome their own problems, does Christopher start to re-evaluate his lot in life.
What could they possibly learn from one another? How could they possibly help each other to heal? And the question that Christopher asks himself over and over again... can he learn to love again?
He's about to find out as he embarks upon a cross country trip with a beautiful woman who is going blind, a boy with terminal cancer, and an abuse victim who can't decide whether she wants to live or die.
Four people with nothing in common but their destination. They will encounter adventure, thrills, loss and love. And within their travels they will learn the greatest lesson of all.
The hard truth about sunshine...
Warning: This book deals with some tough issues including suicide and sexual abuse.
New York Times bestselling author Wendy Higgins brings you the second book in this thrilling war-torn world... Being on the run in the desert means food and sanctuary are hard to come by, but Amber Tate and her crew are not about to give up. Not after having the things they love brutally ripped from them by an unknown enemy who sent their world into the apocalypse. Survival takes precedence, but once safe shelter is found, their guards fall and the emotions they've been holding in are finally released. Anger, insecurities...lust. In their tight quarters, Amber, Rylen, Tater, and Remy can't escape it. The past must be faced, and passions run even stronger in the darkest of times. In the midst of unrest, their worlds are rocked again when they discover the truth about the war that's ruined their lives. They thought finding out the enemy's identity would give them the edge; instead it's revealed terrifying dangers they never thought possible.
Save
Save
Save
Save
Save
Save