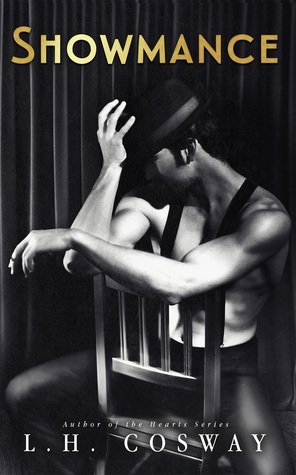 Damon Atwood was Hollywood's golden boy. Having won an Oscar at the tender age of thirteen, he had the life many could only dream about. But his success came at a price, and after a short but fruitful film career, he chose to live a life of obscurity on a remote Scottish island. Almost a decade later he's finally ready to make his return, starting with a lead role in a musical on London's West End.

As a choreographer's assistant, Rose Taylor has always faded into the background. She watches shows come to life from the side lines, but has never craved the attention of stardom. When rumours begin circulating of Damon's involvement in her latest gig, she doesn't predict how she will be thrust into the limelight, nor how the mysterious and strangely introverted man will need her to teach him how to be a star again.

Rose knows that show crushes don't last. Actors fall for each other during the intensity of a production, often losing themselves in their roles. These kinds of affairs burn bright and then they fade. The question is, should Rose let herself shine with Damon, or guard her heart from being broken after the final curtain call?
5 "2016 Favorite" Stars!
*cue dreamy sigh*
And this is why I adore L.H. Cosway's writing. I loved everything about this novel, and it quickly earned a spot on my "2016 Favorites" shelf. Let's jump right into this review!
Showmance is told in alternating points of view by Damon Atwood and Rose Taylor. Both are in their twenties and have a passion for the stage, but that's where the similarities end.
Damon is a gifted actor and singer, who's talents garnered him much praise and attention at a young age. Sadly, his career came to a screeching halt after a unspeakable experiences, and he chose to isolate himself in Scotland, on the Isle of Skye. Ten years passed, and he's taking to the stage in London as the lead in Moulin Rouge. Damon is quite shy and a tad socially awkward, not to mention out of touch with the stage life, so it's bound to be interesting.
Rose Taylor is a choreographer's assistant working in London. Despite being a talented dancer, serious stage fright keeps her behind the scenes. Despite a rather...unconventional upbringing and a several relationships with actors that eventually lead to heartache, Rose remains an incredibly sweet and level headed person. She has, however, sworn off ever getting involved with another actor.
Here is where she meets Damon, and sparks fly. A friendship soon turns into a slow building romance between these two unlikely people, but not without a few bumps in the road!
Normally I'm the kind of person that takes anywhere from 15% to 25% of the book to really get into it, really start feeling the characters and immersing myself in the story. That was not the case with Showmance (or any of Cosway's stories, come to think go it). I was hooked from the very first page, and the book didn't let me go. I absolutely devoured it, and couldn't wait to get my hands back on it when I was forced away! The pacing was superb, effortlessly carrying me along the story and keeping me enthralled the entire time.
I'll be honest and admit I'm usually not a huge fan of dual point of view stories. I like the completely get inside the character's head, and it tends to be a little jarring when I read dual or multi POV books. I was very surprised to find myself loving the alternating perspective here! It worked quite well with the story, each person filling in what the other may have glossed over, and giving a new view on circumstances I otherwise wouldn't have considered. It helped that both voices were so insanely likable!
I wished I'd been born asexual. That way I could just focus on my career and not get sidetracked by pretty men with wandering penises...penii?
L.H. Cosway always does well with her female leads, and Rose was no exception. She didn't have a bitchy or catty bone in her body, and was a truly nice person. Something pleasant to see was her genuine affection for her friends, Damon included. Smart, strong, kind and funny, this heroine was one I thoroughly enjoyed. She was someone I'd love to be friends with!
It's easy to be someone else. Being myself is the problem.
Damon...wow. I've never read a hero quite like him! He was a complete mass of contradictions: strong, yet fragile. Awkward, yet charismatic. Quiet, but sharp and intense. Confident in his talents, but humble. Sweet and gentle, but passionate and fiery. Being in his head was so interesting. I kinda love him, not going to lie.
"The way you move, it bewitches me. When you dance, when I sink inside you, when you come."
Hands down, my favorite part of this story was the pure, sizzling chemistry between Damon and Rose. It's not an insta-love story, but there is a strong connection from the first meeting, and it was 100% believable. Their romance was a slow building once that starts with friendship, something I am a total sucker for. Their relationship felt more deep and meaningful because of that, especially because they didn't hop straight into bed.
Speaking of which, the sexual tension is off the damn charts with these two. The current trend is to have the couple banging their brains out as soon as possible, usually before the 50% mark, and I've forgotten how freaking sexy good, smoldering tension is. It made the climax of their tension (haha, see what I did there?) all the more better.
Panty melting sex, that's all I'm going to say. Well, there is some incredibly sweet and tender moments to go along with it, too!
"Today was perfect, and it was perfect because I got to spend it with you."
Despite both characters having some issues with their pasts, I wasn't drowned in a sea of angst. The author never fails to do angst in a controlled, believable way. They acknowledge their issues and move on with it. I can see her characters as real people. Most other characters, especially in the new adult genre? I have a hard time believing anyone has the time to wallow that much.
The background of the stage setting was titillating and exciting, the perfect setting for the couple!
Home wasn't a geographical location on a map anymore, it wasn't a place set by four walls and a roof. Home now was a much more intangible, yet solid thing.
She was my home.
My beautiful, sweet, and forever enchanting Rose.
Overall, I was thrilled with this story and can't wait for the next character's book, releasing in 2017. It was engrossing, sexy, funny, relatable, and throughly awesome. Highly recommend!
* I received an ARC in exchange for an honest review. All opinions are my own.