Hey, ladies!
It's
Top Ten Tuesday
by
The Broke and The Bookish
! Today's topic is all about beach reads (could also be just general vacation type read!). Personally, I don't really care for the typical beach reads as
my
beach reads. I like my beach reads to be more actioned packed,
adventurous and enthralling, rather than light, fluffy and easy to set down. Hey, if I'm on vacation, that means I have time to get absorbed in a great story! Plus, I'm in Florida and get to be on these beaches year round. ;)
With that in mind, here are a few of my favorite "untraditional" beach reads!
In no real order.....
10. Donners of The Dead by Karina Halle
***A Standalone Horror Romance***
A note about this book: Donners of the Dead is set in 1851 – couples were often thrust into marriage together with short courtships, racism was widespread and not overly frowned upon, and women had little to no rights. What wouldn't fly in today's day and age was unfortunately the norm back then - it is worth keeping that in mind when reading this book.
Jake McGraw was unlike anyone I'd ever known. He was brash, rude, unapologetic and arrogant; chauvinistic, close-minded, and terribly stubborn. He was built like a tree, tall with a hard chest and wide shoulders and hands that looked like they could wrestle a bear. He was a cigar-chomping, scruffy-faced, beast of a man. I was pretty sure I hated him. And I know he hated me. But among the flesh-eating monsters in these snow-capped mountains, he was the only thing keeping me alive
The year is 1851 and pioneers in search of California gold are still afraid to travel on the same route as the tragic Donner party did years before. When the last wagon train to go into the Sierra Nevada mountains fails to arrive at their destination, Eve Smith, an 18-year old half-native girl with immense tracking skills is brought along with the search party, headed by an enigmatic former Texas Ranger, Jake McGraw.
What they find deep in the dangerous snow-covered terrain is a terrifying consequence of cannibalism, giving new meaning to the term "monster." While the search party is slowly picked off, one by one, Eve must learn to trust Jake, who harbors more than a few secrets of his own, in order to survive and prevent the monstrosities from reaching civilization.
I actually read this on the beach last year, same date as today!
9. The Stars Never Rise by Rachel Vincent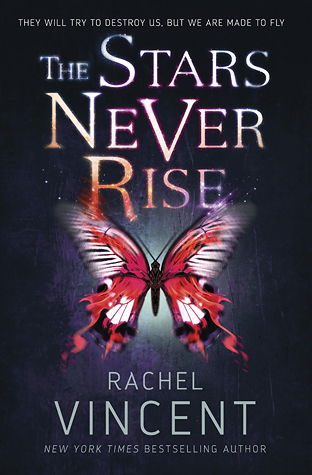 Sixteen-year-old Nina Kane should be worrying about her immortal soul, but she's too busy trying to actually survive. Her town's population has been decimated by soul-consuming demons, and souls are in short supply. Watching over her younger sister, Mellie, and scraping together food and money are all that matters. The two of them are a family. They gave up on their deadbeat mom a long time ago.
When Nina discovers that Mellie is keeping a secret that threatens their very existence, she'll do anything to protect her. Because in New Temperance, sins are prosecuted as crimes by the brutal Church and its army of black-robed exorcists. And Mellie's sin has put her in serious trouble.
To keep them both alive, Nina will need to trust Finn, a fugitive with deep green eyes who has already saved her life once and who might just be an exorcist. But what kind of exorcist wears a hoodie?
Wanted by the Church and hunted by dark forces, Nina knows she can't survive on her own. She needs Finn and his group of rogue friends just as much as they need her.
Completely addictive and kept me on the edge of my seat.
8. Darkfever by Karen Marie Moning
"My name is MacKayla, Mac for short. I'm a sidhe-seer, one who sees the Fae, a fact I accepted only recently and very reluctantly.

My philosophy is pretty simple - any day nobody's trying to kill me is a good day in my book. I haven't had many good days lately. Not since the walls between Man and Fae came down. But then, there's not a sidhe-seer alive who's had a good day since then."

When MacKayla's sister was murdered, she left a single clue to her death, a cryptic message on Mac's cel phone. Journeying to Ireland in search of answers, Mac is soon faced with an even greater challenge: staying alive long enough to master a power she had no idea she possessed - a gift that allows her to see beyond the world of man, into the dangerous realm of the Fae.

As Mac delves deeper into the mystery of her sister's death, her every move is shadowed by the dark, mysteriou Jericho...while at the same time, the ruthless V'lane - an alpha Fae who makes sex an addiction for human women - closes in on her. As the boundary between worlds begins to crumble, Mac's true mission becomes clear: to find the elusive Sinsar Dubh before someone else claims the all-powerful Dark Book - because whoever gets to it first holds nothing less than complete control both worlds in their hands.
One of my all time favorite series. May be time for a reread!
7. Killing Sarai by J.A. Redmerski
Sarai was only fourteen when her mother uprooted her to live in Mexico with a notorious drug lord. Over time she forgot what it was like to live a normal life, but she never let go of her hope to escape the compound where she has been held for the past nine years.
Victor is a cold-blooded assassin who, like Sarai, has known only death and violence since he was a young boy. When Victor arrives at the compound to collect details and payment for a hit, Sarai sees him as her only opportunity for escape. But things don't go as planned and instead of finding transport back to Tucson, she finds herself free from one dangerous man and caught in the clutches of another.
While on the run, Victor strays from his primal nature as he succumbs to his conscience and resolves to help Sarai. As they grow closer, he finds himself willing to risk everything to keep her alive; even his relationship with his devoted brother and liaison, Niklas, who now like everyone else wants Sarai dead.
As Victor and Sarai slowly build a trust, the differences between them seem to lessen, and an unlikely attraction intensifies. But Victor's brutal skills and experience may not be enough in the end to save her, as the power she unknowingly holds over him may ultimately be what gets her killed.
This is their story…
While I didn't feel the romance as much as I wanted to, it was still a very enjoyable and action-packed read.
6. My Soul to Take by Rachel Vincent
She doesn't see dead people. She senses when someone near her is about to die. And when that happens, a force beyond her control compels her to scream bloody murder. Literally.

Kaylee just wants to enjoy having caught the attention of the hottest guy in school. But a normal date is hard to come by when Nash seems to know more about her need to scream than she does. And when classmates start dropping dead for no apparent reason, only Kaylee knows who'll be next.
Another Vincent book. I'll admit to not being a big fan of this first book, but the series got so much better as it went on. A really unique premise and the only love triangle I've ever read that was well done, too!
5. M
onster in His Eyes by J.M. Darhower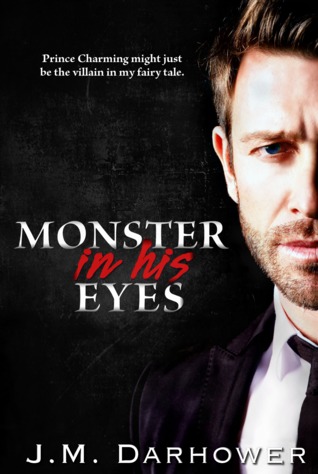 Ignazio Vitale is not a good man.
I suspect it, the first time I see him, sense the air of danger that surrounds the man. He has a way of commanding attention, of taking control, of knowing what I'm thinking before I even do.
It's alarming and alluring. It's dark and deadly. It's everything I've ever wanted but the last thing I truly need. Obsession.
It doesn't take him long to draw me into his web, charming me into his bed and trapping me in his life, a life I know nothing about until it's too late. He has secrets, secrets I can't fathom, secrets that make it so I can't walk away, no matter how much I beg him to let me go. I see it sometimes in his eyes, a darkness that's both terrifying and thrilling. He's a monster, wrapped up in a pretty package, and what I find when I unmask him changes everything.
I want to hate him.
Sometimes, I do.
But it doesn't stop me from loving him, too.
Absolutely loved the tension in this one!
4. The Bird and The Sword by Amy Harmon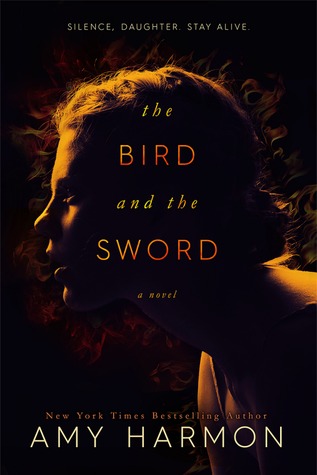 Swallow, Daughter, pull them in, those words that sit upon your lips. Lock them deep inside your soul, hide them 'til they've time to grow. Close your mouth upon the power, curse not, cure not, 'til the hour. You won't speak and you won't tell, you won't call on heav'n or hell. You will learn and you will thrive. Silence, Daughter. Stay alive.
The day my mother was killed, she told my father I wouldn't speak again, and she told him if I died, he would die too. Then she predicted the king would trade his soul and lose his son to the sky.
My father has a claim to the throne, and he is waiting in the shadows for all of my mother's words to come to pass. He wants desperately to be king, and I just want to be free.
But freedom will require escape, and I'm a prisoner of my mother's curse and my father's greed. I can't speak or make a sound, and I can't wield a sword or beguile a king. In a land purged of enchantment, love might be the only magic left, and who could ever love . . . a bird?
This book is absolutely worth the hype. Amazing, and I don't even like fantasy! It's now on my best of 2016 shelf. Full review to come soon.
3. Chicagoland Vampires by Chloe Neill
Merit, Chicago's newest vampire, is learning how to play well with others. Other supernaturals, that is. Shapeshifters from across the country are convening in the Windy City, and as a gesture of peace, Master Vampire Ethan Sullivan has offered their leader a very special bodyguard: Merit. Merit is supposed to protect the Alpha, Gabriel Keene—and to spy for the vamps while she's at it. Oh, and luckily Ethan's offering some steamy, one-on-one combat training sessions to help her prepare for the mission.
Merit must accept the assignment, even though she knows that she'll probably regret it. And she's not wrong. Someone is gunning for Gabriel Keene, and Merit soon finds herself in the line of fire. She'll need all the help she can get to track down the would-be assassin, but everywhere she turns, there are rising tensions between supernaturals—not least between her and a certain green-eyed, centuries old master vampire.
I was skeptical with this series up until book 3, but it's now one of my very favorites!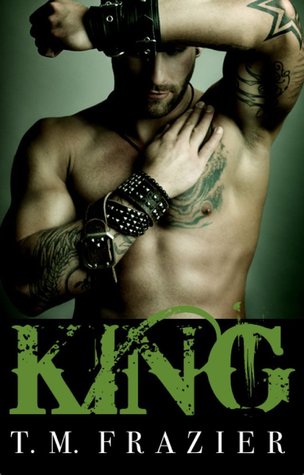 Homeless. Hungry. Desperate.
Doe has no memories of who she is or where she comes from.
A notorious career criminal just released from prison, King is someone you don't want to cross unless you're prepared to pay him back in blood, sweat, pu$$y or a combination of all three.
King's future hangs in the balance. Doe's is written in her past. When they come crashing together, they will have to learn that sometimes in order to hold on, you have to first let go.
Warning: This book contains graphic violence, consensual and nonconsensual sex, drug use, abuse, and other taboo subjects and adult subject matter. Although originally slated to be a standalone, KING is now a two part series.
Complete and utter guilty pleasure.
1. Lover Awakened by J.R. Ward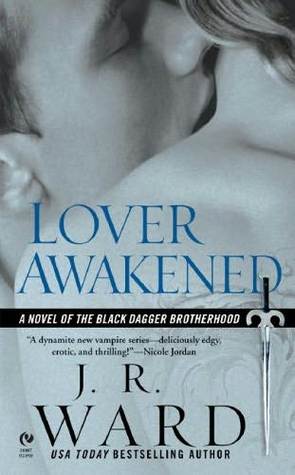 In the shadows of the night in Caldwell, New York, there's a deadly war raging between vampires and their slayers. And there exists a secret band of brothers like no other - six vampire warriors, defenders of their race. Of these, Zsadist is the most terrifying member of the Black Dagger Brotherhood.

A former blood slave, the vampire Zsadist still bears the scars from a past filled with suffering and humiliation. Renowned for his unquenchable fury and sinister deeds, he is a savage feared by humans and vampires alike. Anger is his only companion, and terror is his only passion—until he rescues a beautiful aristocrat from the evil Lessening Society.

Bella is instantly entranced by the seething power Zsadist possesses. But even as their desire for one another begins to overtake them both, Zsadist's thirst for vengeance against Bella's tormentors drives him to the brink of madness. Now, Bella must help her lover overcome the wounds of his tortured past, and find a future with her…
I've only read this one, but I really enjoyed it. Made me cry, swoon, and my heart pound!
What's your go-to beach read?