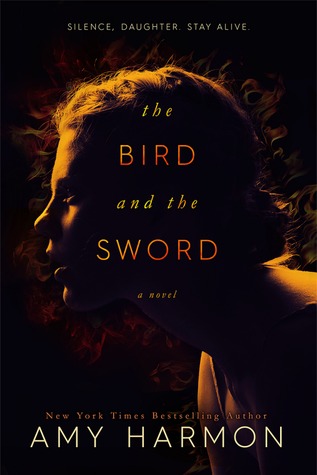 Swallow, Daughter, pull them in, those words that sit upon your lips. Lock them deep inside your soul, hide them 'til they've time to grow. Close your mouth upon the power, curse not, cure not, 'til the hour. You won't speak and you won't tell, you won't call on heav'n or hell. You will learn and you will thrive. Silence, Daughter. Stay alive.

The day my mother was killed, she told my father I wouldn't speak again, and she told him if I died, he would die too. Then she predicted the king would trade his soul and lose his son to the sky.

My father has a claim to the throne, and he is waiting in the shadows for all of my mother's words to come to pass. He wants desperately to be king, and I just want to be free.

But freedom will require escape, and I'm a prisoner of my mother's curse and my father's greed. I can't speak or make a sound, and I can't wield a sword or beguile a king. In a land purged of enchantment, love might be the only magic left, and who could ever love . . . a bird?
5 Beautiful Stars
I don't like fantasy. Urban fantasy I can do and enjoy with a little pushing and patience, but legitimate fantasy doesn't hold my attention. In fact, it frustrates me. I often find it dry, confusing, and trying-too-hard.
Given that, I'm not sure why I picked up The Bird and The Sword, knowing full well it was fantasy. To be perfectly honest, I was expecting it to be a did not finish.
That wasn't the case. At all.
Instead, it's now on my "Best of 2016" shelf, and has earned a permanent spot as one of my favorite books ever.
The Bird and The Sword is a stand alone, new adult (I think) romantic fantasy, set to a backdrop of what reminds me of the Middle Ages. In this world, some people are Gifted with strange and intense powers, such as shifting into animals, healing the sick or wounded, and transforming objects.
Our heroine, Lark, is Gifted. After witnessing a horrible tragedy as a young child, she no longer speaks. Not a word, not a whisper. Silence does not mean weak, as Lark finds out on her joinery throughout the story.
Normally, I'd go far more in depth into the storyline than that, but I really feel it's something you have to experience for yourself. I went in nearly blind, and am so glad I did. It's the best way to do it!
It feels a little Beauty and The Beast to me, which I loved.
I think part of why it was so good for me was because I didn't view it as a fantasy read. I read it as a romance with a fantasy backdrop, rather than a fantasy with a romantic subplot. That made all the difference.
The pacing was flawless, and enthralled me from the very first page. The writing is spectacular, as per usual with Amy Harmon's work, and I have pages and pages of highlighted notes on my Kindle!
One thing I enjoyed was the fairly minimal dialogue. Since Lark cannot speak, there isn't much chatter between her and other characters, at least not in the traditional sense. The interactions between her and other characters was all the more enjoyable because it was meaningful.
I was only limited by my ignorance, by my fear, and by my own sense of right and wrong.
Lark had some wonderful character development throughout the story, and it was fascinating to see her grow and change. The way she got around not being able to speak made her all the more respectable in my eyes, as she does so much with so little.
And then there's Tiras, the King and Lark's love interest. It's been a long time since I've enjoyed a character as much as I enjoyed him! I bounced back and forth between swooning over him and wanting to give him a solid smack on the head. He's undeniably a bit of a jackass, but...there's something about him I couldn't get enough of.
He was sexy and intense, infuriatingly haughty, proud and noble, a fearless warrior and at the same time, a scared little boy. He cared deeply about his people, and watching his love for Lark grow and evolve was lovely to see.
"I have loved you every moment of every day, and I will love you until I cease to be."
The action was spectacular, gory battle scenes painted with such vivd detail that it felt like I was right there with them.
My one and only issue with the book is that I wish the sex scenes were as vivid as the battle scenes, rather than mostly fade to blacks. That's just my inner hussy, though. ;)
I loved the side characters, even the ones I wasn't suppose to like!
Overall, this was a fantastic story than I cannot recommend enough.