Hey, ladies!
It's
Top Ten Tuesday
by
The Broke and The Bookish
! Today's topic is your anticipated releases for the second half one 2016. I have a massive list/shelf on Goodreads for this very topic, and it was hard narrowing it down to just ten!
Let's jump right in, and in no real order:
10. Ramsy by Mia Sheridan - June 19th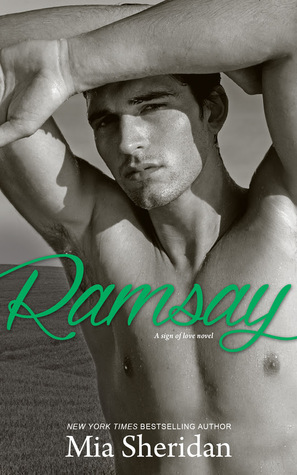 Lydia De Havilland
is shocked when
Brogan Ramsay
suddenly reappears in her life. Several years before, Brogan was the son of her family's gardener, and the boy she hurt and betrayed. But Brogan is no longer the quiet, sensitive boy she remembers. Now he's a man—gorgeous, powerful . . . and seeking vengeance.
Brogan Ramsay can't let go of the memory of Lydia tricking him cruelly, leaving his heart shattered and his family penniless. And now he's back to destroy her family the way his was destroyed. There's only one problem . . . the girl who wounded him so badly years ago is now a woman who still has the power to render him breathless.
Ramsay
is the story of betrayal and wrath, of the strength of regret and the power of forgiveness. It is the story of the thin veil between love and hate, and how more often than not, when we seek to inflict pain on others, the heart we wound is our own.
I have a love/hate relationship with this author. She's written one of my favorite books of all time (Archer's Voice), and a few others of hers I've really loved. On the flip side, several others have fallen flat for me. I'm still curious to see where this story of revenge gone not quite as expected goes!
9. From Sand and Ash by Amy Harmon - October 25th
Italy, 1943—Germany occupies much of the country, placing the Jewish population in grave danger during World War II.

As children, Eva Rosselli and Angelo Bianco were raised like family but divided by circumstance and religion. As the years go by, the two find themselves falling in love. But the church calls to Angelo and, despite his deep feelings for Eva, he chooses the priesthood.

Now, more than a decade later, Angelo is a Catholic priest and Eva is a woman with nowhere to turn. With the Gestapo closing in, Angelo hides Eva within the walls of a convent, where Eva discovers she is just one of many Jews being sheltered by the Catholic Church.

But Eva can't quietly hide, waiting for deliverance, while Angelo risks everything to keep her safe. With the world at war and so many in need, Angelo and Eva face trial after trial, choice after agonizing choice, until fate and fortune finally collide, leaving them with the most difficult decision of all.
I have a feeling she's going on my auto-buy authors list.
8. Cream of The Crop by Alice Clayton - July 12th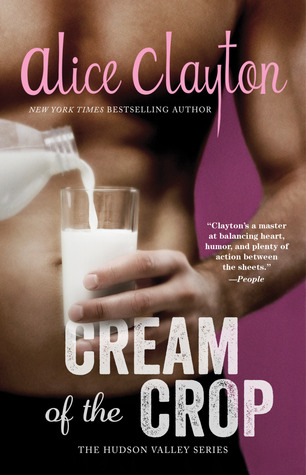 New York Times and USA TODAY bestselling author Alice Clayton brings her trademark blend of funny and sexy to this second contemporary romance in the brand-new Hudson Valley series!

Manhattan's It Girl, Natalie Grayson, has it all: she's a hot exec at a leading advertising firm, known industry-wide for her challenging and edgy campaigns. She's got a large circle of friends, a family that loves her dearly, and her dance card is always full with handsome eligible bachelors. What else could a modern gal-about-town wish for? The answer, of course, is...cheese.

Natalie's favorite part of each week is spending Saturday morning at the Union Square Farmer's Market, where she indulges her love of all things triple cream. Her favorite booth also indulges her love of all things handsome. Oscar Mendoza, owner of the Bailey Falls Creamery and purveyor of the finest artisanal cheeses the Hudson Valley has to offer, is tall, dark, mysterious, and a bit oblivious. Or so she thinks. But that doesn't stop Natalie from fantasizing about the size of his, ahem, milk can.

Romance is churning, passion is burning, and something incredible is rising to the top. Could it be...love?
I'll read anything she writes!
7. Swear on This Life by Renee Carlino - August 9th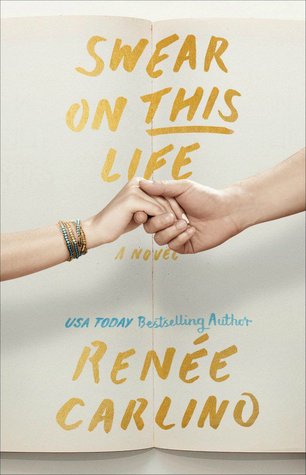 When a bestselling debut novel from mysterious author J.Colby becomes the literary event of the year, Emiline reads it reluctantly. As an adjunct writing instructor at UC San Diego with her own stalled literary career and a bumpy long-term relationship, Emiline isn't thrilled to celebrate the accomplishments of a young and gifted writer.
Yet from the very first page, Emiline is entranced by the story of Emerson and Jackson, two childhood best friends who fall in love and dream of a better life beyond the long dirt road that winds through their impoverished town in rural Ohio.
That's because the novel is patterned on Emiline's own dark and desperate childhood, which means that "J. Colby" must be Jase: the best friend and first love she hasn't seen in over a decade. Far from being flattered that he wrote the novel from her perspective, Emiline is furious that he co-opted her painful past and took some dramatic creative liberties with the ending.
The only way she can put her mind at ease is to find and confront "J. Colby," but is she prepared to learn the truth behind the fiction?
I'm on the fence with this author, but I'm intrigued here.
6. The Curse of Tenth Grave by Darynda Jones - June 28th
As a Part-time PI and fulltime grim reaper, Charley Davidson has asked a lot of questions throughout her life: Why can I see dead people? Who is the hot supernatural entity following me? How do I get gum out of my sister's hair before she wakes up? But, "How do I trap not one malevolent god, but three?" was never among them. Until now. And since those gods are on earth to kill her daughter, she has little choice but to track them down, trap them, and cast them from this dimension.
There's just one problem. One of the three stole her heart a very long time ago. Can the Razer, a god of absolute death and destruction, change his omniscient spots, or will his allegiances lie with his brothers?
Those are just a few of the questions Charley must answer, and quick. Add to that a homeless girl running for her life, an innocent man who's been charged with murder, and a pendant made from god glass that has the entire supernatural world in an uproar, and Charley has her hands full. If she can manage to take care of the whole world-destroying-gods thing, we're saved. If not, well…
Need this. Need it right now.
5. Roman Crazy by Alice Clayton and Nina Bocci - September 13th
Avery Bardot steps off the plane in Rome, looking for a fresh start. She's left behind a soon-to-be ex-husband in Boston and plans to spend the summer with her best friend Daisy, licking her wounds—and perhaps a gelato or two. But when her American-expat friend throws her a welcome party on her first night, Avery's thrown for a loop when she sees a man she never thought she'd see again: Italian architect Marcello Bianchi.

Marcello was the man—the one who got away. And now her past is colliding with her present, a present where she should be mourning the loss of her marriage and—hey, that fettuccine is delicious! And so is Marcello…

Slipping easily into the good life of summertime in Rome, Avery spends her days exploring a city that makes art historians swoon, and her nights swooning over her unexpected what was old is new again romance. It's heady, it's fevered, it's wanton, and it's crazy. But could this really be her new life? Or is it just a temporary reprieve before returning to the land of twin-set cardigans and crustless sandwiches?


A celebration of great friendship, passionate romance, and wonderful food, Roman Crazy is a lighthearted story of second chances and living life to the fullest.
How perfect does this sound? It's like all my favorite things in one place.
4. Magic Binds by Ilona Andrews - September 20th
Mercenary Kate Daniels knows all too well that magic in post-Shift Atlanta is a dangerous business. But nothing she's faced could have prepared her for this…
Kate and the former Beast Lord Curran Lennart are finally making their relationship official. But there are some steep obstacles standing in the way of their walk to the altar…
Kate's father, Roland, has kidnapped the demigod Saiman and is slowly bleeding him dry in his never-ending bid for power. A Witch Oracle has predicted that if Kate marries the man she loves, Atlanta will burn and she will lose him forever. And the only person Kate can ask for help is long dead.
The odds are impossible. The future is grim. But Kate Daniels has never been one to play by the rules…
My god, why isn't this out yet?!
3. The Flame Never Dies by Rachel Vincent - August 16th
For fans of Cassandra Clare and Richelle Mead comes the unputdownable sequel to The Stars Never Rise, a book Rachel Caine, author of the bestselling Morganville Vampires series, called "haunting, unsettling, and eerily beautiful."
ONE SPARK WILL RISE. Nina Kane was born to be an exorcist. And since uncovering the horrifying truth—that the war against demons is far from over—seventeen-year-old Nina and her pregnant younger sister, Mellie, have been on the run, incinerating the remains of the demon horde as they go.
In the badlands, Nina, Mellie, and Finn, the fugitive and rogue exorcist who saved her life, find allies in a group of freedom fighters. They also face a new threat: Pandemonia, a city full of demons. But this fresh new hell is the least of Nina's worries. The well of souls ran dry more than a century ago, drained by the demons secretly living among humans, and without a donor soul, Mellie's child will die within hours of its birth.
Nina isn't about to let that happen . . . even if it means she has to make the ultimate sacrifice.
Finally, book two! I can't wait to see where this goes. The first book was completely captivating! Vincent really knows how to tell a story.
2. It Ends With Us by Colleen Hoover - August 2nd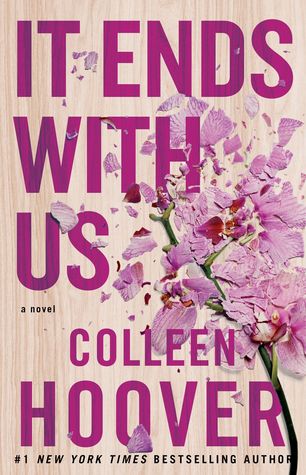 Lily hasn't always had it easy, but that's never stopped her from working hard for the life she wants. She's come a long way from the small town in Maine where she grew up. She graduated from college, moved to Boston, and started her own business. So when she feels a spark with a gorgeous neurosurgeon named Ryle Kincaid everything in Lily's life suddenly seems almost too good to be true.
Ryle is assertive, stubborn, and maybe even a little arrogant. He's also sensitive, brilliant and has a total soft spot for Lily; and the way he looks in scrubs certainly doesn't hurt. Lily can't get him out of her head, but Ryle's complete aversion to relationships is disturbing. Even as Lily finds herself becoming the exception to his no dating rule, she can't help but wonder what made him that way in the first place.
As questions about her new relationship overwhelm her, so do thoughts of Atlas Corrigan, her first love and a link to the past she left behind. He was her kindred spirit, her protector. When Atlas suddenly reappears everything Lily has built with Ryle is threatened.
With this bold and deeply personal novel Colleen Hoover delivers a heart-wrenching story that breaks exciting new ground for her as a writer. Combining a captivating romance with a cast of all too human characters, "It Ends with Us" is an unforgettable tale of love that comes at the ultimate price.
1. Well Hung by Laren Blakey - September 12th
Here's what you need to know about me — I'm well-off, well-hung and quick with a joke. Women like a guy who makes them laugh—and I don't mean at the size of his d*ck. No, they want their funny with a side of huge… not to mention loyal. I've got all that plus a big bank account, thanks to my booming construction business. Yup. I know how to use all my tools.
Enter Natalie. Hot, sexy, smart, and my new assistant. Which makes her totally off limits... 

Hey, I'm a good guy. Really. I do my best to stay far away from the kind of temptation she brings to work.
Until one night in Vegas… 

Yeah, you've heard this one before. Bad news on the business front, drowning our sorrows in a few too many Harvey Wallbangers, and then I'm banging her. In my hotel room. In her hotel room. Behind the Titanic slot machine at the Flamingo (don't ask). And before I can make her say "Oh God right there YES!" one more time, we're both saying yes—the big yes—at a roadside chapel in front of a guy in press-on sideburns and a shiny gold leisure suit. 


But it turns out what happened in Vegas didn't stay in Vegas. And now, my dick doesn't stay in my pants when she's around. I try to resist. Honest. But the more we try to keep our hands to ourselves, the more we end up naked again, and the more time I want to spend with her fully clothed, too.
The question now is…do I take this woman to be my ex-wife?
*WELL HUNG is the next sexy, funny standalone romantic comedy to feature characters first seen in BIG ROCK and MISTER O. *
If only for the title. ;) In all seriousness though (well, serious as you can get with that title), this author is great for a fun and sexy ride. Haha. Ride. ;)
Save
Save
Save
Save
Save
Save
Save
Save