Hey, ladies!
It's
Top Ten Tuesday
by
The Broke and The Bookish
! This week's topic is your most anticipated releases for the first half of 2017. There's so many great ones coming up next year. Let's jump right in!
The New York Times and USA Today bestselling author of the Marked Men books continues her delightfully sexy Saints of Denver series.
Hudson Wheeler is a nice guy. Everyone knows it, including his fiancée who left him with a canceled wedding and a baby on the way. He's tired of finishing last and is ready to start living in the moment with nights soaked in whiskey, fast cars, and even faster girls. He's set to start living on the edge, but when he meets Poppy Cruz, her sad eyes in the most gorgeous face he's ever seen hook him in right away. Wheeler can see Poppy's pain and all he wants to do is take care of her and make her smile, whatever it takes.
Poppy can't remember a time when she didn't see strangers as the enemy. After a lifetime of being hurt from the men who swore to protect her, Poppy's determined to keep herself safe by keeping everyone else at arm's length. Wheeler's sexy grin and rough hands from hours restoring classic cars shouldn't captivate her, but every time she's with him, she can't help being pulled closer to him. Though she's terrified to trust again, Poppy soon realizes it might hurt even more to shut Wheeler out—and the intense feelings pulsing through her are making it near impossible to resist him.
The only thing Poppy is sure of is that her heart is in need of some serious repair, and the more time she spends with Wheeler, the more she's convinced he's the only man with the tools to fix it.
The Hidden Legacy series by #1
New York Times
bestselling author Ilona Andrews continues as Nevada and Rogan navigate a world where magic is the norm…and their relationship burns hot
Nevada Baylor has a unique and secret skill—she
knows
when people are lying—and she's used that magic (along with plain, hard work) to keep her colorful and close-knit family's detective agency afloat. But her new case pits her against the shadowy forces that almost destroyed the city of Houston once before, bringing Nevada back into contact with Connor "Mad" Rogan.
Rogan is a billionaire Prime—the highest rank of magic user—and as unreadable as ever, despite Nevada's "talent." But there's no hiding the sparks between them. Now that the stakes are even higher, both professionally and personally, and their foes are unimaginably powerful, Rogan and Nevada will find that nothing burns like ice …
From
New York Times
bestseller Katy Regnery comes a new twist on a beloved fairytale.
A fisherman's daughter.

The governor's son.

Two very different worlds.
In this modern retelling of
The Little Mermaid
, a fisherman's daughter from an Outer Banks island untouched by time, meets the son of North Carolina's governor at a fancy party where she's working.
Laire, who wants so much more from life than her little island can offer, is swept away by wealthy, sophisticated Erik, who is, in turn, entranced by her naiveté and charm. The two spend a whirlwind summer together that ends on the knife-point of heartbreak and forces them to go their separate ways.
Years later, when fate leads them back to one another, they will discover the terrifying depth of the secrets they kept from each other, and learn that shattered hearts can only be healed by a love that willfully refuses to die.
All novels Katy Regnery's ~a modern fairytale~ collection are written as fundraisers. 10% of the e-book sales for in March and April 2017 will be donated to P.E.O. International, a non-profit organization that celebrates the advancement of women, awards scholarships and grants, and provides motivation for women to make their dreams come true.
**Contemporary Romance. Due to profanity, adult themes and very strong sexual content, this book is not intended for readers under the age of 18.**
All's fair in love and work. The first standalone romance by New York Times and #1 international bestselling author Christina Lauren (Beautiful Bastard) is a sexy, compulsively readable romantic comedy that dives headlong into the thrill and doubt of modern love.

Despite the odds against them from an embarrassing meet-awkward at a mutual friend's Halloween party, Carter and Evie immediately hit it off. Even the realization that they're both high-powered agents at competing firms in Hollywood isn't enough to squash the fire.

But when their two agencies merge—causing the pair to vie for the same position—all bets are off. What could have been a beautiful, blossoming romance turns into an all-out war of sabotage. Carter and Evie are both thirtysomething professionals—so why can't they act like it?

Can Carter stop trying to please everyone and see how their mutual boss is really playing the game? Can Evie put aside her competitive nature long enough to figure out what she really wants in life? Can their actor clients just be something close to human? Whether these two Hollywood love/hatebirds get the storybook Hollywood ending or just a dramedy of epic proportions, you will get to enjoy Christina Lauren's heartfelt, raucous, and hilarious romance style at its finest.
Some men are born responsible, some men have responsibility thrust upon them. Henry John Edgar Thomas Pembrook, Prince of Wessco, just got the motherlode of all responsibility dumped in his regal lap.
He's not handling it well.
Hoping to force her grandson to rise to the occasion, Queen Lenora goes on a much-needed safari holiday—and when the Queen's away, the Prince will play. After a chance meeting with an American television producer, Henry finally makes a decision all on his own:
Welcome to Matched: Royal Edition.
A reality TV dating game show featuring twenty of the world's most beautiful blue bloods gathered in the same castle. Only one will win the diamond tiara, only one will capture the handsome prince's heart.
While Henry revels in the sexy, raunchy antics of the contestants as they fight, literally, for his affection, it's the quiet, bespectacled girl in the corner—with the voice of an angel and a body that would tempt a saint—who catches his eye.
The more Henry gets to know Sarah Mirabelle Zinnia Von Titebottum, the more enamored he becomes of her simple beauty, her strength, her kind spirit... and her naughty sense of humor.
But Rome wasn't built in a day—and irresponsible royals aren't reformed overnight.
As he endeavors to right his wrongs, old words take on whole new meanings for the dashing Prince. Words like, Duty, Honor and most of all—Love.
"My guardian angel is a drunk."

Evelyn Casey's life is at a standstill. She's in her mid-twenties, struggling with the dating scene in San Francisco. Nothing seems to be working out, and she's starting to think that she'll live out her days in her crummy apartment with her overbearing roommate, Brooklyn. It's absurd, but sometimes Evey longs for a guardian angel to show up and save the day.

And then he does. Seriously. His name is Lucian and he's a guardian angel, been on the job for two thousand years. His sudden presence in her life is both good—he's brilliant, witty, and warm—and bad—he's brilliant, witty, warm, and hot as ----. But as perfect as Lucian seems, he's got problems of his own. He's taken up drinking and he's brazenly inserted himself into Evey's life, going against the greatest cosmic law ever created.

For Evey, the rules are simple: You are not allowed to hook up with your guardian angel. But sometimes fulfilling your destiny requires a leap of faith, a confrontation with God.

Yes, God as in God.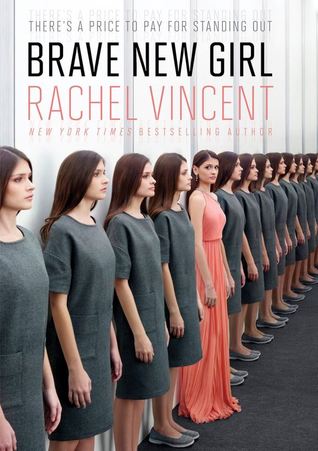 In a world where everyone is the same, one girl is the unthinkable: unique. A high-stakes fast-paced series launch from New York Times bestselling author Rachel Vincent.
We have brown hair. Brown eyes. Fair skin.
We are healthy and strong and smart.
But only one of us has ever had a secret.
Dahlia 16 sees her face in every crowd. She's nothing special—just one of five thousand girls created from a single genome to work for the greater good of the city.
Meeting Trigger 17 changes everything. He thinks she's interesting. Beautiful. Unique. Which means he must be flawed. When Dahlia can't stop thinking about him—when she can't resist looking for him, even though that means breaking the rules—she realizes she's flawed, too. But if she's flawed, then so are all her identicals. And any genome found to be flawed will be recalled.
Destroyed.
Getting caught with Trigger would seal not only Dahlia's fate, but that of all five thousand girls who share her face. But what if Trigger is right? What if Dahlia
is
different?
Suddenly the girl who always follows the rules is breaking them, one by one by one. . . .
Twenty-four-year-old truck stop waitress and single mother Catherine Wright has simple goals: to give her five-year-old daughter a happy life and to never again be the talk of the town in Balsam, Pennsylvania: population two thousand outside of tourist season.

And then one foggy night, on a lonely road back from another failed attempt at a relationship, Catherine saves a man's life. It isn't until after the police have arrived that Catherine realizes exactly who it is she has saved: Brett Madden, hockey icon and media darling.

Catherine has already had her fifteen minutes of fame and the last thing she wants is to have her past dragged back into the spotlight, only this time on a national stage. So she hides her identity. It works.

For a time.

But when she finds the man she saved standing on her doorstep, desperate to thank her, all that changes. What begins as an immediate friendship quickly turns into something neither of them expected. Something that Catherine isn't sure she can handle; something that Catherine is afraid to trust.

Because how long can an extraordinary man like Brett be interested in an ordinary woman like Catherine…before the spark fades?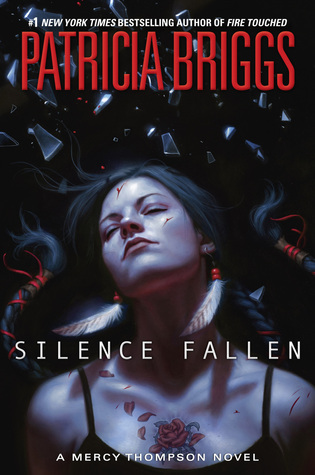 In the #1 New York Times bestselling Mercy Thompson novels, the coyote shapeshifter has found her voice in the werewolf pack. But when Mercy's bond with the pack and her mate is broken, she'll learn what it truly means to be alone...

Attacked and abducted in her home territory, Mercy finds herself in the clutches of the most powerful vampire in the world, taken as a weapon to use against alpha werewolf Adam and the ruler of the Tri-Cities vampires. In coyote form, Mercy escapes only to find herself without money, without clothing, and alone in the heart of Europe...

Unable to contact Adam and the rest of the pack, Mercy has allies to find and enemies to fight, and she needs to figure out which is which. Ancient powers stir, and Mercy must be her agile best to avoid causing a war between vampires and werewolves, and between werewolves and werewolves. And in the heart of the ancient city of Prague, old ghosts rise...
Grim Reaper Charley Davidson is back in the eleventh installment of Darynda Jones' New York Times bestselling paranormal series.

A typical day in the life of Charley Davidson involves cheating husbands, missing people, errant wives, philandering business owners, and oh yeah...demons, hell hounds, evil gods, and dead people. Lots and lots of dead people. As a part time Private Investigator and full-time Grim Reaper, Charley has to balance the good, the bad, the undead, and those who want her dead. In this eleventh installment, Charley is learning to make peace with the fact that she is a goddess with all kinds of power and that her own daughter has been born to save the world from total destruction. But the forces of hell are determined to see Charley banished forever to the darkest corners of another dimension. With the son of Satan himself as her husband and world-rocking lover, maybe Charley can find a way to have her happily ever after after all.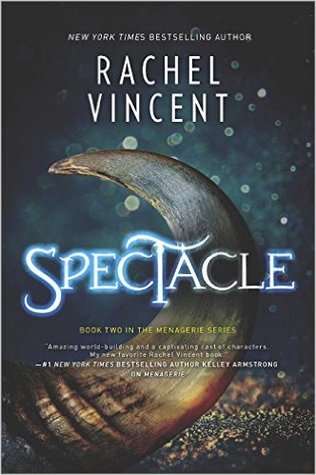 In this riveting sequel to New York Times bestselling author Rachel Vincent's acclaimed novel Menagerie, Delilah Marlow will discover that there is no crueler cage than the confines of the human mind…
When their coup of Metzger's Menagerie is discovered, Delilah and her fellow cryptids find their newly won freedom brutally stripped away as they are sold into The Savage Spectacle, a private collection of "exotic wildlife." Specializing in ruthless cryptid cage matches, safari-style creature hunts and living party favors, the Spectacle's owner, Willem Vandekamp, caters to the forbidden fetishes of the wealthy and powerful. At the Spectacle, any wish can be granted—for the right price.
But Vandekamp's closely guarded client list isn't the only secret being kept at the Spectacle. Beneath the beauty and brutality of life in the collection lie much darker truths, and no one is more determined than Delilah to strip the masks from the human monsters and drag all dark things into the light.