Hi, everyone! Today I'm doing a few mini reviews, since I had a massive backup of books I've read but haven't spoken about it. Let's get to it!
The emotional and unforgettable new romance from the New York Times bestselling author of the On Dublin Street series.

Alexa Holland's father was her hero—until her shocking discovery that she and her mother weren't his only family. Ever since, Alexa has worked to turn her life in a different direction and forge her own identity outside of his terrible secrets. But when she meets a man who's as damaged by her father's mistakes as she is, Alexa must help him.

Caine Carraway wants nothing to do with Alexa's efforts at redemption, but it's not so easy to push her away. Determined to make her hate him, he brings her to the edge of her patience and waits for her to walk away. But his actions only draw them together and, despite the odds, they begin an intense and explosive affair.

Only Caine knows he can never be the white knight that Alexa has always longed for. And when they're on the precipice of danger, he finds he'll do anything to protect either one of them from being hurt again…
2 stars
I was incredibly disappointed with this one. Caine was the biggest douchecanoe I've read in a very long time, and Alexa...well, she was a doormat of epic proportions. The twists and drama was a bit dubious for me, but the pacing was decent.
The narration was pretty good, too!
Things are about to get
Wicked
in New Orleans.
Twenty-two year old Ivy Morgan isn't your average college student. She, and others like her, know humans aren't the only thing trolling the French Quarter for fun… and for food. Her duty to the Order is her life. After all, four years ago, she lost
everything
at the hands of the creatures she'd sworn to hunt, tearing her world and her heart apart.
Ren Owens is the last person Ivy expected to enter her rigidly controlled life. He's six feet and three inches of temptation and swoon-inducing charm. With forest-green eyes and a smile that's surely left a stream of broken hearts in its wake, he has an uncanny, almost unnatural ability to make her yearn for everything he has to offer. But letting him in is as dangerous as hunting the cold-blooded killers stalking the streets. Losing the boy she loved once before had nearly destroyed her, but the sparking tension that grows between them becomes impossible for Ivy to deny. Deep down, she wants… she needs more than what her duty demands of her, what her past has shaped for her.
But as Ivy grows closer to Ren, she realizes she's not the only one carrying secrets that could shatter the frail bond between them. There's something he's not telling her, and one thing is for certain. She's no longer sure what is more dangerous to her—the ancient beings threatening to take over the town or the man demanding to lay claim to her heart and her soul.
3.5 stars
This was a fun read! A little predictable and the hero got on my nerves a few times, but I enjoyed it overall. In typical JLA fashion, it was easy to fall into and was a very quick read. I always love a New Orleans setting, too!
The narration of this one was enjoyable, as well.
Callie Franklin doesn't do one night stands.
Ever.
She's far too responsible and focused on her career to ever let herself give in to temptation. But, on the eve of her best friend's wedding, she meets that temptation . . .
And his name is Devin McAllister.
Devin, on the other hand, has no problem with meaningless hookups. The very last thing he needs—or wants—is a relationship.
Relationships come with strings.
Relationships come with heartbreak.
A late-night encounter in the hotel's piano bar finds the two unable to resist each other. With her angelic voice and bright blue eyes, Devin's sure he's never met anyone as beautiful as his Songbird.
Six weeks later, when two pink lines confirm Callie's worst fears, she and Devin have to face the consequences of their wild weekend.
And they have to deal with each other—whether they like it or not.
With a love story that's far from traditional, Callie and Devin begin to wonder if their one-night stand could turn into something neither of them anticipated.
A happily ever after.
5 stars
Surprise pregnancies are my guilty pleasure. I don't know why, but I gobble them up like my dogs gobble the cat's food (aka, with a massive, sucking force any prostitute would be jealous of). This one was delightful!
I was a sobbing mess of "it's just so beautiful", and swooning like made. Very quick read!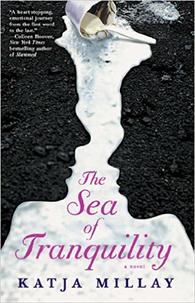 I live in a world without magic or miracles. A place where there are no clairvoyants or shapeshifters, no angels or superhuman boys to save you. A place where people die and music disintegrates and things suck. I am pressed so hard against the earth by the weight of reality that some days I wonder how I am still able to lift my feet to walk.

Former piano prodigy Nastya Kashnikov wants two things: to get through high school without anyone learning about her past and to make the boy who took everything from her—her identity, her spirit, her will to live—pay.

Josh Bennett's story is no secret: every person he loves has been taken from his life until, at seventeen years old, there is no one left. Now all he wants is be left alone and people allow it because when your name is synonymous with death, everyone tends to give you your space.

Everyone except Nastya, the mysterious new girl at school who starts showing up and won't go away until she's insinuated herself into every aspect of his life. But the more he gets to know her, the more of an enigma she becomes. As their relationship intensifies and the unanswered questions begin to pile up, he starts to wonder if he will ever learn the secrets she's been hiding—or if he even wants to.

The Sea of Tranquility is a rich, intense, and brilliantly imagined story about a lonely boy, an emotionally fragile girl, and the miracle of second chances.
5 stars
I'll be honest with you on this one: I didn't understand the obsession with this book until around 55-60% into it. It was a good book up until that point, but I wasn't wowed like everyone else was. Once the 60% mark hit, I was blown away! What a gorgeous, intense young adult story!
A great narration, too!
It's rule breaker Emily Foster's birthday, and like everyone at The Jungle Room, she just wants to get some action. Unfortunately, she stumbles on the wrong kind, witnessing a mob hit. To protect her, she's entered into the Witness Protection Program with by-the-book Special Agent Jake Ward as her chaperone.

When the location of their safe house is compromised, Jake stashes Emily deep in the Texas backwoods. The city-girl might be safe from the Mafia, but she has to contend with a psychotic rooster, a narcoleptic dog, crazy cowboys, and the danger of losing her heart to the one man she can't have.

Jake's as hot as he is infuriating, and she can't help but push all his buttons to loosen him up. Their mutual, sizzling sexual attraction poses a dilemma: Jake's determined to keep her safe and out of the wrong hands; she's determined to get into the right ones—his.

Each book in the Tangled in Texas series is a standalone, full-length story that can be enjoyed out of order.
Series Order:
Book #1 Rules of Protection
Book #2 Playing With Fire
2 stars
This heroine drove me up the freakin' wall. What an idiot! It's not cute to fuck around with your safety and be a brazen dumbass in the midst of a crisis. It's not cute to play stupid.
And the hero...! He was almost even worse than she was, though I have to admit I would probably be an ass if I had to deal with her, too.
Passable narration.