Happy Halloween, everyone!!!
I have a few mini reviews for you all today, since I'm far too lazy to get any full sized ones out. I did read one last week though that I think will earn a full sized review. Let's get to it!
When Kate Watts abandoned her law career to open a food pantry in Northeast Minneapolis, she never dreamed it would be this difficult. Facing the heartbreaking prospect of turning hungry people away, she is grateful for the anonymous donations that begin appearing at the end of each month. Determined to identify and thank her secret benefactor, she launches a plan and catches Ian —a charismatic hacker with a Robin Hood complex—in the act.
Ian intrigues Kate in a way no man ever has. But after learning he's snooped around on her personal computer, she demands retribution. Impressed with her tolerance and captivated by her spirit, he complies and begins to slowly charm his way past her defenses. Time spent with Ian is never boring, and Kate soon finds herself falling for the mysterious hacker.
But Ian has enemies and they're growing restless. In the hacking world, exploiting a target's weakness is paramount, and no price is too high to stop an attack. And when Kate learns exactly how much Ian has paid, she'll discover just how strong her love is for the man who has hacked his way into her heart.
3 stars!
This was such hard book to rate for me. On the one hand I really loved both characters and the banter was fantastic. On the other...it didn't really do anything for the majority of the book. It was so overly detailed and really dragged down the novel. It was still cute, though!
From the New York Times bestselling authors of Stuck-Up Suitand Cocky Bastard, comes a sexy new standalone novel.

Money or love? Which would you choose?

You probably just answered the question in your head thinking it's an easy decision.

For me, it's not. Did I mention it's a lot of money? A hell of a lot.

I needed to go far away to think it through.

As I embarked on an impulsive trip, I hit a detour when I met sexy Carter in the airport lounge. We struck up a heated conversation.

Then, he left.

I thought I'd never see him again.

But fate had other plans.

Surprise! He was the pilot of my flight.

The bigger surprise was the adventure that followed after the plane landed.

Carter was dangerous and always on the move.

Even though our connection was magnetic, I knew it was only temporary.

He would give me tickets, and I would follow him around the world to exotic places.

A bevy of flight attendant exes and rumors about Carter's reputation were never far behind.

I didn't know what to believe.

But I was addicted. Nothing else mattered anymore. And I was going to get hurt. Because a part of me wanted to be the one to finally ground the playboy pilot.

At the very least, he was taking me on a thrilling ride.

All good things must come to an end, right?

Except our ending was one I didn't see coming.
4 stars!
This was such a great, fun and sexy read. Lots of swoon and plenty of heat, with enjoyable characters and a fantastic flow. One star knocked off because of a thing that happened, ugh. Why must authors go certain paths?!
Fate. Hate. Love. Lies.
Which four letter word will change their lives forever?
Sydney Paige was never so mortified to hear the words "wrong number" in her life. She meant to tell off the guy who broke her best friend's heart, but unleashed her anger on a perfect stranger instead. And now her world is turned upside down by the captivating man who wants to keep her on the line.
Brian Savage is living a life he's quickly come to hate-until Sydney's wild rant has him hooked and hungry for more. Soon the sexy woman on the phone becomes the lover in his bed. But Brian has secrets, and the closer he lets Syd get, the harder it is to shield her from the devastating mistakes of his past . . .
2.5-3 stars!
The writing was decent and a few of the side characters were great, but the hero ground on my last nerve. He reminded me so much of Kristen's Ashely's heroes: incapable of speaking in complete sentences, obnoxiously alpha and too full of angst. There were too many dramatic plot points for my taste, too.
There is one character whose story I can't wait for!
I awaken in a laboratory.
I don't know who I am.
I'm inexplicably drawn to the doctor who cares for me. She tells me I've been altered, that I'm stronger and faster, that I'll be a key component in a war between corporations. She says I volunteered for this. She says I volunteered to be transformed, but I have no way of knowing if what she says is true.
Something isn't right. My memories have been taken, wiped clean, but dreams begin to slip into my conscious mind. I can't let anyone know when that happens, or they'll remove my memories again. Somewhere inside of me, I know I need to remember something important.
I'm fighting a war I don't understand, and the one woman I rely on can't be trusted
4 stars!
A fantastic male POV post apocalyptic romance that kept me on the edge of my seat. Twisty and dark, with all kinds of emotions running high. One star knocked off for an open ending, because my god, I hate those.
Four beautiful days. Three steamy nights. One breathtaking love.
Levi Michaelson. He wanted four dates. Four opportunities to prove I could trust him. Four chances to change my mind about him.
I agreed.
Probably not my smartest decision. He was everything I knew to avoid—gorgeous, charming, sexy as hell—but I couldn't help myself. When he touched me the whole world disappeared. I should've known I could lose myself to him, that he could be the one man to destroy me.
I guess it's true what they say—some things are too good to be true. And Levi Michaelson might just be one of them.
Unzip this sexy, southern contemporary romance that's guaranteed to make you sweat and make you swoon!
Standalone. HEA. Intended for mature readers.
2.5-3 stars!
Started out cute and sweet, then got so sugary I could feel cavities starting. Then add in an insane amount of drama, a propensity for stuttering when the heroine does not actually have a stutter, and an overall predictable plot. Oy.
On the plus side, it didn't take any concentration to read it and the writing was decent.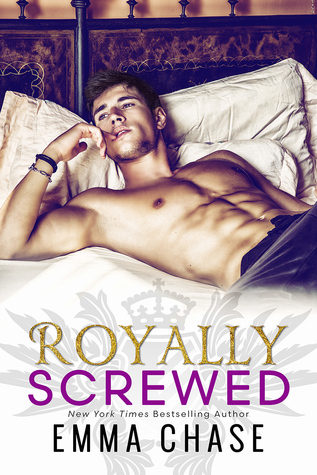 Nicholas Arthur Frederick Edward Pembrook, Crowned Prince of Wessco, aka His Royal Hotness, is wickedly charming, devastatingly handsome, and unabashedly arrogant; hard not to be when people are constantly bowing down to you.

Then, one snowy night in Manhattan, the prince meets a dark haired beauty who doesn't bow down. Instead, she throws a pie in his face.

Nicholas wants to find out if she tastes as good as her pie, and this heir apparent is used to getting what he wants.

Dating a prince isn't what waitress Olivia Hammond ever imagined it would be.

There's a disapproving queen, a wildly inappropriate spare heir, relentless paparazzi, and brutal public scrutiny. While they've traded in horse drawn carriages for Rolls Royces, and haven't chopped anyone's head off lately, the royals are far from accepting of this commoner.

But to Olivia, Nicholas is worth it.

Nicholas grew up with the whole world watching, and now Marriage Watch is in full force. In the end, Nicholas has to decide who he is and, more importantly, who he wants to be: a King... or the man who gets to love Olivia forever.
4.5 stars!
Emma Chase is now officially on my auto-buy author list. I just love her writing! This was so sexy, swoony, addictive and made me happy. I think this was Emma Chase's raunchiest book to date. ;)
A bit predictable, but that was okay with me. I can't wait for Henry's book!