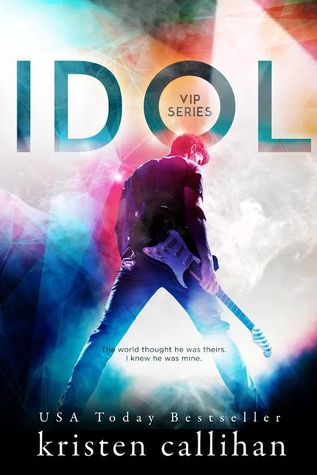 Libby
I found Killian drunk and sprawled out on my lawn like some lost prince. With the face of a god and the arrogance to match, the pest won't leave. Sexy, charming, and just a little bit dirty, he's slowly wearing me down, making me crave more.
He could be mine if I dare to claim him. Problem is, the world thinks he's theirs. How do you keep an idol when everyone is intent on taking him away?
Killian
As lead singer for the biggest rock band in the world, I lived a life of dreams. It all fell apart with one fateful decision. Now everything is in shambles.
Until Liberty. She's grouchy, a recluse—and kind of cute. Scratch that. When I get my hands on her, she is scorching hot and more addictive than all the fans who've screamed my name.
The world is clamoring for me to get back on stage, but I'm not willing to leave her. I've got to find a way to coax the hermit from her shell and keep her with me. Because, with Libby, everything has changed.
Everything
.
5 Rocker Stars
This book got so much hype when it released in June, and I was hard pressed to find a Goodreads rating lower than 4 stars. I'm a sucker for rockstars, so I was eager to test it out. Usually I'm the one that doesn't like hyped books, so I was skeptical going in.
Holy crap, I was blown away from the very first page!
This was, by far, the best rockstar romance I've ever read! It was incredibly well written, with a cohesive storyline that flowed effortlessly from start to finish. It was the perfect mix of sweet, sexy (so steamy!), hilarious, and enough emotion to give me all the feels.
I loved Liberty right off the bat. It's not often I find a new adult heroine that's enjoyable, but this girl was great. She was very strong, and not afraid to contradict authority, even in a face of the alien world of rock and roll touring. She took everything in stride and was a good friend to all. It's so refreshing to see a woman that doesn't act like an child.
"You can be anything you want. It's whether you're happy that's the question."
And Killian....well, I know who August's Book Boyfriend of The Month will be. ;) That man is to die for! He wasn't even a big manwhore, either, which I appreciated hugely.
Killian holding a guitar is the stuff of both my dirtiest fantasy and my most girlish daydreams.
Their chemistry was off the charts, with sex scenes so hot they nearly set my Kindle on fire. There was the perfect balance of smut and sass, emotional connection and lighthearted fun.
The bit of drama that came was well thought out, pertinent, and believable. There wasn't mistrust, jealousy, or lies, nothing ridiculous or trivial. I actually liked it.
"No one who knows you would ever consider you a regret."
The side characters were three dimensional, intriguing and gave the story good depth. I want to read more about the band's manager, and can't wait for his book!
The musical aspect of this book was phenomenal, with an emphasis on classic rock. It focused more on the musical and crowd aspect rather than the fame and fortune, and that's not something I've read before. The way the performances were described with visceral and sensual, and made me feel like I was watching it live.
"I met my best friend on the lawn of a farmhouse. I'd lost my way, my music. She helped me find it again. Back then, she asked me to sing one of my songs for her. I wouldn't do it. I wanted her to like me more than she liked my music."
I was incredibly satisfied with this book, and recommend it to any rockstar or new adult fan. It more than earned its place on my "Best of 2016" list. Highly recommend!