Hey, ladies!
It's
Top Ten Tuesday
by
The Broke and The Bookish
! Today's topic is ten books that have been on your shelf or TBR since before you started blogging, that you still haven't gotten to yet.
I've been blogging for a little over a year, but in that time my TBR has gone from 100 books to over 1,000. Lots of which have remained unread!
In no order.....
A friendship between the lost and lonely Caroline, and the unhappy Sebastian, leads to an illicit love that threatens them both.
Caroline Wilson is trapped in a cold and loveless marriage with an older man. When her husband finally wins a long sought-after promotion, Caroline feels she has little choice but to follow him to a new home in San Diego. There she meets Sebastian, a young man of 17.
For an all too brief summer, their happiness blooms.
But external pressures begin to bear down, not least from the overbearing David, and Sebastian's parents begin to suspect that their son has a secret. Even Caroline's new friend, Donna, realises that dark passions exist below the serene surface.
This sounds pretty angsty, but it's well rated and I'm curious!
Six months ago, I was happy. I was simply Naomi Carradine.
One month ago, I was admitted into a psych ward.
Yesterday, Lachlan visited me. Kissed me. And told me that I'm starting to lose my mind.
Hours later, Max haunted my thoughts, reminding me I'm not crazy and that he needs my help.
A few minutes ago, I drifted further from reality, trying to unravel the past.
And now...everyone thinks I'm insane. But, I know he's real, and I know he needs me.
Do you believe me?
This has been put off because of the love triangle. I hate love triangles. That said, I'm insanely curious and have heard good things!
Olivia Kaspen has just discovered that her ex-boyfriend, Caleb Drake, has lost his memory. With an already lousy reputation for taking advantage of situations, Olivia must decide how far she is willing to go to get Caleb back. Wrestling to keep her true identity and their sordid past under wraps, Olivia's greatest obstacle is Caleb's wicked, new girlfriend; Leah Smith. It is a race to the finish as these two vipers engage in a vicious tug of war to possess a man who no longer remembers them. But, soon enough Olivia must face the consequences of her lies, and in the process discover that sometimes love falls short of redemption.
Why are love triangles such a popular theme?!
Sweet tea, corn bread, and soup beans—everyday fare for eight-year-old Alix French, the precocious darling of a respected southern family. But nothing was ordinary about the day she met ten-year-old Nick Anderson, a boy from the wrong side of town. Armed with only a tin of bee balm and steely determination, Alix treats the raw evidence of a recent beating that mars his back, an act that changes both of their lives forever.
Through childhood disasters and teenage woes they cling together as friendship turns to love. The future looks rosy until the fateful night when Frank Anderson, Nick's abusive father, is shot to death in his filthy trailer.
Suddenly, Nick is gone—leaving Alix alone, confused and pregnant. For the next fifteen years she wrestles with the pain of Nick's abandonment, a bad marriage, her family and friends. But finally, she's starting to get her life back together. Her divorce is almost final, her business is booming, and she's content if not happy—until the day she looks up and sees Nick standing across the counter. He's back…and he's not alone.
Once again Alix is plunged into turmoil and pain as Nick tries to win her love, something she resists with all her strength. Only one thing might break the protective wall she's built around her emotions—the truth about Frank Anderson's death. But when that truth comes out and those walls crumble, neither Alix nor Nick is prepared for the emotional explosion that could destroy as well as heal.
Haven't read this one because the synopsis sounds like the story would piss me off.
The Hematoi descend from the unions of gods and mortals, and the children of two Hematoi pure bloods have godlike powers. Children of Hematoi and mortals--well, not so much. Half-bloods only have two options: become trained Sentinels who hunt and kill daimons or become servants in the homes of the pures.
Seventeen-year-old Alexandria would rather risk her life fighting than waste it scrubbing toilets, but she may end up slumming it anyway. There are several rules that students at the Covenant must follow. Alex has problems with them all, but especially rule #1:Relationships between pures and halfs are forbidden. Unfortunately, she's crushing hard on the totally hot pure-blood Aiden. But falling for Aiden isn't her biggest problem--staying alive long enough to graduate the Covenant and become a Sentinel is.
If she fails in her duty, she faces a future worse than death or slavery: being turned into a daimon, and being hunted by Aiden. And that would kind of suck.
Sounds like an easy guilty pleasure, though I've heard it's nearly the exact same as Vampire Academy. Thoughts?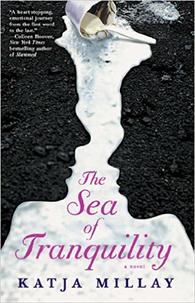 I live in a world without magic or miracles. A place where there are no clairvoyants or shapeshifters, no angels or superhuman boys to save you. A place where people die and music disintegrates and things suck. I am pressed so hard against the earth by the weight of reality that some days I wonder how I am still able to lift my feet to walk.
Former piano prodigy Nastya Kashnikov wants two things: to get through high school without anyone learning about her past and to make the boy who took everything from her—her identity, her spirit, her will to live—pay.
Josh Bennett's story is no secret: every person he loves has been taken from his life until, at seventeen years old, there is no one left. Now all he wants is be left alone and people allow it because when your name is synonymous with death, everyone tends to give you your space.
Everyone except Nastya, the mysterious new girl at school who starts showing up and won't go away until she's insinuated herself into every aspect of his life. But the more he gets to know her, the more of an enigma she becomes. As their relationship intensifies and the unanswered questions begin to pile up, he starts to wonder if he will ever learn the secrets she's been hiding—or if he even wants to.
The Sea of Tranquility
is a rich, intense, and brilliantly imagined story about a lonely boy, an emotionally fragile girl, and the miracle of second chances.
I have the audiobook of this, and I think I may start it soon!
Adelaide Carmichael and Damien Allen couldn't be more opposite.
Adelaide's mother abandoned her when she was ten years old, leaving her to be raised by her abusive and alcoholic father.
Damien on the other hand came from a wealthy family, was a local celebrity, and seemed to have a bright future ahead of him.
Despite their differences, Adelaide and Damien were young, wild, and fiercely in love.
And they had a plan.
They were going to run away.
Be together forever.
And their plan was set in motion, until tragedy struck and for some reason, Adelaide wound up in The Oakhill Institution for the insane.
Adelaide has no idea what she did to wind up at Oakhill, but she knows one thing for sure...
She wants out.
And after Damien follows her there to aid her in escaping, Adelaide slowly begins putting together the pieces of her memory that are missing.
And it doesn't take Adelaide long to figure out that sometimes...
That one true love never dies.
Warning:Do not read if you have a weak heart.
I'm
intrigued! The cover, though...it's creepy. Looks like her head is on backwards.
"But what if we can't find Jude?"
He leans closer. His breath is warm on my ear. "We will."
"How can you be so sure?" I want to believe him so badly, but this is Rafa. The guy who's all action and no plan. His smile is tired, knowing. An echo of a shared past I don't remember.
"Because I'm not smart enough to give up, and you don't know how to."

Gaby Winters' nightmares have stopped but she still can't remember her old life. Still can't quite believe she is one of the Rephaim—the wingless half-angels who can shift from place to place, country to country, in the blink of an eye. That she was once the Rephaim's best fighter. That demons exist. That Rafa has stayed.

But most of all, she can't quite believe that her twin brother, Jude, might be alive.

And Gaby can't explain the hesitancy that sidetracks the search for him, infuriates Rafa, and sends them, again, into the darkest danger.
I read the first book and wasn't terribly impressed, so I put off reading the next book. Should I reconsider it?
"One day I'm going to touch you in a thousand different ways and show you how to touch me," he said. And he did.
Struggling with a tormented past, undergraduate Olivia Winter once led a practical but isolated life. Then she met Professor Dean West, a brilliant scholar of medieval history who melted Liv's inhibitions and taught her the meaning of both love and erotic pleasure. But after three years of a blissful, lusty marriage, Liv and Dean now face a crisis that threatens everything they believe about each other. And when dark secrets and temptations rise to the surface, the fallout might break them apart forever.
It's Spring Break of senior year. Anna, her boyfriend Tate, her best friend Elise, and a few other close friends are off to a debaucherous trip to Aruba that promises to be the time of their lives. But when Elise is found brutally murdered, Anna finds herself trapped in a country not her own, fighting against vile and contemptuous accusations.

As Anna sets out to find her friend's killer; she discovers hard truths about her friendships, the slippery nature of truth, and the ache of young love.

As she awaits the judge's decree, it becomes clear that everyone around her thinks she is not just guilty, but dangerous. When the truth comes out, it is more shocking than one could ever imagine...
Suppose to be quite twisty!