Lily O'Connell, a succubus, owns Lily Bound, an elite sex salon in the Blood Night District of Seattle. When a client is murdered in her house, a patch of skin missing from his chest, she knows there's something evil afoot. Then comes the news that the Souljacker—a tattoo-artist-turned-vampire—has escaped from an institution for criminally deranged Supernaturals. And he's hunting and killing everyone he has ever inked.

With one of the Souljacker's tattoos on her thigh and nowhere else to turn, Lily hires Archer Desmond, a chaos demon and PI, to help her track down the vampire before he finds her and her friends. But Lily didn't plan to fall for Archer. And as the old tales say—a succubus who falls in love will destroy the heart of the one she seeks to claim.
3 stars!
This had a lot of potential as far as plot and characters go, but something about it just fell a little flat. Whether or not that was due to the slightly dry narration in the audiobook or if it was a fault of the book, I can't say. Regardless, I didn't connect with the heroine.
While the premise was really interesting in the beginning, it took a safe and boring turn and didn't live up to all it could be.
I am curious about what will happen in the second book though, and will likely continue and give it a second chance.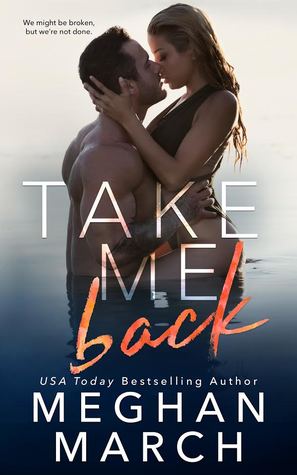 We fell in love on a beach, got married in paradise, and I carried her off into the sunset. It should have been perfect, but saying "I do" doesn't guarantee a happily-ever-after.
Two years later, I barely recognize either of us behind the walls we've built.
It's time to bring it full circle. Back to a tropical paradise. Back to find out if we can still make this work.
I'm not willing to give her up, but to save us, I have to risk everything.
Two damaged people.
Countless secrets.
The fight of our lives.
We might be broken, but we're not done.
4.5 stars!
Sexy, fun, gripping at times and highly emotional at others. This left me with some serious desire for seafood, islands and boats. ;)
I was pleasantly surprised with how much I loved this story, and blew through the audiobook in a day. Fantastic narration, too!
A new standalone from
New York Times
bestselling authors Vi Keeland and Penelope Ward.
I met Bianca in an elevator.
She was on her way to interview me when we got stuck.
The beautiful, raven-haired reporter assumed I was a delivery guy because of the way I was dressed.
She had no clue I was really Dex Truitt, the wealthy, successful businessman she'd dubbed "Mister Moneybags"—her afternoon appointment.
Bianca told me how much she hated Dex's type—snobby, over educated, silver- spooned men who didn't appreciate the simple things in life.
So, after the elevator finally started moving again, I cancelled the interview and let her believe I was someone I wasn't—a bike messenger named Jay. I loved the way she looked at the fake me and didn't want it to end.
I began dating her as "Jay"—all the while letting her interview the real me over email.
I didn't expect that our chemistry online would be just as hot.
I didn't expect the mess I'd gotten myself into.
I didn't expect that Jay and Dex would fall in love with her.
And she was falling for two men.
Only, both men were me.
And when she found out, we were both going to lose her.
Nothing could have prepared me for that day. And I certainly wasn't prepared for what came after.
All good things must come to an end, right?
Except our ending was one I didn't see coming.
4 stars!
Ah, there's nothing quite like the sexy times and drama that comes from a Keeland/Ward mashup. This writing duo is such a guilty pleasure of mine, and this didn't disappoint.
Despite the hero's antics during the first part of the book, I really felt for him and enjoyed his character throughout the story. Couldn't really connect with the heroine, but I didn't have any major problems with her either way.
And oh, that drama....it was so good in an insane kind of way. ;)
When his younger brother loses interest in online dating, hot, bearded, bartender extraordinaire, Joe Collins, only intends to log into his account and shut it down. Until he reads about her.
Alex Parks is funny, friendly, and pretty much everything he's been looking for in a woman. And in no time at all they're emailing up a storm, telling each other their deepest darkest secrets... apart from the one that really matters.
And when it comes to love, serving it straight up works better than with a twist.
4 stars!
First, I absolutely loved this heroine! She was strong, smart, funny and her voice was easy and enjoyable to follow. The hero got on my nerves a lot towards the end and I could never really reconcile his behavior, but for the first half I was absolutely swooning.
Fantastic side characters, especially Val!
I blew through this very well done audiobook and really enjoyed it overall.
First we were friends. Then we were roommates. Now I want more…
What can I say about Chess Copper? The woman is capable of bringing me to my knees. I know this about five minutes after getting naked for her.
No one is more surprised than me. The prickly photographer my team hired to shoot our annual charity calendar isn't my usual type. She's defense to my offense, a challenge at every turn. But when I'm with her, all the regrets and darkness goes away. She makes life fun.
I want to know Chess, be close to her. Which is a bad idea.
Chess is looking for a relationship. I've never given a woman more than one night. But when fate leaves Chess without a home, I step up and offer her mine. We're roommates now. Friends without benefits. But it's getting harder to keep our hands off each other. And the longer we live together the more I realize she's becoming my everything.
Trick is… Now that I've made her believe I'm a bad bet, how do I convince her to give this player a true shot at forever?
5 stars!
I loved every single thing about this book. It was the perfect contemporary romance for me. Friends to lovers, sweetest man ever, strong heroine, roommates (!!!), believable angst that wasn't over the top, and the whole relationship progression felt very natural and genuine. I loved it.