Hey, everyone! Today I'm reviewing
The Pact
by Karina Halle. She is one of my favorite authors, and a spin off of this book (called The Offer) is being released this month.
I finished this book a few days ago, and for the most part really enjoyed it.
Synopsis
It all started with a pinky swear…
Linden McGregor is tall, rugged, and gunslinger handsome; a helicopter pilot with a Scottish brogue and charm to spare. He's also one of Stephanie Robson's best friends and has fit into that box for as long as she's known him.
But some relationships can't be boxed, can't be classified, can't be tamed.
Back in their mid-twenties and tired of the competitive hit-or-miss dating scene of San Francisco, Steph and Linden made a pact to marry each other if neither one of them are in a serious relationship by the time they hit thirty.
It sounds like fun and games but as the years to thirty tick past and lovers come and go out of their lives, the pact becomes larger than life.
Sex is inevitable. Friendships are tested. Hearts are on the line.
The pact is about to change everything
"What do you say? How about if we don't find anybody by age, I dunno, thirty, we marry each other?"
"You're actually series?"
"Aye."
Stephanie and Linden have been best friends since they met at age 20. One drunken night in their mid-twenties, after a stream of awful dates and pointless relationships, they make a pact to marry if neither are in a serious relationship by the time they're 30. A few years pass, and with 30 steadily creeping up on them, their attraction to each other grows. Soon 30 is upon them, and they decide to give into their connection and see where it goes. The only problems is James, their other best friend and Steph's ex-boyfriend. Worried about his reaction, they decide to hide their relationship. And we all know how that goes....
"I'd give her up for you. I'd give everything up for you."


I love a good friends to lovers romance, and this was a great fluffy read.
This was a really fun, mostly light book that is perfect for summer. The characters are funny, have amazing chemistry, and come to life on the page. Even though I've never been on the west coast (yet!), I could perfectly picture the San Francisco setting. The secondary characters were well developed and for the most part likable.
As usual with Halle's writing, I blew through The Pact in less than a day. I don't know how she does it, but I'll be reading in the evening and then the next thing it's 10:30 at night. I'll think "just a few more pages", and suddenly 150 pages have gone by. Her writing style is fresh, absorbing, relatable and completely addictive.
Of course, I've always loved Linden, just like I love many of my friends. But that love for him is turning into something else, something deeper, better, brighter. There's another layer to my love for him, and it gets uncovered more and more every single day.
I really enjoyed Steph's character. She's a smart woman that starts her own business in a tough and competitive market, and I admired how she struggled to get to where she is. It was realistic, and as an entrepreneur myself I could empathize so well with her. She's hilarious, a dedicated friend, and just a very likable person.
"I think I'm loosing myself. Every time I'm inside you, with you, I think I loose a little bit more. In the end you might have all my pieces. Please be gentle with them. "
I adored Linden...until about 80% through the book. He was perfectly sexy, and with a Scottish accent I found myself doing something like this every time he opened his mouth: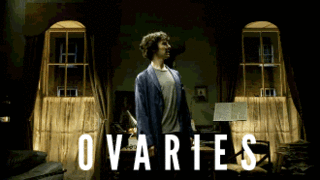 Up until 80% in, again. Until then though, he was sexy, charismatic, loving, gentle and wasn't afraid of his feelings. I loved that about him. He has a messed up family, and has worked hard to step out from their shadow as a helicopter pilot.
Then came page 250 or so...and knocked a star off for me. It ground on my last nerve how Linden was too pussy to own up and just tell James about his relationship with Steph. I hated how Linden pushed Steph away and bent over backwards to make James feel better about himself. He cites his reasoning as James having a screwed up childhood. Guess what, buddy, you did too, just in a different way. You don't need to be unhappy because he is. Misery loves company, but man up. While it was prevalent throughout the book, it really amped up towards the ending, so much it almost felt excessive for Linden's established character.
I like my men to act like
men
, not people pleasing little boys. Not only that, but I've grown accustomed to Halle having very strong, driven males as her leading men, and Linden didn't fit with that. Dex, Camden, Mateo, and Javier,
my husbands
Halle's other guys, were so different for Linden that he doesn't fit really fit with my expectations.
The ending, while a bit predictable and in line with Halle's other contemporaries, was satisfying and very sweet.
Despite the issue of Linden's character, The Pact was still a very enjoyable summer read that I recommend. The connection between Steph and Linden is intense, and the sex is perfectly delicious. It's a great little contemporary that will suck you right in, and is a good, gentle (some of her stuff is seriously scary, gritty, or just plain horrifying, but so good) intro to Halle's work if you haven't read her before.
Rating: 4 stars
Genre: Adult, contemporary romance
Series: Standalone with an upcoming spinoff
POV: Alternating 1st person
Steam/sexual content: Very steamy, good bit of explicit sex
Cliffhanger: No
HEA: Yes
Published: December 28th, 2014 by Metal Blonde Books
Length: 344 (paperback)
- The Bibliophile Babe