Ellie Watt is used to starting over. The daughter of a grifting team, Ellie spent her childhood being used as a pawn in her parents' latest scam. Now she's much older, wiser and ready to give her con artist life a rest. But returning to the dry desert town of Palm Valley, California means one more temptation than she bargained for – Camden McQueen. Once known as the high school weirdo, Camden is bigger and badder than the boy he used to be and a talented tattoo artist with his own thriving business.
Ellie's counting on Camden still being in love with her, but what she's not counting on is how easily unrequited love can turn into obsession over time. When Camden discovers Ellie's plan to con him, he makes her a deal she doesn't dare refuse, but her freedom comes with a price and it's one that takes both Ellie and Camden down a dangerous road.



My Review



Ellie Watt had it rough growing up, and life keeps dealing her a shitty hand. 26 years old, dead on the inside and scarred on the outside, she makes a living as a con artist.
On the run from her past and after one con gone wrong too many, Ellie moves back to where she grew up in Palm Valley, California.
Once there, she stumbles upon her old friend and the last person she ever expected to see again: Camden McQueen. Camden, the bizarre boy she once knew, has grown into a gorgeous and
successful
tattoo artist with a thriving business.
T
hey catch up, and Ellie promises herself something: one last con, and then she's done. Her victim? Camden, and his still apparent affection for her. Little does she know the love sick boy she knew has changed more than just his
appearance
, and she has picked the wrong man to fuck over.
From there, we are swept away into an
intense
whirlwind of lies, pain, con artists, drug lords,
violence
, blackmail, sex, and the grittiest of love stories.
This is not your typical romance. This is dark. This is gritty. This is real, painful, heart
pounding
and heartbreaking. It took me on one of the most intense emotional roller coasters a book has ever put me on. It sucked me into its world and didn't release me from its clutches until well after I finished the series. Even when I wasn't reading, I was thinking about it and dying to get myself back to it. In Karina Halle's usual way, I was a very willing captive to the story.





"A name is like a home, then. All those years without a name. All those years without a home."
I loved every thing about this story. Everything. Ellie, Camden, Javier, all of it. I was sucked into it from the very beginning, and was breathless with anticipation every time I turned the page. By the ending, my pulse was pounding, my palms sweating, and my heart was breaking.
I was also on Amazon buying the other books in the series as soon as I closed Sins and Needles.
I loved that these characters weren't your typical golden girl/boy, or the "tortured-but-really-just-misunderstood" flat plastic protagonists that are so common lately. These people aren't the good guys. They've bad people, and they've done some truly deplorable things. I can't tell you how refreshing it was to read someone who wasn't perfect.
"I'm not bad. The world is bad and I'm just trying to survive it."
A lot of people don't like Ellie, and I can see why to some extent. Like I said, these people aren't your run of the mill good guys. They just aren't. Ellie is a con artist; she can be self absorbed, and she's been a heartless bitch. However, that is exactly why I liked her so much. She's wickedly smart, sarcastic, hurt, scared, and alone. I felt so bad for her throughout the book, even after seeing all she has done. Her rawness made me instantly connect with her, and being in her head was a fascinating place.
"Do you think because you can't see my scars that they don't exists? That's the trouble with pain, Ellie. If you're lucky, you can wear it for the world to see. Most people have their pain deep inside, in a place no one ever goes. Not until it's too late."
This is all I have to say for Camden: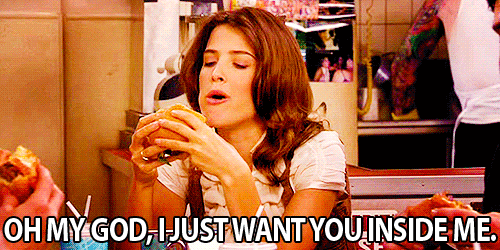 Okay, that's not
all
I have to say, but that sums it up. This man does things to me....delicious, dirty things. But I digress.....
He was a fascinating character! You think you're just getting a second chance love and a pretty face when you first meet him, and then it's a complete 180. He had so many layers, so many things built up inside him. He was explosive, passionate, charismatic, and just so
different.
The "
villain
" in
this story is Javier Bernal and holy shit on a shit stick. Favorite. Character. Ever. While he doesn't have much screen time or anything positive going for him in this book, once you read the second you can't help but me insnared by him. He was one of the most complex characters I've ever had the pleasure of reading.
There were so many layers and twists and turns to this story. It was so
full,
but I never once felt like it was crammed or rush. It moves along at a good clip, and kept me on the very edge of my seat from start to finish. I was obsessed with the book (and later the entire series), thinking about it constantly and dying to pick it back up whenever I was forced to set it aside. It's more addictive than crack.
My favorite thing about this novel had to be the way it forces you to look at good vs. evil. It does an incredible job of showing the world in the shades of grey that it is, rather than the typical "this is wrong and this is right, no question" angle a lot of books lean towards. I started this book with the idea that everyone was a bad person, and by the end....well, they just weren't. Even after the deplorable acts each and every one of them commits, I walked away with a sense that they were not all bad, and could even empathize with a lot of what happened. It shocked me!
Needless to say, I adored this book. It's one of my only 6 star reads! I highly recommend it, and the two other books in the story (plus the novella! It's the best one I've read all year). If you've never read a Karina Halle book and you're okay with the darker side of romance, I'd suggest starting with this one. Sins and Needles was the one that started it all for me.
I'm pretty happy with this, considering it's my first teaser pic!
Stats:
Rating: 6 Stars!
Genre: A
dult, Contemporary, dark romantic suspense
Series:
The Artists Trilogy, book 1
POV:
Primarily 1st person, flashbacks 3rd person
Steam/sexual content:
Intense, explicit
Cliffhanger:
YES!
Warnings:
Violence, sex, illegal activity
Length:
384 pages
Series order:
Sins and Needles
(#1),
On Every Street (#0.5)
,
Shooting Scars (#2)
,
Bold Tricks (#3)
Goodreads
,
Amazon