Waiting on Wednesday is a weekly event hosted by Breaking The Spine and is a fun way to see what books other bloggers just can't wait to get their hands on!
Dirty Promises (Dirty Angels, #3) by Karina Halle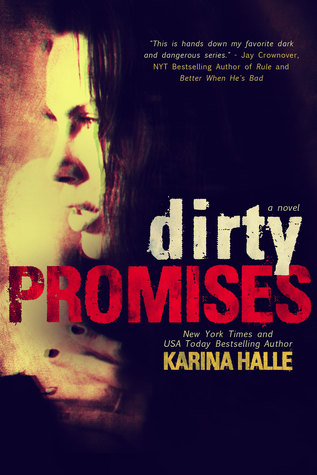 Dirty Promises is the final book in The Dirty Angels Trilogy. While the first two books can be read as standalones, Dirty Promises can not. Reading Dirty Angels and Dirty Deeds beforehand is HIGHLY recommended.

Also, people sensitive to violence and immoral characters who make questionable decisions should refrain from reading this book. The real cartel life is not pretty, not easy and certainly NOT romantic and that is more than reflected in Dirty Promises.
Blood. Sex. Revenge.
It ain't easy being king.
Drug lord Javier Bernal has sliced and diced his way to the top of the Mexican drug trade, presiding over the country's largest cartel. But his rise to power comes at a brutal price: the death of his sister, Alana. Devastated and wracked with guilt, he turns away from his new wife, Luisa, forcing their marriage into a steady decline. But it isn't until she's pushed into the waiting arms of Esteban Mendoza, his right-hand man, that Javier realizes everything he's lost.
And it isn't until he learns the truth about Alana, that he realizes everything there is to gain.
Blood will spill.
Cities will burn.
Heads will roll.
Because Javier will stop at nothing until he gets what he wants.
And what he wants is raw, ruthless revenge.
The most dangerous man is the one with nothing left to lose.
It's no secret that Karina Halle is my all time favorite author, and Dirty Angels has been one of the best books I've read all year. I can't freakin' wait to get my hands on this!
Menagerie by Rachel Vincent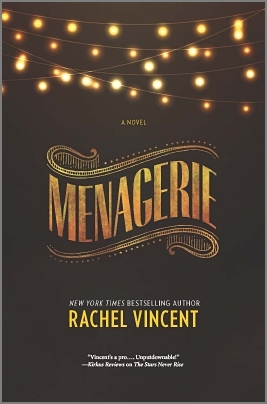 From New York Times bestselling author Rachel Vincent comes a richly imagined, provocative new series set in the dark mythology of the Menagerie…
When Delilah Marlow visits a famous traveling carnival, Metzger's Menagerie, she is an ordinary woman in a not-quite-ordinary world. But under the macabre circus black-top, she discovers a fierce, sharp-clawed creature lurking just beneath her human veneer. Captured and put on exhibition, Delilah in her black swan burlesque costume is stripped of her worldly possessions, including her own name, as she's forced to "perform" in town after town.
But there is breathtaking beauty behind the seamy and grotesque reality of the carnival. Gallagher, her handler, is as kind as he is cryptic and strong. The other "attractions"—mermaids, minotaurs, gryphons and kelpies—are strange, yes, but they share a bond forged by the brutal realities of captivity. And as Delilah struggles for her freedom, and for her fellow menagerie, she'll discover a strength and a purpose she never knew existed.
Renowned author Rachel Vincent weaves an intoxicating blend of carnival magic and startling humanity in this intricately woven and powerful tale.
I'm a huge fan of RVincent's books, and is easily my favorite YA author (and her adult series are great, too!). This sounds so fascinating and different!