Hey, ladies!
It's time for
The Broke and The Bookish's
Top Ten Tuesday
! This week's topic is top 2015 releases you meant to read, but never got around to. Admittedly, there's a lot of 2015 releases I never got around to, for one reason or another. I'll play catch up this year!
2015 Releases I Didn't Get To
10. The Anatomical Shape of a Heart by Jean Bennett - Nov. 3rd, 2015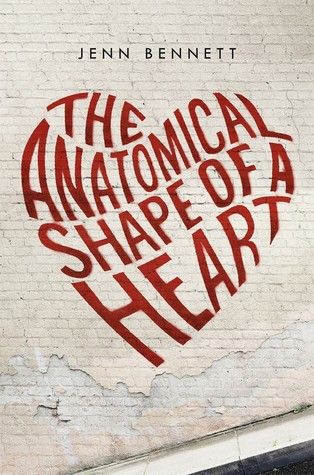 Most people really enjoy this one! It's on my TBR for whenever I'm in the mood for YA (which hasn't been too frequently lately).

Artist Beatrix Adams knows exactly how she's spending the summer before her senior year. Determined to follow in Leonardo da Vinci's footsteps, she's ready to tackle the one thing that will give her an advantage in a museum-sponsored scholarship contest: drawing actual cadavers. But when she tries to sneak her way into the hospital's Willed Body program and misses the last metro train home, she meets a boy who turns her summer plans upside down.

Jack is charming, wildly attractive . . . and possibly one of San Francisco's most notorious graffiti artists. On midnight buses and city rooftops, Beatrix begins to see who Jack really is—and tries to uncover what he's hiding that leaves him so wounded. But will these secrets come back to haunt him? Or will the skeletons in Beatrix's own family's closet tear them apart?
9. Midnight Mass (Priest, #1.5) by Sierra Simone - Dec. 8th, 2015
This is a novella for one of the hottest smut books I read last year. I need to get back to the absolute depravity of Father Bell! ;)
My review of Priest

We are told that God will punish the wicked. That sinful men will reap what they sow. We are told to scourge our souls with prayer and pain to become clean once again.

Well, here I am. Wicked and sinful. Desperate to become clean…even though it feels so good to be dirty.

But even I never expected what came next.

Even I never expected my punishment to come so soon.

***Midnight Mass is a novella and a sequel to Priest. It's intended for mature audiences only.***
8. The Air He Breathes by Brittainy C. Cherry - Sept. 25th, 2015
I just finished this one! Keep an eye out for a review later this week, or early next.

I was warned about Tristan Cole.

"Stay away from him," people said.
"He's cruel."
"He's cold."
"He's damaged."

It's easy to judge a man because of his past. To look at Tristan and see a monster.

But I couldn't do that. I had to accept the wreckage that lived inside of him because it also lived inside of me.

We were both empty.
We were both looking for something else. Something more.
We both wanted to put together the shattered pieces of our yesterdays.

Then perhaps we could finally remember how to breathe.
7. What You Left Behind by Jessica Verdi - Aug. 4th, 2015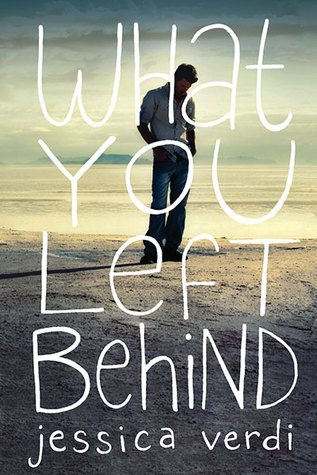 Such an unusual plot idea! Like I said, I don't read much YA and have to be in the mood for it. Hoping to get to this one as soon as that mood strikes.



It's all Ryden's fault. If he hadn't gotten Meg pregnant, she would have never stopped her chemo treatments and would still be alive. Instead, he's failing fatherhood one dirty diaper at a time. And it's not like he's had time to grieve while struggling to care for their infant daughter, start his senior year, and earn the soccer scholarship he needs to go to college.





The one person who makes Ryden feel like his old self is Joni. She's fun and energetic—and doesn't know he has a baby. But the more time they spend together, the harder it becomes to keep his two worlds separate. Finding one of Meg's journals only stirs up old emotions, and Ryden's convinced Meg left other notebooks for him to find, some message to help his new life make sense. But how is he going to have a future if he can't let go of the past?
6. Lux (The Nocte Trilogy, #3) by Courtney Cole - Oct. 28th, 2015
Started this one, got around 20% in, then put it down. I'm not sure if I just wasn't feeling it right then or it wasn't as strong as its predecessors. I'll try again soon!

LET THERE BE LIGHT.


My name is Calla Price and I'm broken.

My pieces are all around me, floating on the wind, even as I desperately try to grasp them.

Who is dead? Alive? Insane?

What is the truth?

I don't know.

I do know this: The darkness is strangling me. With every breath, I choke on another lie.

My mind has protected me, but that shield will soon be lowered.

All will be revealed.
Every answer to every question.

It's all been leading to this.

Don't be afraid.
Be terrified.
5. A Pound of Flesh by Sophie Jackson - June 9th, 2015
This sounds like it'd be right up my alley, but...third person point of view. Ugh. Maybe I'll try the audiobook!

Lose your heart to your new bad boy book boyfriend. Wes Carter - sexy, edgy, behind bars, with emotional scars as permanent as the ink on his skin, just waiting to be healed by love...

Fans of Samantha Young, Jodi Ellen Malpas, Jamie McGuire, Katy Evans and Prison Break will find this powerful love story utterly addictive and unforgettable.

Their love is forbidden. But won't be denied... Can true love heal the deepest scars?

For Kat Lane, teaching inmates at a New York prison is her way of upholding the legacy of her beloved father, murdered fifteen years ago. But when new student Wes Carter walks into her classroom, she's shaken by the strength of her attraction to him. Carter is as handsome as he is dangerous, as mysterious as he is quick-witted - and he ensures people keep their distance. Yet vibrant Kat bypasses his defences and challenges him to reveal the real man behind the intimidating reputation. As their emotional barriers crumble, their inescapable but forbidden feelings cannot be ignored. But will Kat's discovery of Carter's role on the night her father died force them apart...or bind their hearts for ever?

A Pound of Flesh is a tale of loyalty, redemption and all-consuming love against the odds, introducing an irresistible bad boy hero...
4. More Happy Than Not by Adam Silvera - June 2nd, 2015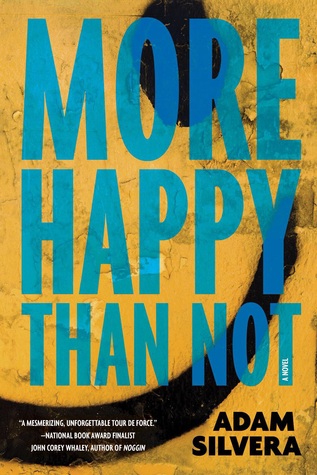 Again, the only thing that's stopped me from this is the YA setting.

In his twisty, gritty, profoundly moving debut—called "mandatory reading" by the New York Times—Adam Silvera brings to life a charged, dangerous near-future summer in the Bronx.

In the months after his father's suicide, it's been tough for 16-year-old Aaron Soto to find happiness again--but he's still gunning for it. With the support of his girlfriend Genevieve and his overworked mom, he's slowly remembering what that might feel like. But grief and the smile-shaped scar on his wrist prevent him from forgetting completely.

When Genevieve leaves for a couple of weeks, Aaron spends all his time hanging out with this new guy, Thomas. Aaron's crew notices, and they're not exactly thrilled. But Aaron can't deny the happiness Thomas brings or how Thomas makes him feel safe from himself, despite the tensions their friendship is stirring with his girlfriend and friends. Since Aaron can't stay away from Thomas or turn off his newfound feelings for him, he considers turning to the Leteo Institute's revolutionary memory-alteration procedure to straighten himself out, even if it means forgetting who he truly is.

Why does happiness have to be so hard?
3. Rush by Emma Scott - June 30th, 2015
Just downloaded this one! $0.99 on Amazon right now!



To be blind is not miserable; not to be able to bear blindness, that is miserable. --John Milton





Charlotte Conroy, Juilliard-trained violinist, was on the cusp of greatness when tragedy swooped down on dark wings, crushing her hopes and breaking her heart. The music that used to sing in her soul has grown quiet, and she feels on the verge of setting down her violin for good. To pay the bills, she accepts a job as a personal assistant to a bitter, angry young man who's been disabled by a horrific accident …





Noah Lake was an extreme sport athlete, journalist and photographer. He roamed the world in search of his next adrenaline high, until a cliff-dive left him in a coma. He awakes to find his career gone, his dreams shattered to pieces, his world an endless blackness that will never lift.





Charlotte begins to see that beneath Noah's angry, brittle exterior is a young man in a pain. She is determined to show him that his life isn't over, that he has so much to live for, never dreaming that she would become the only light in his darkness, or that he would help her find the music in hers.





The life he knew is over. The life she wants is just out of reach.




Together, they must face their fears and rediscover what it means to really live.





RUSH is Book III in the City Lights Series, and each can be read as a standalone.
2. Worth It by Linda Kage - Aug. 25th, 2015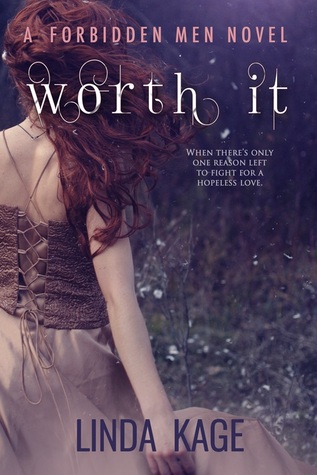 This one is enjoyed by so many!

I fell in love once.

It was amazing. She was amazing. Life was amazing.

I lived for each time I could see her, and nothing else mattered, not that our families were enemies, our time together was forbidden, or we had to meet in secret.

Our love could conquer all.

Until it didn't.

So I was ripped away from the love of my life and shoved into hell, forced to continue without her.

It shattered me, broke the best parts of me, left me permanently damaged.

Or so I thought.

Years later, I swear history's trying to repeat itself because she's back in my life, and I'm just as drawn to her as I was before. But I'm older and wiser now, and I know she should stay away from a worthless ex-con like me.

So, I will not let her in. I absolutely refuse to hurt her. I will keep her away.

Then again, sometimes risking your greatest fear to get to a smile makes everything worth it, and besides, I'm not sure I can resist her, anyway.

This is the story of how Felicity Bainbridge changed my life forever, starting one summer day long ago after I was forced to change a dirty diaper...

--Knox Parker
1. Dirty English by Ilsa Madden-Mills
I do so love a sculpted back....

A scarred fighter.
A girl with rules.
One night of unbridled passion.



There are three things you need to know about Elizabeth Bennett: she's smart as a whip, always in control, and lives by a set of carefully crafted rules. She's learned the hard way that people you love the most always hurt you in the end.





But then she meets Declan Blay, the new neighbor at her apartment complex.





A tattooed British street fighter, he's the campus bad boy she's

supposed

to avoid, but when he saves her from a frat party gone bad, all her rules about sex and love fly out the window.





She gives him one night of unbridled passion, but he longs for more.





With only a cardboard-thin wall separating their bedrooms, he dreams of possessing the vulnerable girl next door forever.





One night. Two damaged hearts. The passion of a lifetime.



*a modern love story inspired by Pride and Prejudice*
- The Bibliophile Babe