Hey, ladies!
It's time for
The Broke and The Bookish's
Top Ten Tuesday
! This week's subject is top ten books you've recently added to your TBR. After a quick perusal of my Goodreads to-read list, here's what I came up with.
10. Midnight Lily by Mia Sheridan
I have a love/hate with Sheridan and her tried and true angst, but I'm always interested to see what she had coming up.



Holden Scott is the prince of professional football. At least he was before he lost it all . . . or more to the point, before he threw it all away. Now he's out of a job, out of the public's good graces, and perhaps just a little out of his mind. So when a friend offers up his remote lodge in the wilds of Colorado, giving Holden some time away to get his life back on track, he can hardly say no. The last thing he expects is to see a beautiful girl in the woods—one wearing a white, lace dress who appears in the moonlight, and leaves no footprints behind. Is she a dream? A ghost? A product of his muddled imagination? Or something entirely different?





Midnight Lily is the haunting love story of two lost souls reaching for each other in the dark. A tale of healing, acceptance, and the worlds we create to protect our own hearts. It is a story of being lost, of being found, and of being in the place between.
9. How to Save a Life by Emma Scott
(release date February 9th)
I have a book by this author sitting in my Kindle, but I'm curious to see where this goes!



Josephine Clark is trapped. A harrowing past haunts her every time she looks in the mirror, and she can't escape the violence of her everyday life. More and more, her thoughts turn to Evan Salinger, the boy she knew in high school. The boy they called a mental case. A loner. A freak. The boy who seemed to know things no one could know. For a few short weeks, Jo had found perfect solace in Evan's company, sneaking every night to meet him at the local pool. In the cool of the water and the warmth of Evan's arms around her, Jo had tasted something close to happiness.





Cruel circumstances tore them apart, and four years later, the sweet memory of their time together is dissolving under the punishing reality of Jo's life now. Evan seems like a fading dream…until he reappears at the moment she needs him most. Guided by Evan's strange intuition, they flee her small Louisiana town, and Jo begins to suspect there is something more to his sudden return than he admits.





Over twelve days across America's heartland, deep secrets come to light, buried pasts are unearthed, and the line between dreams and reality is blurred as Evan and Jo fight to hold on to their soul-deep love, and discover that there is more than one way to save a life.
8. One Day Soon by A. Meredith Walters
(release date February 18th)
That cover!!! <3



He found me in blood and tears.




I stayed with him through darkness and fire.





We loved each other in the moment between innocence and bitter truth.




We were the kids easily ignored, who grew into adults we hardly knew.





We weren't meant to last forever. And we didn't.





He ran away.




I tried to move on.





Yet I never stopped thinking about the boy who had fought to keep me alive in a world that would have swallowed me whole. He was the past that I buried, but never forgot.





Until the day I found him again, years after believing I had lost him forever.





And in cold, resentful eyes, I saw the heart of the man who had been everything when I had nothing at all. So I vowed to hold onto the second chance that was stolen from the children we had been.





Sometimes fate is ugly. Life can be twisted.




And who we are can be ruined by who we once were.





For two people who had survived so much, we would have to learn how to hold on before we were forced to let go.
7. Roman Crazy by Alice Clayton and Nina Bocci
(release date September 13th)
I will happily read anything Alice Clayton writes. She's a riot!



A delicious, sexy, laugh-out-loud modern romance about a newly single woman and her journey to find love again, from New York Times bestselling author Alice Clayton and debut author Nina Bocci.
6. Thirty Nights by Ani Keating
A few of my favorite reviewers have really enjoyed this one, and I'm intrigued by the synopsis!



Thirty nights. Two hearts. One fate.

American Beauty, Book 1

After her parents' tragic deaths, Elisa Snow wanted nothing more than to escape her past. Eighteen and alone, she fled her quaint English village and moved to the United States. A starving science student by day and an artist's muse by night, Elisa has slowly built a new life. She never dreamed she would lose everything again.

She's one week from graduation when her visa is unexpectedly denied. Given thirty days to leave the country, she must face the one thing she cannot survive again—saying goodbye and leaving her home. Yet within minutes of her world shattering, she meets a man with the power to piece it back together.

After finishing his tour of duty in Iraq, Aiden Hale traded battlefields for boardrooms, becoming one of the most successful venture capitalists in the nation. But all his wealth can't buy him reprieve from the horrific memories of war. The only thing that gives him peace is a painting of Elisa.

Drawn together by their invisible wounds, they begin a passionate affair as they race against the clock to defy their pasts—and fight for their future.
5. Pucked by Helena Hunting
People seem to love or hate this one. Sports books don't usually do much for me (except rugby...those fuckers are always spectacular!), but I may get around to this one soon.

With a famous NHL player for a step-brother, Violet Hall is well acquainted with the playboy reputation many hockey stars come with. She's smart enough to steer clear of those hot, well-built boys with unparalleled stamina. That is until she meets the legendary team captain—Alex Waters.

Violet isn't interested in his pretty, beat-up face, or his rock-hard six-pack abs. But when Alex inadvertently obliterates Violet's previous misapprehension regarding the inferior intellect of hockey players, he becomes more than just a hot body with a face to match.

In what can only be considered a complete lapse in judgment, Violet finds out just how good Alex is with the hockey stick in his pants. But what starts out as a one-night stand, quickly turns into something more. Post-night of orgasmic magic, Alex starts to call, and text, and e-mail and send extravagant—and quirky—gifts, making him difficult to ignore, and even more difficult not to like.

The problem is, the media portrays Alex as a total player, and Violet doesn't want to be part of the game.
4. The Book of Ivy by Amy Engel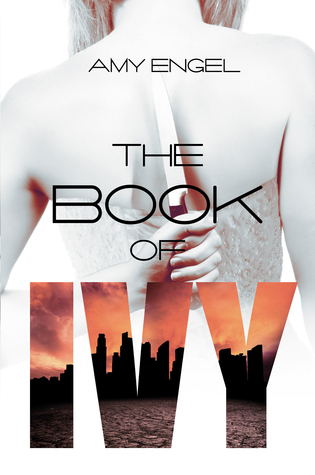 It's been months since I've read a dystopian, and I'm feeling the need to read one!



After a brutal nuclear war, the United States was left decimated. A small group of survivors eventually banded together, but only after more conflict over which family would govern the new nation. The Westfalls lost. Fifty years later, peace and control are maintained by marrying the daughters of the losing side to the sons of the winning group in a yearly ritual.





This year, it is my turn.





My name is Ivy Westfall, and my mission is simple: to kill the president's son—my soon-to-be husband—and restore the Westfall family to power.





But Bishop Lattimer is either a very skilled actor or he's not the cruel, heartless boy my family warned me to expect. He might even be the one person in this world who truly understands me. But there is no escape from my fate. I am the only one who can restore the Westfall legacy.





Because Bishop

must

die. And I must be the one to kill him…
3. Autumn Thorns by Yasmine Galenorn
I had to slip a paranormal/urban fantasy in here!

In an all-new series, New York Times bestselling author Yasmine Galenorn invites readers to Whisper Hollow, where spirits walk among the living and the lake never gives up her dead…

Fifteen years ago, I ran away from Whisper Hollow, Washington, a small town on Crescent Lake in the Olympic Peninsula. But truth is, if you were born here, you can never really leave. I'm Kerris Fellwater, and when I returned, I inherited my grandmother's house—and her gift. As a spirit shaman, it's my responsibility to drive the dead back to their graves, because around Whisper Hollow, people—and secrets—don't always stay buried.

When I was little, I was told my mother ran off. But now it looks like she was murdered. With the help of my mysterious neighbor Bryan, we begin to unravel the mystery of her disappearance, and in doing so, unearth a dark force seeking to bury Whisper Hollow. Now I must work with the dead, rather than against them, because our enemy will do whatever she can to destroy the town, and she means to start with me.
2. Under His Skin by Stacey O'Neale
Aliens...hm. I wonder if there will be smut in this? I've yet to read alien porn....again, hmmmm. This is such a weird train of thought.

A paranormal category romance from Entangled's Covet imprint...

Earth girls are never easy. But they're worth it.

Bakery owner Annabelle Sparks' business is booming ever since she won reality TV's Cupcake Wars. The one thing deflating her happy soufflé? The extremely sexy Kaden Chance only sees her as a best friend-and Annabelle wants so much more. After waiting a year for him recognize their chemistry, she's giving up and dating other people.

What she doesn't know is Kaden's heart doesn't actually beat. He's not human. Heck, he's not even from Earth. To retain his intergalactic immunity, no one can ever know he is an extraterrestrial. But when Annabelle starts dating, something strange happens to Kaden's unmoved heart: it begins to beat. Now he faces an impossible choice-tell Annabelle the truth and be deported-or lose his last chance at love.



1. Never Never: Part 3 by Colleen Hoover and Tarryn Fisher
This just released. Go away, I'm reading.
- The Bibliophile Babe