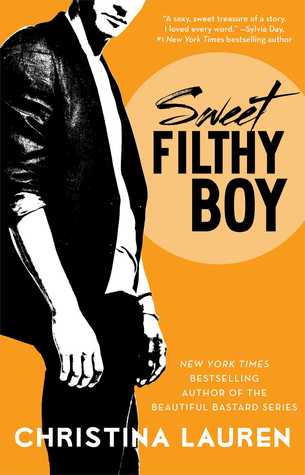 One-night stands are supposed to be with someone convenient, or wickedly persuasive, or regrettable. They aren't supposed to be with someone like him.
But after a crazy Vegas weekend celebrating her college graduation—and terrified of the future path she knows is a cop-out—Mia Holland makes the wildest decision of her life: follow Ansel Guillaume—her sweet, filthy fling—to France for the summer and just…play.
When feelings begin to develop behind the provocative roles they take on, and their temporary masquerade adventures begin to feel real, Mia will have to decide if she belongs in the life she left because it was all wrong, or in the strange new one that seems worlds away.
5 "Take Me To Paris!" Stars
(Mini review, since I don't have the time I'd like to write a full one!)
Do you ever read a book that just makes you genuinely happy, one you read with a silly grin on your face for nearly the entire novel? Sweet Filthy Boy was one of those amazing books. I was sucked in from the very first sentence, and enjoyed every second of this story. I finished with a happy sigh and a feeling of complete book-happiness!
"I want to love all of my life as much as I love this night."
This was my first Christina Lauren book, and it hasn't been my last! The duo has quickly earned their spot on my favorite authors list, and with good reason. This story was the perfect mix of swoon and sexy, humor and adventure, and a dash of envy (where is my Ansel?!). Christina Lauren brought to life the French boy fantasy I didn't even know I had!
Mia was a great character with a smooth flow to her thoughts, one that was easy to sink into and easy empathized with. Her shyness was at perfect odds with the daring risk she took to follow her lover to a foreign country on a complete whim. You go, girl!
Her conflict over her father, her unwanted future plans, her new husband (because it's Vegas, let's get married!), and what she truly wants with her life made me feel for her on a surprising level.
"You make missionary feel dirty,"
Ansel....sigh. My god, do I love this boy. One of my favorite book boyfriends of the year. Ansel was one of the most interesting and unusual heroes I've ever read. Why?
Because he's happy.
He loves life! He sees the good in things, he takes risks, and he truly enjoys everything about the world. I can't even begin to describe what a breath of fresh air that man was in a world of angst-ridden, bitter, and apathetic heroes.
He was beautifully tender and supportive with Mia. Their chemistry was off the charts, and it'd been quite a while since I loved a couple so much.
Speaking of which...those sex scenes are scorchingly hot. I've never been much for roleplaying smut, but this was very well done and worked great for the couple's personalities.
"What you feel, Cherise? I feel it, too.
Fuck, Mia.
I feel everything for you."
It is a very easy to read, and follows a pretty standard storyline that doesn't take a ton of thought to process. I do wish there'd been more to their story, but that's because I would happy read a massive novel about them. It's a perfect light, sexy, fun, sweet contemporary romance, and one of my favorites for the year!
I listened to the audiobook version, and Shayna Thibodeaux narrates. It did take me around 3 chapters or so to get into the way she did the characters (and Ansel's accent), but after that I enjoyed her. She did a good job of giving everyone their own voice, and really brought the emotions to life.